StarScope Monocular Reviews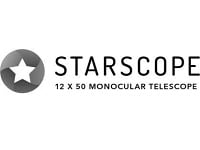 StarScope Monocular Customer Reviews

Bruce G
Too much hype for a poorly performing gadget.
Simply put...waste of money. Image stability is terrible, instructions poor. I would say this is a scam, except I did get the product, and it does operate, however poorly.
The kids may have fun playing with it.

Robert F
Still waiting 49 days after ordering for Christmas - now mid January
Still waiting for mine too! DHL is where it is supposed to be and it seems it's been in the same place in their system for 11 days. Yet another delivery source. DHL even worse than Starscope as they only use computer response which is infuriating.
If it ever comes I will take down this review and give one based on the kit itself which appears to have a great magnification that is very clear - or is that just to hook us in?

Murray M
Starscope Monocular is, from what I have seen from my own purchase of their products, a Scam. And I don't even have the product yet to make that determination, this is based on the fact I purchased three units on Nov 17, 2020 and I have not received anything at all.
That is 50 days ago today. I have sent countless emails and talked to Customer service several times (you know with Mary and Phillip, people who don't know how to spell these names let alone have them) and they have no answers to any of my questions. None!
The tracking links they sent me are bogus also; one is called EasyTrack and the other is AfterShip. Why two tracking systems for one product, no idea, but they each come with their own shipment dates for my product. Which interestingly are two weeks apart! LOL.
The best part of all is each tracking site shows my product landed in Canada (again the tracking for the product is on two different dates and two weeks apart) and the next entry on each tracking site (the following day and after it was supposed to be already in Canada) shows the product is in Frankfurt Germany.
Don't buy it. I am not basing this decision on the product itself (as I doubt I will ever receive it and be able to actually give it a rating) simply this decision is based on the ordering process and the lack of delivery of my items leaving me with the overwhelming feeling this is nothing more than a scam.

Jim M
Not as advertised and shoddily packaged and shipped.
No where near the magnification and clarity advertised. Total scam in that respect.
The holder not only arrived broken, but not even all the parts were present.