StarScope Monocular Reviews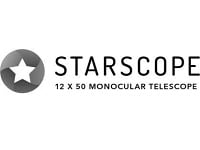 The Starscope Monocular is a device that claims to give the benefits of high-definition sight without having to rely on expensive equipment. It's creators states that it's great for birdwatching, backpacking, camping, show watching, and other activites.
A monocular telescope is one that uses the technology of a refracting telescope to magnify images that are far away. It does this by transferring light through a complex series of lenses and prisms. Monocular telescopes are designed to be compact and lightweight, as well as easy to use.
A monocular telescope is a good choice if you want to enjoy the great outdoors without having to lug around a heavy camera along with all of its necessary accessories.
But is the Starscope Monocular legit or an overhyped scam? Here's what you need to know.&nbsp
&nbsp
How Does Starscope Monocular Work?
The makers of Star Scope Monocular claim it is a waterproof and fog proof BAK4 Prism monocular telescope which has high-definition quality and powerful zoom features so that you can enjoy beautiful sights far away without them getting blurry on you.
They state this device compatible with smartphones, allowing you to see things ten times clearer with all types of devices. However, they state that a smartphone is not necessary to use the Starscope Monocular, as it is a fully-functional telescopic monocular on its own.
The Star Scope Monocular package comes with the telescope, a lens cloth and lens covers, a hand trap, a self-gripping tripod, a smartphone holder, and a carrying case.
The seller states that telescope itself is made out of real optic glass and has a full multi-coated lens, with the shell being made of tough and lightweight ABS plastic.
Cost and Price Plans
You can purchase one Starscope Monocular for just $47.99. Alternatively, you can buy two for $40 apiece for a total of $79.99 or you can purchase three Starscope Monoculars for $36 per set for a total of $107.99.
If you order two or more units, shipping is free. You can also add a lifetime protection and replacement warranty for just $4.80 more. The website states that all purchases are backed by a 100% satisfaction guarantee.
Competitors and Alternatives
If you're looking for a good monocular telescope, you don't necessarily need to select the first one you stumble upon. The Starscope Monocular is not the only option out there!
You might want to consider the Orion 10x42 Waterproof Monocular, too. Like the Starscope Monocular, this device is waterproof and windproof. It is not meant to be used with a smartphone but is instead more of a traditional telescope. It offers crystal-clear image quality and a wide field of view. Plus, it's sturdily built.
Another option is the Barska Blackhawk Waterproof Monocular. Also waterproof, this device is compact and lightweight at roughly 10 ounces. It has ample magnification and a wide field of view. It's easy to carry and one of the most popular monocular telescopes for hunters.
A final alternative is the Carson Closeup 7x18mm Close-Focus Monocular. It is also incredibly tiny, weighing less than two ounces, and is perfect for viewing objects far away. It comes with all kinds of extras like a carrying strap and soft pouch, too.
Online Customer Reviews/Complaints
Although the technology behind the Starscope Monocular seems relatively straightforward, the product has garnered quite a few negative reviews. Customers claim that the image quality can be very disappointing.
Some users also complain that it's tough to get the scope and phone lined up and that it does not stay attached but instead falls right off your phone.
Nonetheless, there are some positive customer reviews, too, with reviewers liking the fact that the telescope is small and comes with all of the accessories you need. Many users also claim that the image quality is high, so it's difficult to separate fact from fiction just by reading customer reviews.
Customer Service
The Starscope Monocular is made in Hong Kong and has customer service offices in the United States, Canada, United Kingdom, Ireland, Australia, and New Zealand.
You can reach customer service by emailing [email protected] or calling (609) 414- 7087. There is also a customer service chat feature on the company's website.
Where to Buy?
You can purchase the Starscope Monocular directly from the manufacturer as well as on Amazon.
Is the StarScope Monocular Worth It?
If you want a monocular telescope for traveling or enjoying the great outdoors, you might consider a device like the Starscope Monocular. While this device might be useful for some people, others find it difficult to use, especially when attached to a smartphone.
Therefore, you may be better off investing in a monocular telescope from a more reliable brand. That way, you will benefit from better customer service in case you have any issues in figuring out how it works.
If you have any experience with the StarScope Monocular, please leave your reviews below.
You may also be interested in
StarScope Monocular Customer Reviews

Casey
Bought mine from Amazon, and am surprised that they are willing to damage their reputation by supplying a device that is so fraudulently advertised. It is claimed to have a 12X zoom; it does not.
The lens is a 12x20 fixed focus and has no zoom capability whatsoever. The only adjustment is for focal clarity. The device has inferior resolution to my cheap Celestron 8x40 binoculars.

Ken
Ken
July 23, 2021
I just got mine and it is a simple toy. The description of it being able to see an Eagle "like you are standing right next to it" is CRAP. The customer support is worse than the delivery times and I would suggest buying another product - steer clear of this.

jean c
Biggest scam around right now. Don't buy it, not only does it not work, you will never get it as they do not ship.

Bern N
worst piece of garbage I ever bought. The attachment that attaches to the phone is crackerjack quality at best. I ordered one and they shipped me three and they are all the same magnification and trying to focus the thing while shooting make you want to throw it to the wind and hope you never see again.
Anyone want a freebie? I happen to have three. My conscience wouldn't allow me to profit from this scam.
Ordered, paid in full, but no product in 8 weeks and still counting
Am in the same boat as a lot of people on this. Ordered 2 of them 8 weeks ago and still have not received them.

Marion K
You may wait FOREVER to receive your telescope...
I wish you luck in actually receiving this telescope......I am still waiting since start of JANUARY ..NOW ALMOST APRIL..And customer service.....poor!!!
I sure wished that I had read these before ordering. I ordered mine on February 16th, 2021 and am still waiting on the order delivery. It is now estimated to arrive between April 15th

Bruce G
Too much hype for a poorly performing gadget.
Simply put...waste of money. Image stability is terrible, instructions poor. I would say this is a scam, except I did get the product, and it does operate, however poorly.
The kids may have fun playing with it.

Robert F
Still waiting 49 days after ordering for Christmas - now mid January
Still waiting for mine too! DHL is where it is supposed to be and it seems it's been in the same place in their system for 11 days. Yet another delivery source. DHL even worse than Starscope as they only use computer response which is infuriating.
If it ever comes I will take down this review and give one based on the kit itself which appears to have a great magnification that is very clear - or is that just to hook us in?

Murray M
Starscope Monocular is, from what I have seen from my own purchase of their products, a Scam. And I don't even have the product yet to make that determination, this is based on the fact I purchased three units on Nov 17, 2020 and I have not received anything at all.
That is 50 days ago today. I have sent countless emails and talked to Customer service several times (you know with Mary and Phillip, people who don't know how to spell these names let alone have them) and they have no answers to any of my questions. None!
The tracking links they sent me are bogus also; one is called EasyTrack and the other is AfterShip. Why two tracking systems for one product, no idea, but they each come with their own shipment dates for my product. Which interestingly are two weeks apart! LOL.
The best part of all is each tracking site shows my product landed in Canada (again the tracking for the product is on two different dates and two weeks apart) and the next entry on each tracking site (the following day and after it was supposed to be already in Canada) shows the product is in Frankfurt Germany.
Don't buy it. I am not basing this decision on the product itself (as I doubt I will ever receive it and be able to actually give it a rating) simply this decision is based on the ordering process and the lack of delivery of my items leaving me with the overwhelming feeling this is nothing more than a scam.

Jim M
Not as advertised and shoddily packaged and shipped.
No where near the magnification and clarity advertised. Total scam in that respect.
The holder not only arrived broken, but not even all the parts were present.