ScoreSense Reviews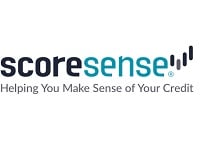 ScoreSense is company that states it's aim is to make it easy for people to manage their credit, stay protected from identity theft, and to be aware of whether or not there are any criminals living in their neighborhood.
How Does it Work?
They provide services in three categories: credit reports and scores, credit monitoring, and identity and personal protection.
Their credit reports and scores services will provide you with all three credit reports and scores, will show you how to correct or dispute any errors on your reports, and offers information on understanding and improving your credit score.
The credit monitoring services give you instant alerts on changes to your credit, including notices of delinquent payments or new account openings, credit score tracking, and even a service that will help predict changes to your credit score if you miss a payment or take other actions that affect your credit.
Finally, their identity and personal protection tells you your risk of identity theft, maps out the convicted sex offenders in your neighborhood, and monitors public records, including the internet, to let you know when and how your name appears.
When you sign up for ScoreSense, you will immediately be charged a $1.00 processing fee to begin your 7 day trial.
If you do not cancel your membership by the end of the 7 day trial, you will be charged $29.95 every 30 days to continue your subscription. To cancel your membership, you can call 1-800-972-7204.
If you have any experience with the ScoreSense or their services, please leave your reviews below.
You may also be interested in
ScoreSense Customer Reviews