Power Life Endurance Reviews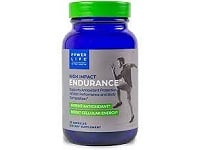 Power Life Endurance Review: Does it really work?
Power Life High Impact Endurance is a dietary supplement from health guru Tony Horton that promises to provide a boost of energy and an increase in joint and muscle health.
How Does it Work?
You may know Tony Horton from his time at BeachBody, where he created P90X, one of the most popular at home workout programs.
Since then he has worked with a number of celebrities as a personal trainer and has used that publicity to grow his nutritional supplement company Power Life.
The Power Life High Impact Endurance formula is unique from the company's other supplements, and for that matter many competitive formulas, in that it focuses on just two main ingredients.

Below we'll take a look at how they work and if they live up to the company's claims.
Product and Ingredients
The main functions of High Impact Endurance are to:


Provide a natural antioxidant
Increase energy levels
Support muscle recovery
Improve endurance and performance

This is accomplished through two main ingredients, Hawaiian Astaxanthin and ElevATP.
Hawaiian Astaxanthin
Is part of a group of chemicals known as Carotenoids and is a red pigment that is found in some algae.

It's responsible for the coloration of animals that consume it, such as Salmon and Crustaceans. It's also an antioxidant and may provide certain health benefits to cells and the immune system.
Carotenoids have been used in a variety of supplements that target muscle recovery, skincare, performance, and even Alzheimer disease. However, more research is needed on its effectiveness in these uses.
In limited studies, carotenoids showed positive effects against oxidative stress and inflammation, along with other potential benefits.
On the other hand, another study resulted in not finding any positive effects from astaxanthin supplements in regards to muscle soreness or effectiveness.
As of now it appears that while it may have potential in other areas of human health its main benefit is as an antioxidant, until further research is done.

Some publications recommend getting your dose by eating salmon several times a week.
ElevATP®
This proprietary blend was developed and patented by a company called Futureceuticals.

The company has provided research and clinical studies for its product and works with supplement developers that want to use their ingredient in their own formulations, such as Power Life Endurance.

ElevATP® is made of ancient peat and apple polyphenols which the company claims can increase levels of endogenous ATP, resulting in the following benefits:


Supports increased lean muscle and strength
Promotes increased power output and training volume
Helps reduce performance decrements associated with overreaching
Helps improve athletic performance and body composition
Supports higher levels of mitochondrial ATP

Some of the research supports these claims and has shown improved athletic performance for those taking ElevATP® versus a placebo group.
A similar study showed the supplements can have a positive effect on athletic endurance as well.
Potential Side Effects
Astaxanthin is considered to be safe and free of serious side effects.
Some possible negative effects from high doses can be increased bowel movements, red stool color, and stomach pain.
If you are on medications, pregnant, or breastfeeding, you should consult with your doctor before starting this or any supplement.
Customer Reviews & Complaints
Power Life is a BBB accredited business with an A+ rating and a customer score of 4.7/5 from over 100 customer reviews.
The company has only 4 customer complaints in last 3 years, which have all been closed.
Reviews that mentioned High Impact Endurance reported positive effects such as decrease in muscle pain and soreness.
There were also multiple reviews stating that the supplement worked as advertised and increased the user's energy levels.
One review noted an improvement in muscle definition and cognitive acuteness.
On Amazon, High Impact Endurance has a rating of 3.9/5 from over 300 customer reviews.
Customer Support
If you need to get a hold of a representative you can do so through their phone number (855) 462 - 2496 or online contact form www.mypowerlife.com/contact/
Power Life is headquartered at:
4500 Park Granada Boulevard, Suite 202,
Calabasas, CA 91302
All Power Life products are backed by a 90 day money back guarantee. If you are unhappy with your product you can contact the company and they will assist you with issuing a refund.
Cost & Price Plans
1 jar of High Impact Endurance contains 30 capsules equating to 30 servings. The company has priced their products to include a discount for bulk purchases.


1 bottle - $64.95
3 bottles - $173.85
6 bottles - $329.70

We found the prices on Amazon to be slightly cheaper than on MyPowerLife.com.
For example, the same sized bottle of High Impact Endurance last sold for $52.95 on Amazon, with a further discount available when you use the 'Subscribe & Save' option.
The Bottom Line
Based on our research it seems that the main benefit of the High Impact Endurance formula would be from the ElevATP®.
It's the one ingredient that has clinical research supporting its claims and can be a good alternative to caffeine/sugar based energy supplements.
Based on that you can decide if you want to try this formula or look for different, lower priced or higher rated, pre-workout supplements that also contain it.
The company itself has good reviews and an active customer support team that seems to be responsive to online reviewers' issues.
If you have any experience with Power Life Endurance, please leave your reviews below.


You may also be interested in
Power Life Endurance Customer Reviews