MUAMA Ryoko Portable WIFI
MUAMA Ryoko Portable WIFI Reviews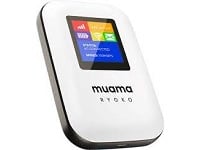 Reviewopedia is supported by our readers. This page contains links through which we may earn a small commission for purchases.
The MUAMA Ryoko is a wireless 4g router claimed to provide a solution for portable internet connectivity. The Ryoko allows you to connect all of your devices using their secured network connection.
Below we'll go over how the Ryoko Portable WIFI works, the company behind the product, and what customer reviews say about the product.
How Does The MUAMA Ryoko Work?
The company states the Ryoko Portable WIFI has an operating battery life of 8hrs and fast speeds of up to 150mb/s.
Your first order contains a prepaid global data sim card with 500mb of data download available.
The Ryoko is meant to be easy to use and set up. To start you will have to insert the SIM card into the ​​Ryoko then turn it on.
You then have two options for connecting your devices to the Ryoko.
Either pairing with a WPS and scanning the QR code or connecting to the now visible network and using the pre-provided key.
Moving forward you can load your SIM with more data through their network partner Viaota. You will have to go https://my.viaota.com/register to register your SIM card and create an account.
Once that is done you should be able to select which monthly data plan you wish to move forward with.
Alternatively, you can use the Ryoko with your preferred network provider if you already have a registered SIM card.
Viaota claims to provide stable 4G/LTE internet connectivity on the global level, but you may want to see what options are available through your current network or research local options which may offer better value.
RyokoRouter.com also states that they have partnerships with 350 networks across 125+ countries. The benefit of this is that you can use one service for all your needs instead of having a variety of contracts.
Cost and Price Plans
The price for one Ryoko Portable WIFI is $89 . There are built-in discounts provided if you buy more than one unit.
Viaota plans range depending on how much data you want.
3gb monthly plan - $14.99
5gb monthly plan - $22.99
10gb monthly plan - $39.00
Customer Service
Phone Number : 1 (205) 782-8802, , or
Email Address: [email protected]
Online Contact Form: Available
RyokoRouter.com also have a detailed FAQ page that has answers to common issues or concerns.
Refund Policy
The company states they have a 30-day refund policy. However, you have to follow the instructions carefully and be aware of the restrictions.
In order to send your order back you have to obtain an RMA number and the return address.
You then have to ship the package back in the original package at your own expense.
Finally, be aware that the company will charge a 15% restocking fee on returns and that their return address will be to the country of Lithuania where they are headquartered, which will require international shipping.
Customer Reviews & Complaints
The MUAMA Ryoko Portable WIFI has mixed customer reviews.
While there are plenty of reviews from users stating that the product works as advertised, we are also found many customer complaints.
Some users found that after receiving the product, it did not work in their area. They then faced the daunting task of returning the unit to a foreign country, which resulted in high return shipping costs of almost as much as the device itself.
Other customers complained about connectivity issues and dealing with poor customer support from both Viaota and MUAMA.
It does appear the customer service reps for Ryoko are active on online review and complaint websites, and attempt to resolve issues that have led to negative customer reviews.
There is also a listing on Amazon for this product which currently has a 3/5 star rating, where customers also complained about the device having a poor battery life and often not working properly.
Competitors and Alternatives
Your best options will ultimately depend on where you plan to be using a portable Wi-Fi router. You may want to consider some of the highly rated options below.
Skyroam Solis Lite - This device provides 4g/LTE speeds and works with the Skyroam network to provide coverage in 130 countries.

It has a higher user rating than Ryoko on Amazon at 3.9/5 stars from over 1,200 customer reviews.
If you do not need an actual router there are more options available for just buying SIM cards that work abroad, such as those provided by Google FI.
You will then have to use your devices to create a local hotspot network.
Is The MUAMA Ryoko Worth It?
With more and more people able to work remotely the need for a portable stable internet connection has never been greater.
However, we are hesitant to recommend this product for several reasons.
First off, there are enough negative reviews for the Ryoko to make us doubt its effectiveness and reliability for use abroad.
The other reason is that MUAMA is a foreign based company that intentionally makes returns difficult and costly.
The company also sells other technology products such as the MUAMA Enence Translator, which also does not have the best customer reviews.
There are a lot of options for getting connectivity while you're traveling and you should research what's available in your intended destination.
If you have any experience with the MUAMA Ryoko Portable WIFI, please leave your reviews below.
You may also be interested in
MUAMA Ryoko Portable WIFI Customer Reviews

Raymond C
Not worth your time or money
This product is very bad and has spotty connection and now won't charge, don't buy it it's a piece of junk.

Liza
Purchased two devices for our travel to the Philippines. The problem is that the Philippines have two different service providers and this device only works with Globe. My cellphone had better service than these devices.
I had somehow run out of data considering I had poor coverage. I added more data (regretfully) and the app never updated the data added. I chatted with customer service at least 4 times with them constantly reassuring me it would appear on my app but never did. So I could never tell how much data was being used or remaining. It was VERY spotty service so I ended up having to buy another local device to use with the other service provider SMART. I should've just done that then pay for two devices with the warranty. I ordered it two weeks before my trip and was gone for 3 weeks so when I tried to return the devices I was outside of the return window.
So I paid for two devices, paid for extra data on one, purchased two local devices to use with the other service provider SMART plus got charged by my regular service provider in the US for extra charges on my cellphone. All in all it was NOT worth it. It sounded like a great idea but definitely a BAD decision. The reason I bought two was because there were times we were not all together and needed Wi-Fi to keep in contact.
So for those of you traveling, it's best to find out who they partner with because other countries may also have multiple providers some of which are not as good as others. Also, I did try to have them switch it from Globe to SMART and it was told it's not possible. You're better getting a local device and they provide SIM cards at the airport. It will DEFINITELY cost less than the amount of money I spent between all the devices and data services! If you're really set on giving it a try I'm looking to offload two devices that cost too much for what it's worth! Otherwise they'll be collecting dust since the company wasn't empathetic at all to my frustration and disappointment in the device! I can't recommend enough to think twice or do more research about the service partners!

Adam
SCAM--do not waste time on this product.
This product is a scam. It does not work as advertised. Returns are not accepted. There is an auto-renewal that is applied without consent.
You are unable to cancel or remove the credit card from your account. They will continue to charge you without your consent and you will have to dispute the charges and they will not give a refund on any data plans.

Rob M
When travelling to Pakistan and Vietnam was unable to connect, yet when I called customer service they said I used all my time on my plan and no refund.
Stay away from this product, plans are expensive and they charge you even if the device never connects. I would give it a zero star if I could, waste of money.

Claude S
I purchased a wifi Muama at the end of Oct 2022 had trouble with simcard. Called the company up to send me another Sim card. Took pictures and sent to them which they requested. Now being Dec. 28th and not a damn thing has not happened. So this product is a pile of bullshit. Also using the product was free. That is bull now they are saying you have to pay for a plan so much a month. Now I am out 148.67. I guess the scammers got me.

Adrian
I just tried to purchase ONE Muama Ryoko wifi device, for $89.00 with my Royal Bank of Scotland credit card. RBS declined to pay as Ryoko had tried to bill me £218 and RBS suspected fraud, Thank You RBS I leave you to make up your own mind