Muama Enence Translator Reviews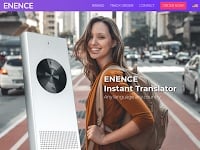 The Muama Enence Translator is a portable voice translator that supports 36 languages, and which the company states uses revolutionary speech recognition technology.
How Does the Muama Enence Translator Work?
In the past, you may have relied on a pocket translation manual or an app to translate what people are telling you.
While apps can be helpful in translating what other people say, they need to be frequently updated and are often not free, anyway.
The Muama Enence Translator can translate over 40 languages, including English, Spanish, French, Chinese, Arabic, and Hindi.
It can also translate the less common languages you may encounter on your travels, such as a variety of Chinese dialects, Tagalog, Ukrainian, and Catalan.
The device holds all of these languages and then some in a small device. If you remember what the old style MP3 players looked like, you will see some similarities in the Enence. It is pocket-sized and perfect for travel.
It's pretty easy to use, too. The device has two buttons - A and B. When you want to say something to someone, hold the A button down and speak.
The device will translate it back to the person you are communicating with, in their native language. If they want to say something to you, you will hold the B button. It will come back to you in your chosen language.
While this device seems great on the surface, you're probably wondering, "ok - but does it really work?" There are some things to keep in mind.
Some people question the legitimacy of the Ennece translation device, pointing to the cumbersome, unattractive design of the website that makes it seem like a scam or even a totally fake product.
We'll talk about the negative reviews in a moment - but here's what you need to know about how well the device works, based on consumer tests and independent reviews.
First, the device is the most accurate when used for brief phrases or short sentences. While you can speak longer sentences and get some accurate results, it's not going to be quite as accurate if you are waxing eloquent to an audience in another language.
Does it Need Wifi?
Unfortunately, yes - in order for the Enence Translator to work, you do need a constant connection to the internet.
Your phone must also be linked to the device. If you're traveling abroad, you can purchase an international SIM card.
Cost and Price Plans
The Muama Enence device starts at $89 - according to the company's website, this is a discounted rate that's only available for a short time.
Customer Service
If you like dealing with companies that have very transparent information and are easy to get in touch with, then Muama Enenec is not for you.
It's tough to find the contact information for the company on its website- although you can reach them at the email address [email protected], there is no contact number listed for phone support.
The website is difficult to navigate - and do a search for Muama Enence Translator and you're liable to come up with several different webpages, any one of which could be the company's "official" page.
This is definitely something to be wary of, particularly if you aren't fond of forking over your hard-earned money when a company doesn't seem 100% legit. Proceed with caution.
Online Customer Reviews & Complaints
Customers appreciate how quick the response time is - it takes no more than two seconds for the device to translate what you said, or what was said by someone else.
It can last for four full days before losing battery, and then all you need to do is quickly recharge it.
The device also has some pretty nice bonus features to be aware of. You can take a photograph of text in a foreign language and the translator will tell you what was written. It does need to be connected to your smartphone via Bluetooth for this.
The Enence Translator is also surprisingly durable. It works well even after being dropped. Plus, it's portable and has a decent transmission range.
It can pick your voice up from over six feet away, so you don't have to hold it right up to your face while you're using it. It also works well in crowded areas with lots of background noise that could potentially interfere with its use.
Now here are some of the negatives. While the Enence Translator has plenty of benefits, it's definitely not something you should rely on to help you out in a life-or-death situation.
It mistranslated sometimes, a feature that is common among lots of portable translators. This is especially true if there is lots of interference nearby.
Is Muama Enence Legit?
It's tough to find any real reviews on the Muama Enence Translator. Most of the reviews affiliated with the device are positive - but these are, for the most part, offered up by sponsored bloggers.
However, if you want to read some real reviews or even complaints, you can check out the company's reviews on the app store.
These will let you know about some of the issues and benefits of the device. These usually have to do with accuracy and connectivity - it can be tough to find instructions online, too.
Therefore, while the device seems to work - and not to be a scam - it may not be the best overall value for your money.
Where to Buy?
At the time of this article's publication, the Muama Enence Translator can only be purchased directly from the manufacturer's website. Here, you can purchase the device at a 50% discount and free shipping.
You can buy three to get two for free, all of which are backed by a 60-day money-back guarantee to allow you to demo the product without a long term commitment.
Competitors and Alternatives
Although the idea of instant, portable translators are relatively new, Muama isn't the only device out there that can lend a hand. Another option is the Illi.
The Illi was one of the first devices of this kind to enter the market. This portable translator received a lot of bad press for its creepy ads and its inaccurate translations.
After this company's launch - it was one of the first portable translators out there - people were (rightfully) skeptical.
However, the portable translation market is now a booming one with plenty of other reputable products out there. When Muama Sentence Translator is compared vs. Illi, you aren't going to see a lot of differences in terms of overall quality and company reliability.
You might want to consider a more reliable alternative, such as Muama Sentence Translator vs. Google Translate. Google Translate provides decent translation and is free, but you will need your smartphone handy in order to use it.
Finally, you might consider Enence vs. Travis. The Travis device uses artificial intelligence to translate speech in 80 different languages - plus it can do it in less than two seconds.
Available on Amazon, this device comes in a variety of formats and has positive overall ratings, making it a good alternative to Enence.
The Bottom Line
Although there are some pretty positive - and seemingly legit - reviews of Muama Enence Portable Translator, the company's complicated and ambiguous identity leaves us a little skeptical.
With very little information available about the origins of this product, as well as how to get in touch if you have an issue with an order, we don't recommend purchasing the Muma Enence Translator.
Consider one of the other options if you are looking for a more reliable translation device.
If you have any experience with the Muama Enence Translator, please leave your reviews below.
Muama Enence Translator Customer Reviews

Don't b
Don't believe the hype. Mauma Enence does not work.
The video that Mauma Enence puts out about the Translator is not what I experienced at all. If a ZERO could be the rating -- that is what I would give. .
Received my two translators and they did not work.
Don't forget the 15% RETURN FEE. Mine was $20.00
Don't forget that the RETURN will have to go to Enence Returns Logismart
Savanoriu pr. 176
LT-03154, Vilnius Lithuania.
It will COST $65.00 to ship from Los Angeles to this location in Lithuania.
That's $75.00 to return a product that should be sold at the 99 cent store.
For me...it's a total ZERO rating. Note, if you have a Cell Phone -- just use the FREE google or android translator that can be downloaded for free.
Mauma -- if you need my order number to verify that I'm real, just let me know and I'll be happy to provide.

M S
4 translators failed; lousy return policy
4 translators failed; lousy return policy
I bought translators. All failed in the same way. Pressing "me" and saying e.g. Monday gives the
response on the app: "Sorry, can you say that again?"
Ditto using the microphone button and "Montag".
It is connected. If I type "Monday" into the App, in translates and speaks on the device "Montag".
I was forced to pay for return Postage to Lithuania and a 15% restocking fee. I feel scammed.

James G
Do not fall into their rat trap out of Lithuania or is it China, Very ambiguios.
I have just been taken regarding the Mauma [WIFI Router] product I purchased online. I noticed first all, they had a perpetually engaged corporate number, over three weeks and never answered.
They were not even smart enough to have a country code no attached. That in itself says something of a company. Then they supplied me with a tracking number that hadn't allowed me access. to its system. Then they avoided some answers to my questions regarding my experiences. And now I found this online confirming my suspicions...
You should be careful with Muama Enence online store because it is a fraudulent online store, not the genuine or legit one. Now let's find out why is an Enence.com scam and what is it in real through our Muama Enence review here.

Lucas K
The company is so bold as to claim to 100% accuracy?
Technologies aren't just there yet. Even professional translators make nuance mistakes occasionally.
Also the languages are not pre-installed, therefore cannot function as a stand-alone device.
Buyers beware. Don't waste your time/money on this product.

Pam F
Don't buy these translators!
I purchased 2 translators

Eugene F
garunteed return is a lie
I bought two of these and decided I did not want them. I sent them to Lithuania ($40.00) as directed and after a month they came back marked order expired. I have sent two emails to Muama and they do not respond.
Don't trust them.

eweinfur .
Is not PRELOADED with 40 languges
Had problems on day one getting the Enence to link up with my iPhone. Would not link to Bluetooth reliably until the latest iOS came out. It would display the words on the iPhone but the speaker was not linked. Purchased 3 units and all three have the same problems
You need the internet to do the actual translation. I purchased this as a standalone Translator, there was not indication that you had to have your smartphone on you. Also it links to the MUAMA server so if the company goes belly up, you have an expansive paperweight.
Customer Service is by e-mail and you could get a reply in 20 minutes or 3 days.

Dale S
I have not received my order. I have been charged for it. I assume this might be a scam.