Muama Enence Translator Reviews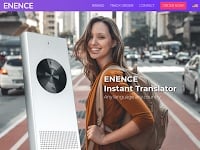 Reviewopedia is supported by our readers. This page contains links through which we may earn a small commission for purchases.
The Muama Enence Translator is a portable voice translator that supports 40 languages, and which the company states uses revolutionary speech recognition technology.
Below we go over how the device works, how to set it up, and most importantly what customers have to say about how well it performs.
How Does the Muama Enence Translator Work?
Muama Enence Translator creators claim the device provides a system for real time translation, allowing users to have a natural conversation, just as if they were speaking the same language.
The device can translate over 40 languages, including English, Spanish, French, Chinese, Arabic, and Hindi.
It can also translate the less common languages you may encounter on your travels, such as a variety of Chinese dialects, Tagalog, Ukrainian, and Catalan.
The unit pairs with Android or iPhone devices via Bluetooth and works through the company's app. It's designed to be unobtrusive and pocket-sized to work for travel.
The device has two buttons - A and B. When you want to say something to someone, hold the A button down and speak.
The device will translate it back to the person you are communicating with, in their native language. When the other party is speaking to you, you will hold the B button, and their speech is automatically translated.
Does it Need Wi-Fi?
Unfortunately, yes - in order for the Enence Translator to work, you do need a constant connection to the internet via Wi-Fi or 4g+ mobile data connection.
Your phone must also be linked to the device. If you're traveling abroad, you can purchase an international SIM card.
Cost and Price Plans
The Muama Enence device starts at $89 - according to the company's website, this is a discounted rate that's only available for a short time.
If you purchase more than one unit you will qualify for additional savings.
Customer Service
Email Address: [email protected]
Phone Number: 1(205) 782-7133
Contact Form: https://enence.com/contact
Mailing Address:
UAB Orbio World
K. Donelaicio 60, LT-44248
Kaunas, Lithuania
We found that the company behind the Muama Enence Translator is not very transparent regarding their contact information, which is not clearly displayed on their website.
For example, we only found the company's official name and mailing address in their terms of service document, and not clearly displayed elsewhere.
The website is difficult to navigate - and do a search for Muama Enence Translator and you're liable to come up with several different websites. It is not immediately clear which website is the company's "official" page.
Return Policy
The company also states that they have a 30-day return policy. However, the terms are not favorable to the customer.
In order to get a refund you have to contact customer service and acquire an RMA number.
You then will have to ship the product back, in original packaging, at your own expense. The company charges a 15% restocking fee.
Some customers reported that when all was said and done they spent around $65 returning the product.
This kind of return policy may or may not be intended to discourage customer returns.
Where to Buy?
At the time of this article's publication, the Muama Enence Translator can only be purchased directly from the manufacturer's website.
Here, you can purchase the device at a 50% discount and free shipping.
Customer Reviews & Complaints
Muama Enence Translator has mixed customer reviews online.
A lot of the websites that favorably review this product are affiliate partners with the company, meaning that they earn a commission from each sale of the device purchased through their link.
It is sometimes difficult to differentiate between genuine customer reviews and websites created just to promote this product.
Some of the positive things that customers mentioned include:
Quick Translation - sometimes it can take as little as two seconds for the device to translate speech.
Long Battery Life - The device can last for four full days before losing battery, and can be quickly recharged.


Durability & Portability - The Enence Translator is quite portable and also surprisingly durable. It works well even after being dropped.


Transmission Range - It can pick your voice up from over six feet away, so you don't have to hold it right up to your face while you're using it.

It also works well in crowded areas with lots of background noise that could potentially interfere with its use.


Bonus Features - You can take a photograph of text in a foreign language and the translator will tell you what was written. The device needs to be connected to your smartphone via Bluetooth for this.
Negative Customer Reviews
While the Enence Translator has plenty of benefits, it's definitely not something you should rely on to help you out in a life-or-death situation.
It sometimes mistranslates words, a bug that is common among lots of portable translators. This is especially true if there is a lot of noise interference nearby.
Further, based on real users' experience it seems that the translator is not as reliable as the company's website makes it seem, and some reviewers have accused the company of posting fake positive reviews.
Customer complaints mainly center around reliability issues, the device simply not working, and problems with customer service.
Customers also point out that one of the worst problems with the product is that it requires connectivity and doesn't have a preloaded database.
Most users require a translator for times when they will be in a foreign country and may not readily have an internet connection, let alone a strong Wi-Fi connection.
Is Muama Enence Legit?
Some people question the legitimacy of the Enence translation device, pointing to the company's cookie-cutter sales website which is nearly identical to other websites used to sell fake products.
It's tricky to find real reviews on the Muama Enence Translator because of the large number of affiliate marketing websites aggressively promoting the product.
However, if you want to read real reviews and complaints, in addition to what you will find here, you can check out the company's reviews on the app store.
These will let you know about some of the issues and benefits of the device. Customer complaints usually have to do with accuracy and connectivity.
Therefore, while the device seems to work - and not to be an outright scam - it may not be the best overall value for your money.
Competitors and Alternatives
Although the idea of instant, portable translators is relatively new, Muama isn't the only device out there that can lend a hand. Some of the other better rated products include:
Pocketalk - The 'Pocketalk Classic Language Translator Device' has a 4.1/5 rating on Amazon from 1306 customer reviews and is a bestseller on that platform.

The Pocketalk can translate up to 82 languages and costs $129.
Google Translate - Google Translate provides decent translation and is free, but you will need your smartphone handy in order to use it.
Timekettle WT2 Edge/W3 Translator - This set of Bluetooth earbuds provide bidirectional simultaneous translation for 40 languages.

Timekettle offers several options so you can look around for one that best suits your needs. Available on Amazon.
The Bottom Line
The Muama Enence Translator seem to be most accurate when used for brief phrases or short sentences, and is less likely to translate accurately when you use prolonged complex phrases.
Although there are some positive - and seemingly legit - customer reviews of Muama Enence Portable Translator, the company's complicated and ambiguous identity leaves us a little skeptical.
With very little information available about the origins of this product, as well as how to get in touch with the company if you have an issue, we don't recommend purchasing the this translator.
There is a very real possibility that the company has simply rebranded a cheap translator bought wholesale from China.
Consider one of the other options if you are looking for a more reliable translation device.
If you have any experience with the Muama Enence Translator, please leave your reviews below.
Muama Enence Translator Customer Reviews