LeanBiome Reviews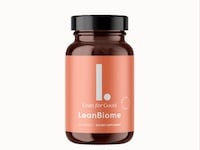 LeanBiome, from Lean for Good, is a supplement claimed to aid with weight-loss by introducing a formula of 'lean bacteria' to your gut microbiome.
Lean for Good state that research has shown that adding these healthy bacteria strains to your system can lead to steady weight-loss.
Below we take a closer look at the science and research behind the company's claims and see what customer reviews say about LeanBiome.
What is the Gut Microbiome?
Gut Microbiome refers to the trillions of microscopic living bacteria, viruses, and fungi that are found in human intestines. This internal ecosystem plays a crucial role in keeping us healthy.
For instance, you may have heard the term "good bacteria." These good bacteria work with our bodies to help perform complex functions such as digestion, immunity, and brain function ( 1 , 2 , 3 ).
The idea that this area of the body is responsible for critical aspects of our health is not new and was even put forth over 2,000 years ago by Hippocrates, who hypothesized that all disease starts in the gut.
The company behind LeanBiome is correct in their assumption that weight gain may be a result of gut imbalances.
They are also correct to point out the plethora of research on the topic, some of which is linking gut dysbiosis (imbalance of good vs. bad bacteria) to health issues such as inflammation, irritable bowel syndrome (IBS) , and inflammatory bowel disease (IBD) ( 4 , 5 , 6 ).
How Does LeanBiome Work?
Lean for Good claims they used the latest scientific research to create a formula in LeanBiome that combines three strains of healthy bacteria with a green tea extract in a formula that introduces "lean bacteria" to the gut.
They state that based on the research this will lead to:
Reduced hunger
Less cravings
Increased metabolism
Reduction in fat storage
LeanBiome makes use of a delayed release capsule which is intended to protect the bacteria from being dissolved in the stomach acid before reaching your gut microbiome.
The company website states that LeanBiome capsules are manufactured in the USA in a FDA inspected facility following 'Good Manufacturing Practices (cGMP)'.
LeanBiome is free from:
Gluten
Dairy
Soy
Nuts
Crustaceans
GMOs
BPAs
Lean for Good reference a key study that examined the relationship between obesity and gut health in sets of twins ( 7 ).
The study concluded that some gut bacteria appears to be inherited, which may be an explanation why some people are more prone to weight gain, and that those with less bacterial diversity in their gut biome had more visceral fat (fat stored deep inside the body).
Another study followed up on this research by taking intestinal microbes from sets of lean and obese twins and inserting them into mice on controlled diets ( 8 ).
Mice that received bacteria from the obese twin grew larger and had more bodyfat than ones who received microbes from the lean twin.
While limited in their scope, this study does show a key relationship between healthy gut bacteria and weight.
Lean for Good tends to present study findings as much more of a definitive and immediate breakthrough than they truly are.
For example, there are studies that show the weight-loss effects of probiotics are limited, with one data analysis showing a weight reduction of only around 1-2 lbs. ( 9 ).
However, that study does go on to say that the results may improve if consuming multiple strains of probiotics, which LeanBiome contains.
LeanBiome ingredients and side effects
The key ingredient in LeanBiome are:


Probiotics are generally considered to be safe with the potential for minor side effects such as upset stomach, gas, diarrhea, and bloating ( 14 ).
If you have serious health conditions you should consult with your primary care physician before starting any new supplement.
Cost and Price Plans
Currently LeanBiome sells for $59.99 +9.95 shipping. The company recommends ordering a larger 90-day supply.
BestLeanLife.com includes discounts so that the price per bottle decreases with larger orders.
Customer Service
LeanBiome is sold through ClickBank which is a 3rd party ecommerce platform that maintains their own customer support, which you can contact by phone.
Toll Free: 1-800-390-6035
International: +1 208-345-4245
Meghan See, the founder and face of the company, states that they offer a 180-day money back guarantee on all purchases. If you are unhappy with your order you can contact the company to initiate a refund.
Email : [email protected].
Company Address :
Lean for Good®
315 Deaderick St., Suite 1550,
Nashville, TN 37235
Customer Reviews & Complaints
LeanBiome is a relatively new product so there aren't many customer reviews at this time.
There are many websites that have positive "customer reviews" of LeanBiome, though it's important to note that these are mostly sponsored posts by affiliate marketers who are promoting the product for a commission.
This is a bit concerning as these types of sites are created solely for the purpose of promotion and not sharing actual feedback for the product.
Where to Buy?
At this time LeanBiome is only for sale through their website BestLeanLife.com.
How To Take LeanBiome?
Their website recommends taking one capsule per day with water, before breakfast.
Competitors and Alternatives
The supplement market is saturated with Probiotic companies. Since supplements are not regulated by the FDA it is very easy to start a new company in this niche.
The downside is that it can also be difficult to find reputable health supplements suppliers among a sea of less than reputable ones.
Some other popular brands that we have reviewed on Reviewopedia include:


ActivatedYou Morning Complete - A combination of pre and probiotics combined with leafy greens.



Bio Complete 3

- A supplement that focuses on digestion and overall gut health.



Multi GI 5

- A probiotic supplement affiliated with celebrity Randy Jackson that also focuses on weight-loss.
The Bottom Line
LeanBiome attempts to stand out in the highly competitive supplements market by differentiating itself as a probiotic supplement designed specifically for weight-loss.
The company points to a lot of research that supports some of their statements, but tends to overstate the results as they rely on studies with very small sample sizes.
There is definitely a lot of new research that points to the incredible health benefits of maintaining a healthy gut biome ranging from digestion to mental health.
Is LeanBiome worth it and will it help you lose weight?
While LeanBiome looks promising on paper there are also some potential red flags:


Lack of real customer reviews


Overwhelming amount of spammy affiliate websites promoting the product


The company's aggressive efforts to upsell their customers to more supplements.


Ultimately, LeanBiome may help you lose some extra weight, but you would still likely have to adhere to a healthier lifestyle and dietary changes to see meaningful results.
It's also helpful that the product is sold through ClickBank, which helps facilitate customer disputes and refund issues for products sold through their platform.
If you have any experience with LeanBiome, please leave your reviews below.
You may also be interested in
LeanBiome Customer Reviews