Dr. Marty's Nature's Blend
Dr. Marty's Nature's Blend Reviews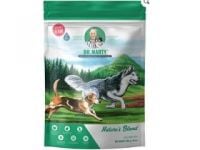 Reviewopedia is supported by our readers. This page contains Amazon links through which we may earn a small commission for purchases.
Dr. Marty's Nature's Blend is a dog food brand created by veterinarian Dr. Martin Goldstein, who states that his mission is to help boost pet health using his products.
Dr. Marty explains that he discovered a macrobiotic diet as being highly beneficial for overall human health when it helped him get over his ailments in his 20s.
Since starting a macrobiotic diet Dr. Marty states his aches and pains have disappeared and he has lost significant weight.
As a result, Marty attempted to adopt similar techniques on the pets that he was treating. When he tried a macrobiotic diet on one of his client's dogs he discovered similar positive results.
Dr. Marty Goldstein has since then grown both his company and client list, which now includes several famous celebrities.
Marty has been featured on the Martha Stewart show explaining the dangers of conventional dog food.
Dr. Marty Dog Food Exposed
The bulk of Nature's Blend marketing is done through online advertisements using a video titled "Dog Food Exposed". In the video Dr. Marty breaks down some of the most common issues with many big brand dog foods.
While the slick marketing video may come off as hype to sell products, we found that the claims made in the video were largely based on facts.
In "Dog Food Exposed" Dr. Marty points out 3 critical ingredients to avoid in dog food.


Preservatives - specifically Butylated hydroxytoluene - BHT, BHA, and Propylene Glycol


Fillers - Mainly heavy grains that would not be common in a dog's ancestral diet such as: barley, oats, soy, wheat, or corn.


Meat By-Products - Bone meal or meat by-products can easily be snuck into dog food under the guise of regular meat.

However, they are not the same thing and can be loaded with nasty contaminants and cast-off meat products not suitable for use.
He also lists 3 Super Nutrients that should be included in your dog's meals.


Organ Meat
Omega 3s
Prebiotics

These can be included as raw meat or in the form of supplements.
The pet food industry is loosely regulated, which gives companies a lot of leeway in how they can label their products.
For instance, in more extreme cases the byproducts used in dog food come from euthanized animals that may still have those drugs inside them. This kind of contamination can expose your pets to drugs such as Pentobarbital, along with a wide variety of antibiotics.
These kinds of extremely low quality meats can be listed on ingredients labels as: Animal Fat, Meat and Bone Meal, Beef and Bone Meal, and Animal Digest.
In general, the cheaper the pet food is the more likely their protein is sourced from rendering plants where a slew of unwanted animal parts are converted to pet food.
This does not necessarily mean that even higher priced dog food brands are immune from recalls or issues with contamination.
Dr. Marty's Dog Food Ingredients
The idea behind Dr. Marty Dog Food is that it focuses more on preventing the deterioration of pet health rather than curing a specific disease.
Dr. Marty states Nature's Blend uses the highest quality ingredients rich with multiple protein sources, and never any cereals, grains, or fillers. Nature's Blend is made in the USA and includes many vitamins and minerals.
Unlike some other companies that cook the dog food intensively, Dr. Marty's Raw Dog Food is freeze-dried to retain the nutritional value of the food.
The ingredient profile is protein forward with a guaranteed content of:


Crude Protein - (minimum) 37%
Crude Fat - (minimum) 27%

Crude Fiber

- (maximum) 4%

Moisture

- (maximum) 6%


Nature's Blend Full Ingredients List is as follows:
Turkey, Beef, Salmon, Duck, Beef Liver, Turkey Liver, Turkey Heart, Flaxseed, Sweet Potato, Egg, Pea Flour, Apple, Blueberry, Carrot, Cranberry, Pumpkin Seed, Spinach, Dried Kelp, Ginger, Salt, Sunflower Seed, Broccoli, Kale, Mixed Tocopherols (natural preservative)
Nature's Blend can be served straight out of the bag or, if your pet prefers, it can be rehydrated with warm water.


Note: When switching your dog to a new food it's important to introduce it gradually and follow the guidelines put forth by Dr. Marty. Also, it is very easy to underfeed your dog on raw food diets so make sure that you are meeting all of your dog's caloric and nutritional needs.
You may want to consult with your veterinarian before switching food brands if you are concerned about your dog's health.
Furthermore, carefully monitor your dog for any signs of distress during the integration phase of Dr. Marty's Nature's Blend.
Cost and Price Plans
A bag of Nature's Blend (net weight 454g) costs $59.95, which puts it in the premium priced pet food category.
Customers can save up to 10% when buying larger quantities from the company's website, which also often offers discounts when you subscribe to their newsletter.
Dr. Marty's dog food comes with a money-back guarantee.
If your pet is not doing well on the food or is not experiencing the promised health benefits, you can send the product back within 90 days for a refund.
Customer Service
Email - [email protected], or contact form on DrMartyPets.com


Phone Number - (800)-670-1839, available during extended business hours, weekdays, and weekends.


Mailing Address:

6320 Canoga Avenue, 15th Floor
Woodland Hills, CA 91367

Customer Reviews & Complaints
Customer reviews of Dr. Marty's Nature Blend are mostly positive.
Customers generally love the product because their dog's feeding habits improve. Reviewers often report that their pets gained weight and became more energetic and healthier.
Some reviewers testified that their pets' liver enzymes improved dramatically after two weeks of Nature's Blend, and that their pets have more energy and sleep better.
As for negative reviews, some customers believe that Dr. Marty's Nature Blend is too expensive and are often looking for a cheaper alternative freeze-dried blend that is still high-quality.
In some rare cases there are reports on Reviewopedia and other review sites of animals having negative reactions to the food.
Dr. Marty has an A+ rating with the BBB and a score of 4.23/5 from 1,017 customer reviews on that site.
Their customer service team routinely responds to customer complaints posted there, attempting to solve issues by refund or other alternatives.
Where to Buy?
You can find this particular brand in stores and on their website, DrMartyPets.com.
Dr. Marty states his dog food is designed for overall pet health for dogs of all breeds, so you do not need to choose a product specific to your dog's breed.
You can return the unused portion of the product within 90 days from purchase for a refund.
Competitors and Alternatives
One of the most similar companies to Dr. Marty's, in both marketing and products, is Nutra Complete from Ultimate Pet Nutrition.
Nutra Complete boasts very good reviews from customers and is similarly priced to Dr. Marty's dog food.

Nutra Complete is a premier freeze-dried dog food.

meat forward
includes organ meats
additional vitamins and supplements
4.3/5 rating from 1000+ customer reviews

1 pound bag - $35.09 on Amazon


Just Food For Dogs is another premium brand that offers a unique twist for those who want to feed their dogs the absolute best food on a budget.
You simply order their meal plans with nutritional supplements and follow the preparation guidelines. This lets you control the exact ingredients that go in their food and have the assurance that they are getting their exact daily nutritional requirements.




Just Food For Dogs DIY option lets you prepare home cooked meals for your dog.

Guaranteed nutritional profile
Cost effective alternative to buying expensive raw, freeze dried, or real cooked meals
4.4/5 rating from 1000+ customer reviews

7.93 oz bag - $23.70 on Amazon




Finally, Bixbi is another leading brand that offers several options including a freeze dried and gently steam cooked product.



Bixbi offers several all natural dog food options.

No fillers, hormones, antibiotics, or preservatives
No rendered byproducts
Whole ingredients
4.6/5 rating from 400+ customer reviews

1.6 pound bag - $52.79 on Amazon


Is Dr. Marty's Nature's Blend Worth It?
Whether your dog is experiencing signs of illness or is simply no longer interested in their current food, you may want to explore some of today's alternative dog foods.
While kibble is convenient it comes with a lot of downsides such as a degraded nutritional profile and regular exposure to Advanced Glycation End Products (AGEs). These are compounds that form when proteins are cooked at very high heat.
The accumulation of AGEs in the body has been linked with chronic inflammatory diseases in humans and other species.
One study found that these compounds were present at levels 122 times higher in dogs than the average intake for adult humans - most likely a result of a monotonous kibble centric diet.
Ultimately, choosing your dog's food is a very personal choice that should be done with some research. For instance, many veterinarians will not advise feeding raw foods.
Also, as discussed in some negative customer reviews, feeding premium food is often not a financially viable option for many people.
For a large breed dog you may end up spending almost a thousand dollars a month if you relied solely on freeze dried options for all of their meals.
This is why Dr. Marty and others include options for using premium food as toppers or mixers. If cost is a factor you can also explore some of the options listed above.
Overall, Nature's Blend is a high quality dog food that comes with a premium price. It can aid in stimulating your dog's appetite and may improve their overall health.
If you have any experience with Dr. Marty's Nature's Blend, please leave your reviews below.


You may also be interested in
Dr. Marty's Nature's Blend Customer Reviews