Dermal Repair Complex Reviews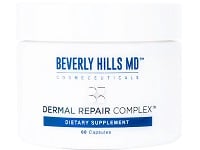 Dermal Repair Complex Review: Legit?
Dermal Repair Complex, found online at BeverlyHillsMD.com, is a health and skincare dietary supplement claimed to help with sagging skin, wrinkles, and dull looking skin.
How Does it Work?
The company believes that, unlike most topical applications, Dermal Repair Complex can help delay signs of aging by providing your body with key nutrients to keep skin aging hormones at bay.
Beverly Hills MD is a doctor-led cosmeceutical company that markets a variety of formulas to target skin issues, including ones such as deep wrinkles and thinning eyebrows.
BHMD advertise their products directly to consumers with catchy video ads that can be seen on many popular websites, such as InnerSkinResearch.com
With the skincare market overrun with products it's important to do your research on anything that you ingest or put on your skin.
Below we take a closer look at the Dermal Repair Complex and analyze customers reviews to see if the company's claims hold up.
Company Claims
The Dermal Repair Complex website states that as we age our bodies go through something they call "Hormone-Induced Dermal Failure", which they describe as the most common cause of visual aging in women over 40.
These hormonal changes and imbalances are directly responsible for the collagen and elastin breakdown in our skin, which results in traditional signs of aging like sagging or drooping skin, wrinkles, dullness, and other skin flaws.
According to InnerSkinResearch.com, taking just two capsules of Dermal Repair Complex daily with a meal can result in increased skin firmness, smoothness, and a "youthful glow."
Treating skincare from within may seem counterintuitive but there are a lot of ways that what you put in your body can affect your appearance.
Ingredients and Side Effects
The key ingredients that they feature include:


Saw Palmetto
This palm tree extract has been used in a variety of supplements that traditionally target issues such as increasing testosterone, aiding with prostate health, and hair loss.[1]
However, studies are limited and more research is needed on its use as a treatment for signs of aging., especially since most of the studies cited were done on men for use in the context of prostate and urinary tract issues.[2, 3]
There is limited research supporting Saw Palmetto use for acne treatment. It may be beneficial for skin care because of it contains several essential fatty acids.


laurate
palmitate
oleate
linoleate


Potential side effects may include headache, diarrhea, nausea.
There are warnings that saw palmetto may interact with certain drugs and may reduce the effectiveness of some birth controls.
It's best to consult with your primary care physician before you begin a treatment containing this ingredient, especially if you are pregnant or nursing.


Methylsulfonylmethane (MSM)
This compound can be found in animals, plants, and humans.
As a supplement MSM has been used to naturally treat inflammation and joint pain, aiding with improved joint function and issues with joint degeneration.[4]
It is thought that its ability to help reduce inflammation in the body can aid in signs of premature aging.
One limited study found that an MSM supplement aided in the reduction of wrinkles and fine lines in its participants. It's important to note that the study was sponsored by a nutrition company.[5]
MSM is a very common supplement and can be found in a variety of formulations. It has a GRAS (Generally Recognized As Safe) designation by the FDA.


Hydrolyzed Collagen
This critical protein can be found in the body's tendons, ligaments, cartilage, organs, and bones.
Hydrolyzed Collagen is commonly used in supplements because it is the broken down form of this protein. Healthy levels of collagen and elastin are also key elements to youthful looking skin.
There are studies that support a lot of these claims, with one study finding that:


"...oral intake of Low-molecular-weight Collagen peptide (1000 mg once daily for 12 weeks) efficiently improved the health of photoaged skin in a cohort of women aged 40–60 years, by significantly improving skin hydration as early as after 6 weeks of intake, and skin wrinkling and elasticity after 12 weeks of intake."[6]

Another meta-analysis supported these findings concluding that,


"Based on results, ingestion of hydrolyzed collagen for 90 days is effective in reducing skin aging, as it reduces wrinkles and improves skin elasticity and hydration."[7]


Hyaluronic Acid
Typically a very common ingredient found in topical moisturizers for its ability to hydrate the skin.
In one 12 week study participants that ingested Hyaluronic acid showed an improvement in skin elasticity, water retention, and wrinkles over the placebo group.[8]
Another study suggests that HA has a positive effect on collagen production which, as mentioned above, is critical in developing healthy skin.[9]


B Vitamins
B vitamins are critical to optimal health and can be obtained from a healthy diet. They're often used in oral and topical supplements for their many health benefits.[10]
You can find B vitamins on ingredients lists labeled as:
Thiamin (B1)
Riboflavin (B2)
Niacin (B3)
Pantothenic Acid (B5)
Pyridoxine (B6)
Biotin (B7)
Folate (B9)


Vitamin A (Retinol)
Another staple of a healthy diet, vitamin A can be obtained from both animal and plant foods. It's often used in topical skin care products since it can be absorbed through the skin.
As a dietary supplement it has effects on vision, the immune system, and organ function, among other key functions.
In regard to skin health, studies have shown its key role in protecting skin from environmental damage due to pollution and UV radiation.[11]
Retinol can also stimulate new cell growth and has many positive effects on skin health and appearance.
Obtaining Vitamin A through dietary sources is very safe, but there may be concerns with over consuming vitamin A in the form of high-dose supplements.
Something to keep in mind if you plan on taking Dermal Repair Complex in conjunction with a variety of other products.
The full list of ingredients and amounts per serving can be found on Beverly Hills MD website.
Customer Service

Contact Info
If you would like to contact Customer Service with any questions, concerns, or complaints you can do so by:
phone: 877-828-5528
email: [email protected].

Cost & Price Plans
A single bottle of Dermal Repair Complex purchased at this time is priced at $58, but customers who are interested in purchasing this product in a larger volume will be able to receive a per bottle discounted price.
Two bottles are priced at $54, which the website says is an $8.00 savings, while three bottles are priced at $50, which the website says is a $24.00 savings.

Refund Policy
Beverly Hills MD offers a 90-day money back guarantee on the Dermal Repair Complex.
If you're unhappy for any reason, reach out to customer service to initiate a refund. You will be required to send back the bottles of the product you would like refunded.
Customer Reviews & Complaints
This product appears to have somewhat mixed customer reviews at this time period.
We found both positive customer reviews speaking highly of Dermal Repair Complex results along with customer complaints stating that there were no visible results.
For the most part customer reviews are positive with users claiming to experience at least some level of improvement in skin appearance.
The seller, Beverly Hills MD, has an active customer support team that makes an effort to respond to customer issues and complaints.
Customers who felt the product did not benefit them were often pleased that they were able to return the products for a refund.
The company is also accredited by the BBB with an A+ rating and a customer review score of 4.05 out of 5 from 570+ reviews.
It's natural that here is some variation in how effective a product may be for a particular customer depending on their own biology.
You may want to start with a single jar to see how you respond to this supplement. Unlike topical supplements this dietary supplement may take longer to show effectiveness.
Competitors and Alternatives?
There are many beauty supplements available on the market, with some making specific claims about the strength and length of your hair and nails and others promising to correct a variety of skin concerns, and still others promising to essentially do it all.
You can also take specific ingredients that have the research to back up their claims, ones often combined in branded supplements, separately.
For example, just buying a collagen supplement like Vital Proteins Collagen Peptides.
This strategy can help you see which treatments your skin responds to while also eliminating ingredients that don't have the strongest scientific support. In this case that would be Saw Palmetto.
The Bottom Line
There is a lot to like about Dermal Repair Complex:


Generally Positive Customer Reviews
Mostly Evidence-Based Claims
Strong Return Policy
Responsive Customer Service


There are some ingredients in Dermal Repair Complex that may not be appropriate for everyone, particularly if you're also taking other medications or supplements.
In such a case it may be best to only separately take the best components of Dermal Repair Complex and combine that with a topically applied cream or lotion.
Keep in mind that one of the best things that you can do to maintain a youthful complexion is establishing good dietary and lifestyle habits.
Eating vitamin rich, whole foods and plenty of vegetables while eliminating processed and dehydrating foods from your diet can be a great start.
This should be combined with plenty of exercise, good sleep, and sun protection.
If you have any experience with Beverly Hills MD Dermal Repair Complex, please leave your reviews below.
You may also be interested in
Dermal Repair Complex Customer Reviews