Dermal Repair Complex Reviews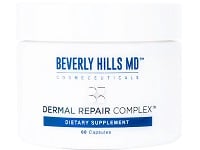 Dermal Repair Complex, found online at BeverlyHillsMD.com and also promoted at InnerSkinResearch.com, is a health and skincare supplement by Beverly Hills MD Cosmeceuticals which promises to address collagen and elastin breakdowns, which they call the root causes of aging.
How Does Dermal Repair Complex Work?
The Dermal Repair Complex website says that as we age our bodies go through something that they call "Hormone-Induced Dermal Failure," which they describe as the most common cause of visual aging in women over 40.
These hormonal changes and imbalances are directly responsible for the collagen and elastin breakdown in our skin which results in traditional signs of aging, like sagging or drooping skin, wrinkles, dullness, and more.
According to their website, taking just two capsules of Beverly Hills Dermal Repair Complex Complex daily with a meal can result in increased skin firmness, smoothness, and a "youthful glow."&nbsp
&nbsp
Ingredients and Side Effects
Their website does not provide a full list of ingredients for this product on their website, but they do provide a list of what they consider their six active ingredients: Saw Palmetto, MSM, Hydrolyzed Collagen, Hyaluronic Acid, Vitamin B, and Vitamin A.
Many of these ingredients have long been known and recognized for their benefits to skin when they are applied topically to the skin; not as much is known about all these ingredients and their benefits when they are taken orally.
Cost/Price Plans
A single bottles of Dermal Repair Complex purchased at this time is priced at $58, but customers who are interested in purchasing this product in a larger volume will be able to receive a per bottle discounted price. Two bottles are priced at $54, which the website says is an $8.00 savings, while three bottles are priced at $50, which the website says is a $24.00 savings.
Refund Policy
This company's sales page says that their customers are all welcome to a 60 Day Money Back Guarantee which states that customers who are unhappy with this product for any reason are welcome to return it within the first 60 days for a full refund.
Unfortunately this policy isn't detailed anywhere on their website or in their legal Terms and Conditions, which makes it difficult for customers to know whether or not they should trust this policy.
Customer Service Contact Info
Customers who would like to contact Customer Service with any questions, concerns, or complaints can do so by phone at 877-828-5528, by email at [email protected], or by clicking their Email Us link in order to submit them directly to their website.
Reputation
This product appears to have somewhat mixed reviews at this time period. Some websites have a long list of positive reviews and reviewers all speaking highly of what this product was able to do, while others have many vocal customers all complaining about how this product "did nothing" for them.
The truth is that there is some variation in how effective a product may be for a particular customer depending on their own biology, but with this company's lack of a Refund Policy, customers will want to be safe and maybe keep their order to a single jar until they can decide whether or not this product works for them.
Competitors and Alternatives?
There are many different beauty supplements available on the market today, with some making specific promises about the strength and length of your hair and nails and others promising to correct a variety of skin concerns, and still others promising to essentially do it all. Customers will want to do their due diligence on each product they are considering purchasing.
If you have experience with Dermal Repair Complex, please leave your reviews below.
You may also be interested in
Dermal Repair Complex Customer Reviews