Polyphenol Dark Spot Diminisher
Polyphenol Dark Spot Diminisher Reviews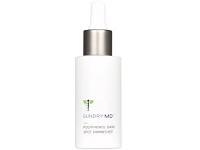 The Polyphenol Dark Spot Diminisher by Gundry MD is a skincare product which Gundry states uses a proprietary polyphenol extracts formula to minimize the appearance of dark spots on the skin.
How Does It Work?
The Gundry MD website states that the Polyphenol Dark Spot Diminisher is an advanced serum designed to address the age spots, sun spots, and liver spots that give skin a blotchy, uneven tone.
They say that their formula was specifically chosen to fade the appearance of these dark spots by using polyphenol extracts, which some studies have found can be beneficial in protecting skin from sun damage.
First time users with concerns about how their skin will react to a new product should do a patch test before beginning regular use, and the website also recommends that patients take a "Before" picture before they begin using the product.&nbsp
&nbsp
This way they will be able to have a comparison for how the product is working for them over time.
Ingredients and Side Effects
The Gundry MD website does provide their customers with a full list of the included ingredients, but with more than 20 total ingredients their full list of ingredients can't be printed here.
However, they do say that these ingredients are 100% natural and safe, and have all been tested for safety, quality, and purity at an independent, 3rd-party facility.
Cost/Price Plans
Currently a single bottle of Primal Plants is priced at $120, but customers have the option to purchase this product in larger volumes in order to get a discount off the per bottle price.
Their website will show you the discount you will receive if you choose to purchase two or more bottles at a time.
Refund Policy
The website sales page claims that they offer a 90 Day Refund Policy, where customers can expect a refund of the purchase price in the first 90 days with "no questions, no hassle."
In the past, when Reviewopedia has reviewed Gundry MD products, the Refund Policy was one of the biggest issues, as the website's Terms & Conditions provided a different policy, saying that refunds were limited to just 30 days with a valid proof of purchase, and that any products that were attempted to be returned after 45 days would not be given a refund or exchange.
Thankfully it appears that they have corrected this discrepancy, and now the Terms & Conditions also clearly states that customers will be given 90 days from the date of purchase in which to contact their Customer Service team and arrange a return or exchange.
They still don't provide a full detailed policy, however, so customers will still want to contact Customer Service as soon as they believe they are considering a return.
Customer Service Contact Info
Customers who would like to contact Customer Service with any questions, concerns, or complaints can do so by phone at 800-852-0477, by email at [email protected], or by submitting them directly to their website through the Gundry MD website's Contact link.
Reputation
This product doesn't appear to have many reviews at this time, but those that are available appear to be positive in nature for the most.
Since this company does seem to have solved its issues with its Return Policies, customers who are interested in trying this product for themselves should be comfortable seeing if it works for them.
Competitors and Alternatives?
Gundry MD has a whole line of different supplements, all intended to boost your overall health and wellness, including PrebioThrive, Vital Reds, and Primal Plants. Customers who are looking for other supplements with high levels of polyphenols will want to speak to their local health food store about what options may be available.
If you have any experience with the Polyphenol Dark Spot Diminisher, please leave your reviews below.
You may also be interested in
Polyphenol Dark Spot Diminisher Customer Reviews