Gundry MD Dark Spot Diminisher
Gundry MD Dark Spot Diminisher Reviews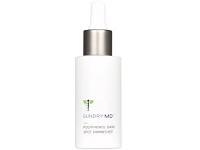 Polyphenol Dark Spot Diminisher by Gundry MD is a skincare product which the company states uses a proprietary polyphenol extract formula to minimize the appearance of dark spots on the skin.
There are a number of factors that lead to the formation of dark spots and other blemishes on the skin. The most common is from prolonged exposure to harmful UV rays from the sun.
However, recent research is revealing that there are also a number of everyday environmental factors that can lead to the degradation of our skin's appearance.
This results in many people looking for treatments and serums to achieve more healthy and youthful looking skin.
Below we take a closer look at Gundry MD's Polyphenol Dark Spot Remover claims, ingredients, and effectiveness.
How Does It Work?
The Gundry MD website states that the Polyphenol Dark Spot Diminisher is an advanced serum designed to address the age spots, sun spots, and liver spots that give skin a blotchy, uneven tone.
They state that their formula was specifically chosen to fade the appearance of these dark spots by using polyphenol extracts, which some studies have found can be beneficial in protecting skin from sun damage.
Polyphenols provide many benefits to the body, these plant compounds are full of antioxidants and can help aid the body with digestion, cardiovascular health, cancer protection, osteoporosis, and diabetes.
Antioxidants, and specifically polyphenolic antioxidants, can help the body fight free radicals, protecting against oxidative stress to the cells.
You can increase your intake through a healthy diet that includes high sources of polyphenol rich foods such as dark berries, certain herbs and spices, cocoa powder, nuts, flax seeds, vegetables, and olives.
Dr. Gundry's company also markets a Polyphenol-Rich Olive Oil specifically for this purpose.
Dark Spot Diminisher Ingredients
The Gundry MD website provides potential customers with a full list of the included ingredients. They highlight the following as key ingredients in Polyphenol Dark Spot Diminisher:
Blueberry Fruit Extract/ Acai Fruit Extract/Sweetesse Arctic Meadowsweet Extract/Superox-C - These fruit extracts are the source of the polyphenol, vitamin C, and the additional vitamin content of this serum.


Brightenyl - This trademarked formulation of Glycerin (and) Aqua (and) Diglucosyl gallic acid was developed specifically to brighten skin, even out skin tone, and reduce red pigmentation.

Some research has shown that it was effective in achieving these results.

Diglucosyl gallic acid can be found in other skin brightening, dark spot correctors, and anti-aging serums.
Granpowder Lumiere-DP - Diamond powder is a unique ingredient that has been growing in popularity in high end skincare products.

It's used for its exfoliating properties and its supposed ability to reflect light over the skin diminishing the appearance of wrinkles and evening out skin tone.
Additional Ingredients
It's interesting to note that some of the key ingredients singled out on the Gundry MD website appear further down the ingredient list, meaning that they're found in smaller amounts than those listed ahead of them.
The ingredients listed higher up the list include more common humectants (moisturizing agents), exfoliants, skin conditioners and so on.
One ingredient that stands out is the use of Bacillus Ferment - this enzymatic exfoliant is a milder alternative to alpha-hydroxy fruit acids. It helps stimulate the skin's natural exfoliation process by speeding up the shedding of dead skin cells.
Potential Side Effects
Gundry Md states that these ingredients are 100% natural and safe, and have all been tested for safety, quality, and purity at an independent, 3rd-party facility.
First time users with concerns about how their skin will react to a new product should do a patch test before beginning regular use.
The website also recommends that patients take a "before" picture before they begin using the product. This way they will be able to have a comparison for how the product is working for them over time.
Even though the Polyphenol Dark Spot Diminisher is a milder alternative, those with extra sensitive skin may experience some negative responses to bacillus ferment.
Another potential irritant for those with highly sensitive skin or allergies is the use of Parfum (fragrance) in this product.
On Reviewopedia there are some complaints from users who found the scent overpowering and had to stop using the cream as a result.
Cost & Price Plans
Currently a single bottle of Dark Spot Diminisher is priced at $120, but customers have the option to purchase this product in larger volumes in order to get a discount off the per bottle price.
One Bottle: $120
Two Bottles: $228
Three Bottles: $324
Gundry MD is also offering a promotion where you can drop the cost to $49 per bottle by creating an account with the company.
If you choose to do so make sure to read the terms carefully to make sure you are purchasing only what you want.
Refund Policy
All Gundry MD products are backed with a 90 day 100% money back guarantee. If you are unsatisfied, contact a representative to initiate a refund.
You may be required to send back unused portions of your product as proof that you gave the product an honest chance.
Customer Service
Customers who would like to contact Customer Service with any questions, concerns, or complaints can do so by phone at 800-852-0477, by email at [email protected], or by submitting them directly to their website through the Gundry MD website's Contact link.
Online Customer Reviews & Complaints
You can find many positive reviews for the Dark Spot Diminisher serum. Lots of customers have stated that it worked as advertised and they experienced an improved complexion.
You can also find some before and after photos posted by users on their website.
While the overall ratings are positive there are some detractors for whom the product did not work. These users mentioned that they saw no difference in their skin's appearance and didn't notice any reduction in their dark spots.
As a company, Gundry MD has an A+ rating with the BBB and their customer service team appears to make an effort in replying to most online complaints.
Competitors and Alternatives?
While there are many skin care formulations on the market the most similar to this would have to be Beverly Hills MD Deep Wrinkle Filler.
While focusing more on wrinkles instead of dark spots the two creams share a lot of key ingredients such as Diglucosyl gallic Acid and diamond powder. They retail at similar price points.
Gundry MD has a whole line of different supplements, all intended to boost your overall health and wellness, including PrebioThrive, and Vital Reds.
Customers who are looking for other supplements with high levels of polyphenols will want to speak to their local health food store about what options may be available.
The Bottom Line
Overall, the Gundry MD Dark Spot Diminisher has positive reviews, comes with a solid money back guarantee, and is sold from a company in business for over 8 years.
Even though there are some negative customer reviews out there, the larger proportion of positive customer reviews may be enough reasons to give it a try.
Skin conditions and responses are highly personalized so you may want to compare some of the key ingredients in this formula to ones you've used in the past for a better idea of how this product will affect you.
It's also important to take preventative measures with your skincare, mainly concerning sun protection.
If you have any experience with the Polyphenol Dark Spot Diminisher, please leave your reviews below.
You may also be interested in
Gundry MD Dark Spot Diminisher Customer Reviews