Gundry MD Olive Oil Reviews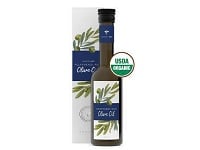 Gundry MD Olive Oil is a USDA organic extra virgin olive oil marketed by Dr. Steven Gundry, who states it contains 30 times more hydroxytyrosol polyphenols than conventional olive oil.
We have heard for years now how much healthier olive oil is than the other options. With this information, vegetable and canola oil have been pushed aside in favor of olive oil in many recipes.
But with the price point of this product being so high, the question must be asked. Is Gundry MD Olive Oil legit? Let's find out.
What Is Gundry MD Olive Oil?
Due to the dry conditions of Morocco, the olive trees have to fight to survive. This action makes them the most vigorous olive trees in the world.
The trees from Morocco have the highest polyphenol content, which has been shown in some studies to have health benefits.
Oils with a high polyphenol content help individuals with heart health, blood flow, concentration, smooth skin, muscle health, and a higher immune system.
How Does It Work?
Olive oil, specifically extra virgin olive oil, has many health qualities on its own. Extra virgin olive oil processing is complete by extracting the oil while keeping the highly beneficial polyphenols.
For those olives produced in Morocco, the amount of polyphenols is often higher than the average extra virgin olive oil. At times this can be 30% higher.
The addition of olive oil in your foods or daily activities can have an impact on your overall health, as well as skin and immune system health.
How To Use
The use of olive oil differs from doctor to doctor. The most common consumption amount is two tablespoons per day.
However, Dr. Gundry has recommended at least one tablespoon per day and up to one liter per week.
Dr. Gundry recommends taking the olive oil as a shot daily but states that you can also drizzle it on food.
What Ingredients Are In Gundry MD Olive Oil?
The nutrition label of the Gundry MD olive oil states that the sole ingredient is organic extra virgin, cold-pressed olive oil.
The company states that their product contains 30 times the amount of hydroxytyrosol polyphenols than conventional olive oils.
This statement has caused some speculation with the olive oil community. Those in the community believe Dr. Gundry uses sleight of hand to mislead the benefits of his specific brand of olive oil.
It turns out that the comparison of hydroxytyrosol polyphenols is to conventional, non extra virgin olive oils.
It is true that refined oils contain contain only a fraction of the phenolic content of extra virgin olive oils, but we find this comparison misleading.
This is because at the price point Gundry MD Olive Oil is marketed, it must be compared to other extra virgin olive oils of similar price for the comparison to be valid.
What Does It Cost?
To purchase one bottle (8.5 oz) of Gundry MD olive oil through the company's website is $49.95. There is a slight discount if ordering multiple bottles at a time.
3 bottles - $134.85
6 bottles - $251.70
It is worth noting that shipping is free over $60. Therefore, you will have to pay the shipping cost of $4.95 if you purchase only one.
Additionally, the company provides a 100% money-back guarantee for 90 days. This guarantee does not include the cost of shipping and handling, however.
How Is The Customer Service?
Gundry MD has many positive reviews regarding their customer service, and customer reviews show that they typically respond to negative complaints within two days of receiving them.
You can view their responses, and they take the time to address the issue and make sure that it is resolved.
If you have any questions you can reach a representative at their phone number (800) 852-0477. Gundry MD is accredited through the Better Business Bureau (BBB) with an A+ rating.
They also, currently, have a 4.31/5 rating from 2,965 customer reviews on that platform.
The company has a 100% money-back guarantee that is good for 90 days on their products. If you are unsatisfied for any reason contact the team to initiate a refund.
Online Customer Reviews & Complaints
The top complaint that Gundry MD has through online reviews is that of its cost. Many complain that they can get the same quality item for a fraction of the price than through the Gundry company.
Although the Gundry website states that the taste of their product is delicious, many complain that it is not enjoyable and will not continue to use it due to this issue.
In general, a lot of customers' opinions on this olive oil brand come down to personal taste and smell preferences.
While there may be health benefits, users point out that they are difficult to quantify so people end up judging based on their senses and price point.
Competitors and Alternatives
The market for olive oil is quite large, with many varieties to choose from while shopping around. Some of the polyphenol-rich olive oil brands are:
Gundry MD Olive Oil vs. Morocco Gold - both types of olive oil are cold-press and have a high quantity of polyphenols. However, Morocco Gold packages a more significant amount of oil for cheaper than the Gundry MD brand.
Gundry MD Olive Oil vs. Livo Olive Oil - The quantity size and price are similar to Morocco Gold, and the polyphenols are close in amount to both Gundry and Gold. However, this brand is newer and doesn't have many reviews, and the olives are grown in Arizona.
Gundry MD Olive Oil vs. Brightland - Made in California with local olives, Brightland offers a 12.7oz bottle size of oil for the price of $37. The company also offers different flavors of oils and a subscription service.
Where To Buy?
You can purchase Gundry MD olive oil directly from the company website.
The Bottom Line
With the olive oil market being so saturated, it's hard to know if one will be better than the other. When it comes to paying a premium price, it's natural to be hesitant to spend money for something that may not be much better than a cheaper option.
In the same breath, it is also difficult to know which olive oil has the most polyphenols. Olive oils produced in dry areas typically have high levels of polyphenols which may be enough for some people.
Gundry MD Olive Oil has many positive reviews, a responsive customer support team, and an impressive money back satisfaction guarantee.
So if you want to treat yourself to a high end olive oil you may want to try it and see how it compares to your current choice based on taste, viscosity, smell, and other metrics used for vetting olive oils.
If you have any experience with Gundry MD Polyphenol-Rich Olive Oil, please leave your reviews below.
You may also be interested in
Gundry MD Olive Oil Customer Reviews