Beverly Hills MD Deep Wrinkle Filler
Beverly Hills MD Deep Wrinkle Filler Reviews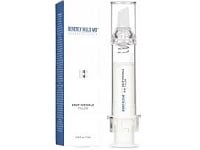 Deep Wrinkle Filler Review: Does it Work?


Beverly Hills MD Deep Wrinkle Filler is a skincare product claimed to reduce, and to even completely remove, signs of aging on the skin, such as fine lines, creases, and deep wrinkles.
How Does It Work?
Beverly Hills MD is headed by doctors John Layke and Payman Danielpour, both trained in plastic surgery.
After years of working on clinical procedures they state they wanted to develop a line of at home products using professional-grade cosmeceutical formulas.
Their brand claims to use the latest skincare science and technology to help people look their best and achieve their skin care goals.
Beverly Hills MD states that Deep Wrinkle Filler works in two ways: giving instant results as soon as applied and enhancing those results over time with regular use.
Their website states that the product archives this through "bio-lifting technology", creating smoother skin with a reduction in visible lines. The purpose being to avoid expensive medical procedures relying on injections to remove wrinkles.
They state this formula can be used by all age groups, offering their mature customers a chance to eliminate visible signs of aging and serving as a preventative measure for younger users.
They claim this is achieved through the combination of 3 key ingredients:


A Polymer Blend to fill in the wrinkles
Diamond Powder, used to reflect light and masquerade wrinkles
Tightenyl, a trademarked ingredient used to improve skin texture


Below we'll take a closer look at the ingredients of Deep Wrinkle Filler to see if they're as good as the company claims and what you can really expect from this product.
Beverly Hills MD Deep Wrinkle Filler Ingredients

Wrinkle Smoothing Polymer Blend - Polymers can be found in a variety of beauty and household products such as shampoo, liquid soaps, and many skincare items.


Polymers can be synthetic, semi-synthetic, or natural. Most common uses in beauty products are to act as thickeners, emulsifiers, stabilizers, and film formers.
Furthermore, synthetic polymers such as Polymethylsilsesquioxane, one of the ingredients in Deep Wrinkle Filler, are commonly used in anti-aging formulas for their ability to temporarily moisturize the skin, fill in wrinkle lines, and provide a smoother feeling to the skin.
While we can't speak to the exact formulation of Deep Wrinkle Filler Polymer blend, some of their main ingredients, Dimethicone, Cyclopentasiloxane, Dimethicone Crosspolymer are found in similar competing product such as Neutrogena Rapid Wrinkle Repair and Olay Wrinkle Correction Serum.
Diamond Powder - While some may view it as nothing more than a cosmetic trend, allowing skincare companies to charge more money, others find real value in adding this ingredient to anti-aging products.


Some of the supposed benefits include exfoliating the skin, using the light reflecting properties of diamonds to create an evener looking skin tone, and masking imperfections such as wrinkles.
However more research is needed to determine if this is a promising long term solution or just the latest skincare fad.
Tightenyl - This is a trademarked formulation of Givaudan Active Beauty company. The ingredients listed include - Glycerin, Water, Disodium Acetyl Glucosamine Phosphate, Sodium Glucuronate, Magnesium Sulfate.


The company describes applications of this product as: "Skin bio-lifting, skin sagging prevention, anti-aging, skin firming, v-shape restructuring, contour remodeling." They also state that it has skin rejuvenating capabilities.
While there isn't much info on Tightenyl specifically, one of its ingredients Disodium Acetyl Glucosamine Phosphate is a known Humectant - meaning it's a moisturizer that helps your skin retain water.
It is also found in a variety of skin care products like tighteners, serums, and repair creams.
The full list of ingredients is available on the Beverly Hills MD website and includes popular compounds found in anti-aging and skincare products.
Other key ingredients include:


Sodium Hyaluronate - the salt form of hyaluronic acid is commonly used in skin moisturizers.


Plant Extracts - (Apple/Chamomile/Grape/White truffle) - Used for their polyphenol and antioxidant contents.


Peptides - Deep Wrinkle Filler uses Palmitoyl Hexapeptide-12 a combination of the fatty acid palmitic acid with several amino acids, including glycine, histidine, and lysine.

This peptide was synthesized to match those naturally occurring in skin allowing it to boost the production of collagen. One study found its use led to a reduction of wrinkles that was statistically significant.
Side Effects and Precautions
The sales material for Deep Wrinkle Filler states that it is a mild formula appropriate for all skin types, including sensitive skin as well as all age groups.
While this product is considered to be generally safe for use, any skin care application has the potential for a negative reaction.
If you have sensitive skin or known allergies, Beverly Hills MD recommends testing the product out on a small patch of skin.
If you notice redness, itchiness, rash, swelling or any other kind of concerning reaction discontinue use and consult your doctor.
There is some concern about the use of PEG (polyethylene glycol) in the cosmetic industry because of the potential for contamination with the harmful 1,4-dioxane.
However, some in the cosmetic industry believe that is no longer an issue, and studies have found them to be safe in the amounts used in skincare products.
Finally another potential source of irritation is the use of Cyclopentasiloxane, while this member of the silicone family is considered safe, its use is often as a delivery agent of other active ingredients.
When combined with parfum (fragrance) which Deep wrinkle filler has, there can be issues of irritation to sensitive skin.
Customer Reviews & Complaints
The majority of customer reviews are positive – the many buyers that have expressed their opinion about this product are quite satisfied and it is rated very highly.
Many of the positive reports mention the efficacy of the filler as well as the easy application.
A few of the negative responses speak of the dissatisfactory performance of the product, or the selectiveness of the visible results.
Certain face areas seemed to be more rejuvenated than others, while others reported experiencing none of the advertised results.
Another common complaint is with the high cost of the product. Also, some people experienced issues while attempting to return the product.
On a positive note, it appears that Beverly Hills MD has a very active customer service team that reach out and attempt to resolve most online complaints.
Customer Service
Beverly Hills MD provides a 60-Day Money-Back Guarantee on all of their products.
If you aren't completely satisfied with the Deep Wrinkle Filler, you are able to contact their customer support center at 1-877-828-5528 and request a refund.
You will be offered a refund as long as you send back your product bottles, even if they are empty.
Keep in mind that the 60 days you have at disposal for requesting a refund start the moment the package is shipped from the warehouse.
Additionally, in order for the refund policy to be valid, the package you send back has to reach the company within these 60 days as well.
For any other concerns or questions, contact the customer support team via email at [email protected] or through their contact page at BeverlyHillsMD.com/contact.
Cost and Price Plans
A single tube of this formula costs $125, you can get additional savings by purchasing in bulk.


2 tubes for $206
3 tubes for $294


Beverly Hills MD Deep Wrinkle Filler is available for online purchase through the company's website at BeverlyHillsMD.com.
Competitors and Alternatives
There are a few other options you are able to pick if you want more choices in your fight to reverse the signs of aging.
The most prominent ones are NO7's Instant Illusion Wrinkle Filler, ROC's Retinol Correxion Deep Wrinkle Filler and Héliabrine's Wrinkle Filler Intensive Care.
Although their price is competitive and the online reviews seem to be in their favor, Deep Wrinkle Filler has two advantages.
First, the diamond-infused polymer blend which is responsible for the immediate performance of the formula and second, the palmitoyl hexapeptide-12.
However, if your primary concern is skin nourishment, all of these products should work just fine.
The Bottom Line
Based on the ingredients analysis it appears that this product uses many common and proven skincare ingredients as well as their own unique approach to treating visible signs of aging.
Whether that extra touch is worth the high cost of the product is difficult to say.
These days there are a lot of online resources that can help you thoroughly research the ingredients in the products you've used or are considering.
In this manner you can find cheaper alternatives with similar active ingredients.
With that being said, this product does have many positive reviews and a supportive customer service team. It may be worth a trial to see how effective it is at treating your skin issues.
If you have any experience with Beverly Hills MD Deep Wrinkle Filler, please leave your reviews below.
You may also be interested in
Beverly Hills MD Deep Wrinkle Filler Customer Reviews