Daily Sale Reviews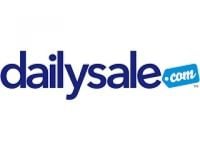 Daily Sale Customer Reviews

Peter Z
DailySale.com my go to shop!
I love dailysale.com and will continue shopping with them!

Timothy
Still waiting for my order from DailySale to be delivered after 3 months
I ordered a Sonic Toothbrush System online from DailySale in October of 2016. And as of today, January 27, 2017 my order has not been received. I have contacted them via email at least 10 times. They state my order was delivered and shipped via FedEx without a signature and left outside my apt door. I believe the order was stolen or not delivered. DailySale will not reship or refund my order. The only way to contact them is via email. They hide from customers with no 800 number to contact a live customer service rep. I will never do business with DailySale again. Buyer and customers BEWARE!!!

Nunya
I ordered 2 items on 12/2/16 & it is now 12/29/16 and I've only received one item. I have sent them a email to try and figure out where my other order is & they tell me that it is on back order what ever the hell that means. I better get my order soon or I'm contacting the BBB because this ain't right to do this to paying customers. After the experience I've encountered with this site I am absolutely never going to be placing any order again from them, & I'm telling everyone I know to do the same.

ROBERT F
Place order 9/20/16 Have not gottenAS OF TODAY 10/27/2016
Placed order 9/20/16 FOR TWO DASHBOARD CAMERA,$58.00Have not gotten as of today 12/27/2016 Customer Service is email only . The only answers you get is where to put ticket Number. BY MISTAKE I ORDER two more items Nov/1/2016 still not have gotten. One of the Contact link is Norton Online Guarantee the phone # given just email back to DailySales email. No Real person to talk to. Customer Service hates to even reply to email claim STAY AWAY GOING TO BBB SERVICE NOW

B D
I have the same comments as experienced by many of the reviewers.
I placed and order on November 24,2016 and still have not received the order as of December 14, 2016. I have submitted two tickets to their :customer support and have yet to get as response from any one of their agents who, as they state, "will get back to you as soon as possible. "
This is obviously not a real company. Stay clear.

Tracey
BUYER BEWARE.....THIS IS A MONEY STEALING SCAM
They will take your money and link you to a receipt with a bogus tracking number and send you nothing.
I was so thrilled to find the Sterling Silver chains this site had listed, and for the price I ordered 7 in various styles and lengths. My total sale was $44.10 I paid through Amazon which I thought was a solid indicator of this sites legitimacy ........WRONG!!
When I was notified that the funds had been removed from my account I was sent an invoice with a tracking number that turned out to be dead end bogus. It never registered with the USPS package tracker and is now listed as expired. Still no package delivered either
I have made numerous attempts both through the generic contact form on the website as well as a direct email to their "[email protected] and have received NO response AT ALL..
Still awaiting my merchandise, a response or anything for now all I've gotten is scammed and ripped off
Tracey

mary l
14k Solid Rose Gold Earrings, Full dimensions: 14mmx2mm?
Ordered the 14k Rose Gold Earrings dimensions described as 14mmx2mm in a gift pouch (received on 11/10/2016 in a small plastic bag) not pouch in a small manila envelope after emailing numerous of times in 11/2016 about when and if I would receive Earrings. Full dimensions description on advertisement page states, solid 14k rose gold earrings, 14mmx2mm. 78% off. retail $99 crafted from solid rose gold. add a classic feminine touch to all kinds of outfits. ? The product I received is so small I can put both on my thumb fingernail, the description led me to believe that an adult can wear the earrings, well l wouldn't recommend this site to anyone. too small. I feel I've been ripped off by false advertisement, still waiting for a reply from them as to how to return, never been so disappointed in a product, VERY, VERY DISAPPOINTED.. Will never order from this site again and will inform friends not to. RIP OFF.

gladys J
I ordered on 11/03/16 and have not heard anything since that day. What is wrong with this company?

Nicki
Never have received order
I placed an order with Daily Sale on 9/22/16 and still have yet to receive the product. I get 4 to 5 emails daily telling me the status that has stayed at "label created" for almost the entire month. I've submitted 3 requests using their only way of contact and the status of those requests is still unassigned. I have no idea how they are staying in business. Please be aware and do not buy from this website!!!!!!!

Nancy M
Return Shipping fees not refunded
I ordered a blood pressure monitor that is defective and asked for a refund plus return shipping fees. I did not realize they do not pay for returns even though they ship defective merchandise. I would expect to pay my own return shipping fees if I just didn't like the product, but when a product is defective, you have to pay to return it. That way, they are free to ship out anything and not worry if the product works or not. It is hardly worth it to order from them as (in most cases) the shipping costs almost as much as the product. Therefore, I will not order from them again as I don't want to take a chance that the product might or might not work.

Mike
No Returns Accepted! Beware!
I purchased 2 of their "up graded" mystery boxes ($30 each) All I received for both, was junk I could have bought at a dollar store! And in my opinion, not worth even close to $30.00!
When I try to return it, They ignore my request for a refund if I don't accept their firs offer of a price adjustment.
This is a shady company in my experience and would not recommend them to anyone, very unethical!