BuyGoods Reviews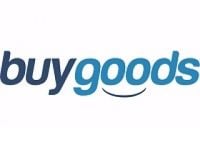 BuyGoods Review: Is it Legitimate?
BuyGoods is a company offering a management platform for product owners and affiliate marketers which includes sales tracking, analytics, and reporting.
The company also directly lists health & wellness supplements and other lifestyle products in its online catalog at BuyGoodsSupplements.com.
How Does BuyGoods Work?
BuyGoods is essentially a middleman that uses their software to bring together product owners and affiliate marketers.
Ecommerce has changed the way business is done and now anyone can easily sell physical products or eBooks online.
However, to be successful you need to get the word out about your items, hence the rise of affiliate marketing. Affiliates/publishers are content creators who are looking for a way to earn more money for the work they do.
Using a service such as BuyGoods allows marketers to browse a database of products to find something that matches their audience's needs.
If the content publisher find an item to promote they can use BuyGoods tracking codes and sales tools to advertise the products on their own website.
When one of their readers makes a purchase using their link, the they receive a commission from the seller.
These kinds of affiliate partnerships create win-win relationships for all parties involved.


The content creator has a product to sell to their website visitors.


The product creator gets additional sales without having to do any additional advertising themselves.


BuyGoods collects a fee for providing the technology to connect the content creator and product creator.


BuyGoods has no membership costs for those looking to purchase a product from their catalog.
The company also sells products with recurring subscription fees so be aware of what you're signing up for to make sure you do not incur additional charges.
BuyGoods Products
The platform hosts a wide variety of product categories including:


CBD Oils
Health & Wellness
Hearing
Dental Health
Digital Products
Supplements
Survival
Weight Loss


BuyGoods also has a spinoff platform, BuyGoodsSupplements.com, which is exclusively dedicated to BuyGoods supplements.
Some of the main concerns customers have regarding how legitimate a company BuyGoods is has to do with the quality of products and the type of marketing tactics that the company allows on their platform.
Many of the products are of questionable quality and are sold using gimmicky or high pressure sales tactics.
While BuyGoods is not directly responsible for the creation of these products, they do sell them through their platform and often take the heat for subsequent customer complaints.
As an example, two highly popular companies that BuyGoods work with, Science Natural Supplements and Java Burn, have largely negative reviews on Reviewopedia.
Customer Reviews & Complaints
BuyGoods, Inc. has an A rating with the BBB, though they do have over 60 customer complaints listed in the last 3 years.
The company receives an average rating of 4.34/5 stars from over 350 customer reviews there.
In general, the negative reviews for BuyGoods can be split into two categories, product complaints and customer service issues.
Many negative customer reviews which are mainly intended for the products themselves are attributed to BuyGoods because they are the payment processor and main point of contact for issuing refunds.
As mentioned earlier, many BuyGoods products are weight-loss and health supplements of questionable quality and are sold through marketing tactics using exaggerated claims of their effectiveness.
Many BuyGoods supplements are marketed as being effective for relief from serious medical conditions such as failing eyesight, obesity, and even diabetes.
When some such supplements fail to deliver any noticeable improvements, customers may believe that BuyGoods is a scam.
Negative customer reviews regarding customer service issues commonly involve clarity regarding refunds.
For example, one customer reviews mentioned that the 60 day refund period starts from the time you place your order, not from when you receive the product.
BuyGoods seems to honor their 60-day refund policy but don't often make exceptions if you exceed it.
There were also some complaints of delayed and or unreceived orders, however these complaints were in the minority.
BuyGoods customer service reps regularly respond to negative online reviews and attempt to resolve issues by offering refunds.
Customer Service
Customers who would like to contact customer service with any questions, concerns, or complaints can do so by phone at 302-404-2568, by using the Contact Form on the website, or by email at [email protected].
The company addresses are:
BuyGoods Inc
1000 North West st. Suite #1200
Wilmington, DE 19801
and

800 W Main St Ste 1460
Boise, ID 83702-5983
Refund Policy
BuyGoods states that all products purchased on BuyGoods.com automatically come with a "no questions asked" 60-Day Money Back Guarantee.
To initiate a return you will be required to look up your order through your online account and then click "Submit Refund Request."
Customers who ordered physical products will then be given a specific return address where they will need to mail the product back. BuyGoods will not provide refunds for return shipping fees at any time.
Competitors and Alternatives?
Whether you are an affiliate marketer, product developer, or customer there are many legitimate e-commerce platforms available. Some of the most popular names include Shopify, Amazon, Square, and Commission Junction.
You should further research which platform may fit your specific needs the best.
Is BuyGoods Legitimate?
In a nutshell, BuyGoods is a real company that provides a real service to online sellers and content creators.
If you were to judge the company's services apart from the products that are sold on their platform, then the company passes all tests.
The issues come into play when you factor in the types of products that are typically sold via their platform.
A common accusations against BuyGoods is that the company is largely a host for low quality products that wouldn't be accepted on other, more legitimate platforms.
While there may be some truth to that claim, you can sometimes find the same products for sale on Amazon.com and BuyGoods.com.
As a precaution, if you do come across an advertisement for a product using BuyGoods as a payment processor, we would recommend researching the product thoroughly before purchasing. This is particularly the case when it comes to supplements.
If you have any experience with BuyGoods.com or their products, please leave your reviews below.
BuyGoods Customer Reviews