The Near Future Report Reviews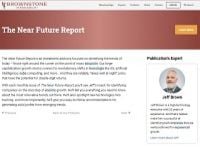 You may also be interested in
The Near Future Report Customer Reviews

JOEL C
Don't Forget Your Password
I've misplaced my password to get into the near future report. I've emailed them several times and have yet to hear back

jerry f
After a 42minute blah blah about the coming impact of AI, which sounds very promising, you are urged to"hit the button below" to get 3 or 4 reports on the subject that will "get you on the ground floor of companies whose chips that will make AI possible."
Problem: There is no button below. Really? Yup!

Bill K
They charge $99 their website says they charge $37 to seniors they say you have a hard time getting all your money back all I've gotten from them is another long spill from somebody call Casey research to buy another investment scheme we will see tomorrow when I call them to see if they're going to refund my money

christina
I bought one year subscription, it seems to be legit, they send about 4 o more newsletter and some of them have info to invest, and send emails about other subscriptions.
Oh wow!! They are discussing Donald Trump's Innauguration
Pretentious and dated. Discussing BitCoin?? You'd be better off on Youtube
Hottest Cutting-Edge Tech
Let me sign up!! Yep. This is for me!! But wait. He doesn't take bitcoins for payment. And he doesn't use Google's Autofill technology. What is this... 2002?