The Near Future Report Reviews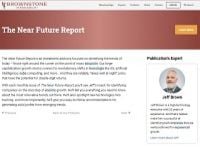 The Near Future Report, found online at BrownstoneResearch.com, is a financial newsletter which promises their readers an investment opportunity that could offer one of the largest payouts in years.
How Does It Work?
The Near Future Report is published by Jeff Brown of BrownStone Research.
According to their website, the goal of The Near Future Report is to teach people all about a brand new industry which is set to become established next year and which they claim will have a 49,000% spike in less than three years' time.
This new technology market will be entirely based on self-driving cars.
Their website states that within just a few months there should be thousands of self-driving cars on the roads, and people who don't invest in this technology soon will really miss out on giant gains.
But according to Jeff Brown, one of their newsletter advisors, self-driving cars themselves are not the technology you should be investing in.
Instead, you should be focusing on investing in the companies that will be supporting this technology, like those that manufacture a necessary part for the batteries which will be used in Tesla's self-driving cars.
The Near Future Report promises that investors who follow their advice will be able to earn between 10 and 20 times their money in the best case scenario.
Cost/Price Plans
At BrownstoneResearch.com, The Near Future Report is listed at $199. However, through various affiliate offers the report is usually discounted to $49 for one-year subscription.
Refund Policy
The sales page of this website says that all of their customers are welcome to try this new financial newsletter for 60 days, risk-free.
If at any time during the first two months of your subscription you realize that this product isn't right for your need, you can contact their Customer Service team and request a full refund of their "small administrative fee," no questions asked.
This policy is a questionable, however, because it is very unclear what they are referencing when they say "small administrative fee."
It certainly doesn't mean that customers will receive a full refund of their subscription fee, so concerned customers will want to contact their Customer Service for an explanation before they make their order.
Customer Service Contact Info
BrownStoneResearch.com has a contact form on their website.
Additionally, they list 888 493 3156 as a contact number ( Mon-Fri, 9am-7pm ET) and [email protected] as a contact email address.
The company lists its physical address as 55 NE 5th Avenue, Delray Beach, FL 33483.
Reputation
Unfortunately it seems that The Near Future Report is so new that it simply doesn't have many customer reviews at this point, making it difficult for customers to know what to expect from this financial newsletter.
As with any financial newsletter, customers have to understand that this advice is not personalized to you and your financial circumstances, and these financial publishing companies have absolutely no legal obligation to do right by their readers.
Because of this, customers should always take the information they get from these third party sources and run them past their own personal, professional advisor before making the choice to invest.
Competitors and Alternatives?
There are many, many different financial newsletters, websites, and blogs which will promise to help you invest your money with a large ROI, including The Bill Bonner Letter which is also from Bonner and Partners.
It is always up to the individual to do their own research on each of these resources to see whether or not they have a positive reputation.
If you have any experience with The Near Future Report, please leave your reviews below.
You may also be interested in
The Near Future Report Customer Reviews

JOEL C
Don't Forget Your Password
I've misplaced my password to get into the near future report. I've emailed them several times and have yet to hear back

jerry f
After a 42minute blah blah about the coming impact of AI, which sounds very promising, you are urged to"hit the button below" to get 3 or 4 reports on the subject that will "get you on the ground floor of companies whose chips that will make AI possible."
Problem: There is no button below. Really? Yup!

Bill K
They charge $99 their website says they charge $37 to seniors they say you have a hard time getting all your money back all I've gotten from them is another long spill from somebody call Casey research to buy another investment scheme we will see tomorrow when I call them to see if they're going to refund my money

christina
I bought one year subscription, it seems to be legit, they send about 4 o more newsletter and some of them have info to invest, and send emails about other subscriptions.
Oh wow!! They are discussing Donald Trump's Innauguration
Pretentious and dated. Discussing BitCoin?? You'd be better off on Youtube
Hottest Cutting-Edge Tech
Let me sign up!! Yep. This is for me!! But wait. He doesn't take bitcoins for payment. And he doesn't use Google's Autofill technology. What is this... 2002?