247 Lending Group Reviews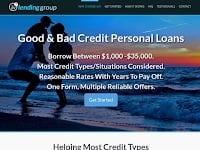 247LendingGroup provides quick cash loans for those who are in need of immediate funds. You can complete the loan application online in just a few minutes.
This information is then forwarded to some of the lenders in their database, the ones who are most likely to approve that particular loan request.
There are 80 lenders in their database which makes it easier to find one who can create an affordable loan package.
Personal loans accessible through 247LendingGroup are afforded not only to those with excellent credit, but these loans are also available to individuals without a credit history who are eager to establish one.
Sometimes their lenders are even able to provide loans to consumers with bad credit who want to rebuild their credit rating.
Loans range from $100 to $35,000 with interest rates as low as 6.46% and upward to 33%. The length of the loan term can be anywhere from 12-72 months.
To become pre-approved for a cash loan through 247LendingGroup, you must first meet the initial requirements. Applicants must be at least 18 years of age, have an income of at least $295.00 per week and must be a U.S. Citizen.
Loan terms vary based on each individuals needs and are designed with a repayment plan that is realistic and plausible.
Only those lenders who can help you obtain a loan, based on your application and pre-approval, will contact you; they typically call within a couple hours after the application has been submitted.
At this point you will need to provide additional information to them for a credit check and final approval. Once the process is complete you will be given a set of loan terms to review prior to signing the loan agreement.
There is no obligation to accept the offer. If you choose to accept, all you need to do is e-sign the agreement and wait for the funds to appear in your account.
Review the terms and conditions of the loan before signing it. Read the section about a borrower's inability to repay the loan as well as the renewal options.
There are many loan calculators that can be found online, there is even one on the 247LendingGroup website.
These can be a highly useful tool when it is used to calculate your monthly payments testing out different variables such as the length of loan, the rate of loan and the loan amount.
Thoroughly go over the details and verify they are the same as the ones you had initially agreed upon. Remember, being pre-approved for a loan, does not guarantee you will be approved for a loan.
Online complaints showed that some applicants were declined a loan after going through the entire application process. At that point, the lender then presented them with other options which also happened to be a bit more costly.
If you have any experience with 247 Lending Group or their services, please leave your reviews below.
You may also be interested in
247 Lending Group Customer Reviews