Wunder Warmer Reviews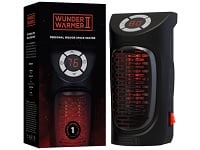 Reviewopedia is supported by our readers. This page contains Amazon links through which we may earn a small commission for purchases.
The Wunder Warmer is a portable space heater that the company claims can save money by heating up only the room required for only pennies a day, as opposed to inefficiently heating the entire home.
The company is currently promoting the Wunder Warmer 2.0.
How Does the Wunder Warmer Work?
The Wunder Warmer is much smaller than the average space heater, which are often too bulky and cumbersome to be carried from room to room.
Instead the Wunder is compact and lightweight, making it portable enough to be able to be easily carried with you to any room in your house.
The company selling the Wunder Warmer makes a number of claims about the effectiveness of the product.
Some examples are:
Built-in timer that automatically turns the heater off which can be set for up to 12 hours, so you don't have to worry even if you fall asleep.
Plug that can be rotated 360 degrees so that it can be plugged into any outlet in any room.
350-watt heating power
Stays cool to the touch
Has a convenient temperature monitor
Thermostat that is fully adjustable
Temperatures go as low as 60 degrees and as high as 90 degrees
Cost and Price Plans
Here's where Wunder Warmer starts to have us questioning.
You can only purchase a Wunder Warmer heater from the company's website, it can't be found in stores.
According to the website, it sells out quickly so keeping it in stock "is a challenge". Yet despite this, the company still offers a 55% off deal.
The product cost is $44.97, which includes free shipping.
You can buy in bulk, too, purchasing two Wunder Warmers at $42.97 each, three at $41.97 each, four at $40.97 each, or five at $39.97 each.
Online Customer Reviews/Complaints
While the Wunder Warmer website has plenty of information about the product's benefits, as well as glowing customer reviews, we find it odd that it's difficult to find any information elsewhere about this heater.
There is nothing to prove the legitimacy and effectiveness of this product - not even a Better Business Bureau page.
Customer Service
Supposedly, this device comes with a 30 Day Satisfaction Guarantee. The company also has a 30-day return policy but all shipping costs (including for the guarantee) are nonrefundable.
If you need to get in touch with someone at Wunder Warmer, you have to email [email protected].
You can also call the company phone number at 877-218-3890.
The company does also have a mailing address in Henderson, NV. The website claims that most orders will take about 10 to 15 days to arrive.
Is Wunder Warmer Worth It?
There are currently multiple companies selling identical or very similar products to the Wunder Warmer under different names.
The Alpha Heater and Amper Heat are two examples of space heaters currently being aggressively promoted online.
These companies usually work by purchasing these heaters wholesale from overseas sites, then rebranding them in conjunction with slick marketing campaigns.
If anyone takes the time to investigate this product you can find the unbranded versions for sale on Amazon and Alibaba at a fraction of the cost that the Wunder Warmer costs.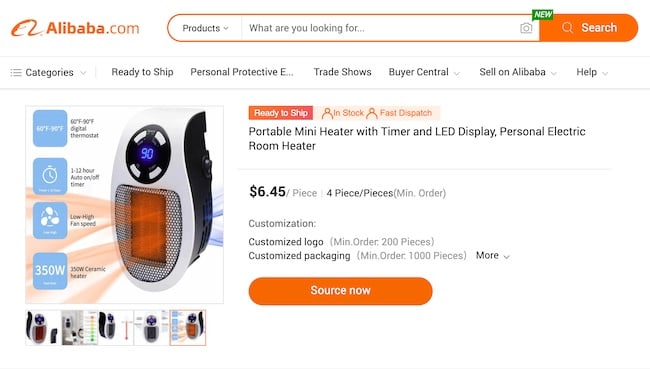 ( Generic unbranded heater on AliBaba priced much lower )
Further, the Wunder Warmer is only a 350 watt heaters. The average modern space heater operates at 650 watts for a low temperature setting and at 1,500 watts at a high setting.
It very probable then that the Wunder Warmer is underpowered and not nearly as effective at heating a room as the seller claims.
With all kinds of other space heaters on the market for you to choose from, there's no reason to choose one from a company that hasn't yet proven itself.
Wunder Warmer makes all kinds of promises but ultimately leaves you out in the cold when it comes to its reliability.
At the end of the day, purchasing a Wunder Warmer heater is probably not worth your time.
Competitors and Alternatives
There are many of other alternatives to the Wunder Warmer.
The Lasko 755320 Ceramic Space Tower Heater is made by one of the country's most popular space heater manufacturers.
This space heater does need to be plugged in, yet it can cover up to 300 square feet. It has a three-year limited warranty along with a built-in timer and LED indicators - just like the Wunder Warmer.
Another top pick is the Pro Breeze 1500 W Mini Ceramic Space Heater, which is affordable and small, measuring only 6.5 by 5 by 9 inches.
Nevertheless, it puts out 1500 watts of power and can heat up to 300 square feet, too. It also has overheat protection and a tip-over switch.
Another option is the DeLonghi TCH7915ER. This heater is another ceramic heater that can save some space while still being highly effective. It comes with a 24-hour digital timer.
If you have any experience with the Wunder Warmer, please leave your reviews below.
You may also be interested in
Wunder Warmer Customer Reviews

Linda
I would give it a minus score if I could. This is a scam! Came damaged due to poor packaging. You have 30 days to return (to CHINA at your expense). So now I'm supposed to throw even more money down the drain. Took 5 message attempts to finally have someone answer.
And that was only after I said that my next message was going to the BBB! I should have done my due diligence. It makes me sick to think of the $$ I just through out in the garbage. DO NOT get sucked in like I did on all the "positive reviews". This product it total junk.

Sarah B
I ordered two of the Portable Wunder Warmer in the hopes that it would help in keeping our bedrooms warmer. Not only did they not work, but it also took up a whole outlet. The rooms did not get any warmer, even with the furnace running. They might work in a smaller room than an 8x12 room.

Keith W
Happy With These Little Heaters
We have had two for two years and both work well - small, quiet, and efficient heaters. We use them every day during the winter.

Consuella J
I have not received my order...
I would like to request a refund...or...my order processed ASAP.

Cliff S
A match puts out more heat!!!
Total ripoff...Plugged it in @ bathroom...Set thermostat to (90 degrees)...Waited (8 hours)...Temperature rose (1 degree)!!!...(in 8 hours!!!)...Caveat emptor (buyer beware) scammed again!!!

Peggy A
SCAM Does not work! Buyer BEWARE restocking fee!
Total Scam! Someday I will learn not to order anything off of FB. They did not change the temperature in my bathroom 8'x7', no windows, door closed one iota. I don't think it would even heat my dog's pet porter. Do NOT waste your money. The 15% restocking fee is their way of making money on something they have to know does not work.
Would not even take the chill of a 7x8 room that has no windows. They were shipped to me on November 21, I called them on December 1st to return. Fortunately for me they are only going to make 23.25 their 15% restocking fee. I shouldn't even have to pay that. When will I learn NOT to order something off Facebook.

Carla S
Waste of money. Doesn't even heat my smallest bathroom. Total disappointment. Glad I only bought one. I had such high hopes but even when set at 90 for 60 minutes there was no noticeable heat unless you sat right in front of the heater. Worst online purchase ever.

Miriam Y
This is a total scam. Do not waste your money. Good way to prove it is a scam is the fact that you can't comment about it on Facebook.

Bobby J
I tried this product after seeing the commercial. This product is full scam. Check the reviews! I tried 3 different rooms and even raised the temperature level up above 80. This product doesn't even defrost my hands in front of it. The light inside is not a heat lamp but a red light. Buyer beware.
Plus the charge a 15% restock fee.

Jana A
I wouldn't call it a scam, really. They do put out heat, but it needs to be a very small room, like a bathroom, as long as the door is closed. I expected it to heat a lot better in my bedroom, but it barely went up one degree. If the door isn't closed, forget it. Nothing will happen. The so called "reviews" from their page HAVE to be fake. There's no chance anyone thinks these things are great. I'll keep them for emergencies, but they're a waste of money, for sure.

Sandra F
The advertisements they posted are considered FRAUD!!!
I made the mistake of purchasing 3!!!
The prongs are UPSIDE DOWN—-you have to have SPECIAL wiring AND a SEPARATE BREAKER for them (per info from an ELECTRIAN )!!!
I'm going to contact them and ALSO the ATTORNEY GENERAL in regard to not only false advertisement but withholding return policy!!!

Natalya Z
This is a scam! My product is NOT working at all. When I plugged it, nothing happened. I asked them for a refund but they messaged me that they will refund less a 15% restocking fee and I will pay for a return shipment. There is no mentioning of 15% restocking fee on the website. I emailed them my complain, will update the results. Don't buy anything from this company!!!!