Top Heat Portable Heater Reviews
Reviewopedia is supported by our readers. This page contains Amazon links through which we may earn a small commission for purchases.
Top Heat is the latest company to release their version of a portable ceramic space heater.
These types of companies ramp up their advertising just before the winter season approaches, however the companies themselves rarely last more than a season.
While the Top Heat Heater may seem like a bargain purchase that can solve your heating needs, we'll let you know why we think this heater is one to be avoided in this full product review.
How Does It Work?
The company makes a lot of claims about the device's effectiveness and efficiency on their website.
They tout its ability to heat a medium sized room to the desired temperature in 60 seconds and that the heater has the latest safety and convenience features.
Additionally, the company makes the following claims about the Top Heat:
Has a built in timer
Fall over protection
Has an antimicrobial filter
Is extremely quiet
Can save you money
Is easy to set up
However, the first red flag is that the company does not provide any kind of data sheet for the product or actually list its specifications.
One of the most important factors for choosing a space heater is knowing the wattage.
This will help you understand the unit's capabilities, its energy draw, and let you plan for any potential safety issues with regard to how you plan on using it.
The TopHeat provides none of this information upfront.
Is the Top Heat Portable Heater Legitimate?
There are currently multiple companies selling identical or very similar products under different names.
The Alpha Heater and Amper Heat are two examples of this.
The way these companies work is by purchasing these heaters wholesale from overseas sites, then rebranding them in conjunction with slick marketing campaigns.
They hope that people don't take the time to research these heaters or look for online reviews.
If anyone takes the time to investigate this product you can find the unbranded versions for sale on Amazon and Alibaba at a fraction of the cost.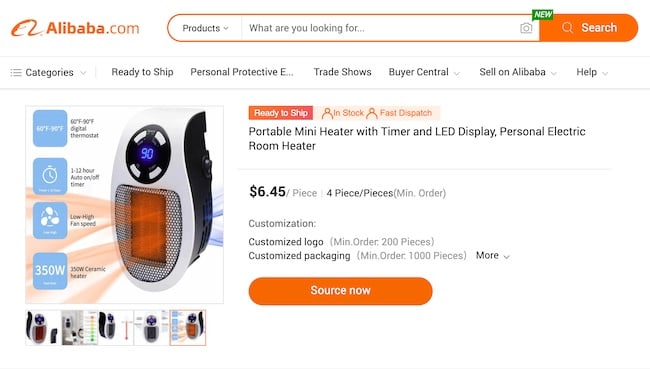 ( Generic unbranded heater on AliBaba priced much lower )
Further, those units reveal that they are only 350 watt heaters.
The average modern space heater operates at 650 watts for a low temperature setting and at 1,500 watts at a high setting.
Therefore it's safe to assume that the Top Heat is greatly underpowered.
Online Customer Reviews & Complaints
With Top Heat being the latest product name for this ceramic heater there isn't much online feedback for this specific company.
However the reviews for the other nearly identical products ( such as the Alpha Heater or the Amper Heater ) have many customer complaints.
Some customers claimed that the units were defective and quit working after several uses. Others had issues with the power plug falling out of the outlets
Most commonly, customers felt that the unit did not provide enough heat to be worth the price.
Customer Service
If you would like to get more information on the Top Heat Space heater you can try contacting the company via their phone number at 1-877-626-7121or through Email: [email protected].
The business address is:
Top Heat
PO Box 4219, Garden Grove, CA 92843
The website states that they offer a 30 day money back guarantee, however there are various stipulations that you need to adhere to.
Most notably you must first obtain a Return Authorization number from customer service, also note that they may charge a 10% restocking fee.
Cost and Price Plans
The Top Heat space heater sells for $49.95 for one unit in the Alpha package. However the company offers discounts for bulk orders.
Competitors and Alternatives
The Vornado AVH10 Vortex Heater is one popular option.
This efficient but powerful heater is a New York Times top pick and an Amazon's choice selection. It has the latest safety & comfort features and is reasonably priced as well.
Is the TopHeat Space Heater worth it?
When it comes to space heaters, we believe that going with a reliable brand is the right move. Space heaters can be a fire risk and you don't want to take any chance with an inferior product.
There are also many red flags for Top Heat, from the misleading claims on their website to the similarities to known scam products.
This is why we'd recommend avoiding this product and going with something that has a detailed spec list, a proven warranty, and a fair return policy.
If you have any experience with the Top Heat Portable Heater, please leave your reviews below.
You may also be interested in
Top Heat Portable Heater Customer Reviews