The Unbreakable Brain Reviews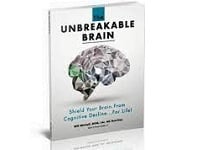 The Unbreakable Brain promises to teach people health and lifestyle rules to avoid developing degenerative brain diseases such as dementia or Alzheimer's disease.
The book is sold on Amazon but is also aggressively marketed through sales webpages such as SimpleBrainFix.com, NewBrainBlueprint.com, and MyBrainBlueprint.com, sometimes using alternative names such as 'Simple Brain Fix'.
It is not immediately clear if these promotional website are directly associated with Dr. Will Mitchell himself.
How Does The Unbreakable Brain Work?
"The Unbreakable Brain" is a book written by Dr. Will Mitchell, described by the company as a licensed acupuncturist and board-certified doctor of oriental medicine.
In this book, Dr. Mitchell shares information and advice on maintaining and improving cognitive function and brain health.
He covers various topics, such as the importance of a healthy diet, exercise, stress management, and sleep, in maintaining brain health and preventing cognitive decline.
The book aims to provide readers with practical strategies and lifestyle changes to enhance their brain's resilience and overall health.
"The Unbreakable Brain" covers several topics related to brain health and cognitive function.
Below are some key points and how they align with general scientific consensus.
Nutrition - The book emphasizes the role of a healthy diet in maintaining brain health.

Dr. Mitchell suggests avoiding processed foods, sugar, and unhealthy fats while focusing on whole foods, fruits, vegetables, and healthy fats.

This advice is in line with current scientific understanding, as a balanced and nutrient-rich diet has been linked to better cognitive function and reduced risk of dementia.



Exercise - Dr. Mitchell highlights the importance of regular physical activity for brain health.

Exercise has been shown to improve cognitive function, increase blood flow to the brain, and promote neuroplasticity.

These claims are supported by numerous studies and are generally accepted within the scientific community.



Sleep - The book emphasizes the importance of quality sleep for maintaining brain health. Sleep is crucial for memory consolidation, learning, and overall cognitive function.

This advice aligns with scientific research, which shows that chronic sleep deprivation can negatively impact cognitive performance.
Stress management - Dr. Mitchell discusses the role of stress in cognitive decline and suggests various techniques for managing stress, such as meditation, deep breathing, and mindfulness.

Chronic stress has been linked to negative effects on brain health, and stress-reduction techniques can help improve cognitive function and overall well-being.
Brain stimulation - The book recommends engaging in mentally stimulating activities, such as puzzles, learning new skills, and socializing, to maintain and improve cognitive function.

These suggestions are supported by research, as cognitive stimulation has been shown to promote neuroplasticity and protect against cognitive decline.
Keep in mind that while the book has valuable information, it's essential to consult with a healthcare professional before making significant changes to your diet or lifestyle.
Cost & Price Plans
Currently this website is selling this guide for $27.00 plus $9.99 s&h, though this is just the cost of the book itself and does not take into consideration any products, foods, or supplements the guide may instruct you to purchase.
Refund Policy
This company states that they provide customers with a 60 day "No Questions Asked" refund.
Customers who are unhappy with what they have received can simply contact their Customer Service team to request an RMA number and a return label that you can use for your return shipment.
Once you've returned your guide, your refund will be processed minus the cost of Shipping and Handling.
Customer Service Contact Info
Customers who would like to contact Customer Service with any questions, concerns, or complaints can do so by phone at 833-606-6342 or by email at [email protected]
We've also found the company is associated with the phone number 877-300-7849.
The seller lists their address as:
Primal Health LP.
3100 Technology Drive, Suite 200
Plano, Texas 75074
Reputation
The Unbreakable Brain package, as sold on MyBrainBlueprint.com, has garnered largely negative customer reviews and received many complaints from customers.
This is largely due to what customers describe as unauthorized recurring billing of up to $57/month after customers entered their payment details on the website.
The BBB has put out an alert on Primal Health LP, the company behind MyBrainBlueprint.com, stating there is pattern of complaints alleging recurring payments for a subscription service and continued receipt of unsolicited emails.
The accompanying purchase is "Smart Blood Sugar", another product from the same company with similar customer complaints regarding poor customer service and recurring charges.
Though the company has an A- rating from the BBB, it only gets an average of 1.27/5 stars from 75 customer reviews there.
Additionally, the company has received 241 customer complaints closed in last 3 years and 123 customer complaints in last 12 months
"The Unbreakable Brain" book is also sold on Amazon and has garnered a rating of 4.2 / 5 stars from over 600 customer reviews.
The Bottom Line
While "The Unbreakable Brain" offers practical strategies that align with scientific research, it's essential to remember that each individual's needs and circumstances may vary.
It's always a good idea to consult with a healthcare professional before making significant changes to your diet, exercise routine, or lifestyle.
Additionally, some of the claims made in the book may not be universally applicable or could be overly simplistic, so it's essential to approach the information with a critical mindset and consider it within the broader context of scientific research and expert advice.
Diet and lifestyle choices that promote brain health are well publicized throughout the internet on free-to-use websites such as the Mayo Clinic.
Advice include things like working on puzzles and crosswords, staying active, eating a diet rich in fruits, vegetables, and Omega 3 fatty acids.
If you have any experience with the The Unbreakable Brain, please leave your reviews below.
You may also be interested in
The Unbreakable Brain Customer Reviews

Flo
It is a scam ! Don't give them your credit card info. They will charge you monthly for nothing . Don't answer emails or phone cards

Patsi M
Do not order direct! Too many scam alerts on this!
I ordered and paid for this book on 4/10/23 and received it quickly in a few days. However, I have a pending transaction on my account for an additional charge,(higher than the original amount) today. After calling the phone numbers listed for contacting Unbreakable Brain and listening to never-ending abusive music, I sent an email to them disputing the second charge. I have had to cancel the card and file a Fraud report against them for the attempt to access additional funds from my account. Do not order direct from them, I have since found that this is available thru Amazon for a significantly lower price. The info in the book is great but the customer service is awful!

Eva
Do not do business with this company!!!
Not going to give this company a good review as after I ordered what I thought would be a book, I have been charged monthly for some sort of subscription for 3 months. Have tried to call all available numbers listed and get put on hold and after about 10 minutes I got cut off two times. Obviously not a a reputable company to do business with.

Anne
Unbreakable Brian is a SCAM!
Scam. I am charged monthly of a book I never received. Phone number goes no where and no way to stop monthly withdrawals.

Doreen B
Do not order from this company. Received the book I ordered but now am being charged for additional $50.88 on my credit card for item I did not order. Unable to get a response by telephone for a refund.

Pamela W
I ordered a book 10/11/2022 for $36.99. I never received the book and I got a recurring charge for $57. The company billed me for a brain supplement I never received.

Dk
Totally scam. No evidence to support the result or outcome

Hazel C
I purchased a book in 2021 unbreakable Brain for 38.00+. The next year around the same time I was charged another amount of 47.00 which wasn't authorized and to this date I haven't been able to reach anyone on the telephone to get a refund from this fraudulent charge to my credit card. Its a scam!!!

Arden A
Not as good as I thought…
I was so excited to get the book but completely let down with what was inside.

Doctor X
Have only watched part of video; up to the sales pitches for book and newsletter. However, the speaker makes it sound as if it is routine to reverse these dementias.
It is the exception, rather than the rule, to be able to reverse an existing dementias … except in the few cases of obvious nutritional deficiencies or drug interactions/toxicities. Such cases constitute only a small percentage of dementias.
I don't think it is necessary to address the obvious errors in dementia 'progressing to Alzheimer's' as there are a number of different types of distinct dementias. That's irrelevant to the proported claim of being able to "prevent, cure, fix or reverse" all of them.
For reference, I hold a doctorate (an actual accredited PhD) in the dual fields of molecular biology and biochemistry. My opinion is that this video is a shameful attempt to capitalize on the fear and misery of others. All useful information presented is widely available for free.

Diane M
Scary dementia ads I found on The Atlantic website
I found the Simple Brain Fix video reading an article in the Atlantic and it caught my eye and looked like a "must read". I started to watch the video, and yes, it is SCARY. As soon as I heard the doctor's name, I decided to look him up on Google, and found this site. Since the video is long, I decided to stop watching it, and will read the Mayo Clinic site for tips on avoiding dementia (yes, it's definitely something to avoid).
Yes this doctor is a great hustler, but I'm going to avoid him. Another thing to consider: Even if you could afford the $27.50 and the costs for whatever else he's selling, the additional stress you'd likely incur from his fear tactics by consuming his media products will increase the likelihood of dementia since stress is a known risk factor, so I'd simply avoid him. This doctor sure knows how to scare a person.
In the future I'll read Atlantic articles on the other browser that doesn't display the ad.

Cactus521
If at first you do not deceive, try try again
I saw a video just now from this company, and I decided to watch it since I have known medical professionals all my life, especially my Mom who was a nurse but got out of the role quickly, being faithful to my father, a health physicist and athletic coach, and former Army Recon in the Korean War, which is why we grew as a type of MASH Unit Family and dementia was kept bay with many of our family members living to their 100's and spry as I am in my 50's.
Now that I have established common sense anyone with a strong nuclear family would have, since there are many families in this world even stronger and smarter than mine was, my two cents is to stay away from these hustlers. They have you read these books, but there is always another shoe waiting to drop, they give you the bait, then they try to get you to pay more money money for a fountain of youth.
I laud them if they actually make a living doing this, everyone is entitled to make a living. But how would a real healer react to people who sell these healing books just to profit from confusion, and the pain that follows when the writers realize that they could have written such books without all the hoopla and reveal the holy grail for those who seek their truth.

PETA
I have paid for theses not good faith . however have never received them. I think this could be a scam. I received my bank statement yesterday ,and have not received any correspondence. losing faith very quickly for purchasing things on line