Smart Blood Sugar Reviews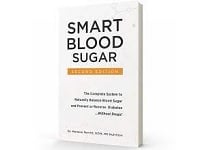 Smart Blood Sugar by Dr. Marlene Merritt is a book discussing ways to prevent and manage issues with blood sugar, insulin resistance, and diabetes, as well as other related conditions.
Merritt's book is also used in a marketing campaign by Primal Health LP at SmartBloodSugar.com to promote a number of related products.
How Does It Work?
According to their website, many people live every day reliant on carb heavy diets, using glucose as their most common form of energy.
Their website states that the Cancer Center at Harvard Medical School has "indicated that up to 80% of all human CANCERS have glucose and insulin as instigating factors."
But Dr. Merritt, the creator of the Smart Blood Sugar guide, states that glucose is an instant form of energy which is burned quickly and puts people in a continuous cycle of high energy and energy crashes.
The better way of approaching energy maintenance is to let your body use fat, instead of glucose.
This website says that fat not only provides a steadier form of energy without the crashes, but once you can train your body to burn fat as an energy source, it will be able to burn your stored fat as energy, resulting in weight loss.
But the Smart Blood Sugar guide is not intended to be a "diet," but rather a way of changing the way you eat and live to provide you with a better way of life.
This includes knowing which foods will spike your blood sugar and which won't using the total glucose load rather than the glycemic index, and by eating small frequent meals and snacks so that you never feel hungry.
They will also teach you how to "insulin proof" your kitchen and pantry, and how to eat healthy without ever purchasing something labeled "low fat" or "lite" ever again.
Reputation
Low Carb/High Fat diets have been promoted as a way to address weight loss and diabetes for many years, especially during the years when the Atkins Diet was particularly popular.
It seems as though the scientific jury is still out on whether this diet is really a good way to handle blood sugar and weight loss.
It seems the best that doctors can come up with at this point is that Low Carb/High Fat diets work really well for some people, and don't work at all for others.
Like many other things, there really isn't a "one size fits all" solution for the way that every single person should eat.
Another issue with the Smart Blood Sugar diet claiming that their Low Carb/High Fat approach is totally responsible for their users' positive benefits is that this diet advocates avoidance of all fast foods and processed foods, and instead a reliance on fresh, whole foods.
This seems readily obvious, and any diet that took this approach to eating would result in health benefits, not just the Low Carb/High Fats.
Customer Service Contact Info
Customers can contact their Customer Service team to discuss any questions, concerns, or complaints by phone at 888-509-0357 or by email at [email protected].
Cost & Price Plans
This website says that people who come in person to the health and wellness seminars offered by Dr. Marlene will pay a minimum of $150 per session, but at this time she is selling her eBook for just $27 (+ $9.99 s/h).
Of course, this doesn't take into account the money that will need to be invested into the new groceries the book tells you to buy, but the theory is that costs will be supplemented by the foods you are no longer purchasing.
Refund Policy
This website does say that they promise their customers a 60-Day Refund Policy, but the few details provided about this policy are somewhat confusing.
Though this guide is often described as an eBook, in the Return Policy it is treated like a physical book and they talk about how customers will be responsible for the cost of shipping all the materials back.
Concerned customers should contact their Customer Service team for the full details of this policy before finalizing their purchase.
If you have any experience with Dr. Marlene Merritt's Smart Blood Sugar, please leave your reviews below.
You may also be interested in
Smart Blood Sugar Customer Reviews

Douglas T
Be very aware that they will charge you $39.95 a month even if you say not to...You will have to fight to get your subscription cancelled even if you did not ask to be on a subscription. This company has some very shady practices since they do not tell you that you are now subscribed to them. Not worth the $39.95 they charge monthly.

Lesley
They won't answer my emails. They keep taking money out of my account. I've no idea how they managed to do this. Stay away it's a scam

Tom W
Ordered and paid $59 in Oct. Never received the product. They don't answer the phone so we can resolve this. Beware!

E N
Smart Blood Sugar by Dr Marlene Merritt is a scam
I ordered the book with the 60 day full refund money back guarantee.The book didn't have any new break through information in it. I was charged $27 for the book plus tax $3.05 and $9.99 shipping. When I checked on the refund I found out after returning the book I only get refunded $27 less shipping and a added handling charge. It is my opinion that it's a rip off. I should have known better than to believe it.
E. Nelson
Arlington, TX