PhotoStick Omni Reviews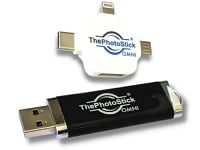 PhotoStick Omni Review: Worth the Price?
The PhotoStick Omni is an update product from the makers of the original PhotoStick.
The new version of this gadget makes it possible to use with personal computers, mobile devices, and tablets.
How Does It Work?
The idea behind this product is simple.

The seller wanted to create an easy way for people to quickly get all their photos and videos off any device and onto safe storage.
The seller, Prairie IT, claims that instead of having to spend hours sorting and uploading photos you just plug the PhotoStick in and hit GO.
While there are many backup hardware options available, not many are focused on creating offline backups specifically for photos.
This is where The PhotoStick Omni attempts to fill a gap in the marketplace, as some people are wary of using cloud based backups or intimidated by new technologies.
With the PhotoStick Omni, the company claims that all the tech hurdles are removed and you can have a safe backup without having to use any tools or create extra accounts.
The seller states that it works on all operating systems including Windows, Apple, Android, and Apple mobile devices. The device specs state that specifically it can be used on:


Windows 7 SP1 and newer
OS 10.13 and newer
iOS and iPad OS is 13.0 and later
Android 6.0 and later


Further, their website states that the PhotoStick software can detect a wide variety of photo file types.
The website states that to use the PhotoStick Omni you plug it into your device and follow the prompts. When using it with a phone you will have to download ThePhotoStick Mobile App.
Customer Reviews & Complaints
Unfortunately, the original PhotoStick has collected a large number of negative reviews from customers.
Customer complaints range from units not working at all, working for the first few weeks then failing, or having difficulty discerning photos from junk files or erroneous data files and icons.
Other complaints mentioned that download time was excessive and reported the device crashing or not completing its tasks. Further reviews mentioned that at times there would be many copies of the same photo downloaded.
Additionally, some users have expressed concerns about the durability and build quality of the device.
The PhotoStick Omni does not fare much better, receiving mixed to highly negative customer reviews online, inlcuding on Reviewopedia where it receives mostly 1/5 star reviews.
On Amazon, The PhotoStick Omni 64GB gets an average rating of 3.3/5 stars from over 80 customer ratings, while the The PhotoStick Omni 128GB gets an average rating of 3.6/5 stars from over 2600 customer ratings.
The company behind The PhotoStick, Prairie IT LLC, has a B rating from the BBB. However, the company receives just a 1/5 star rating from 14 customer reviews there.
Additionally, Prairie IT LLC has closed 16 complaints closed in the last 12 months and 46 complaints closed in the last 3 years on the BBB website.
The company's other product, Xtra PC, also receives highly negative customer reviews on Reviewopedia.
The PhotoStick software also receives negative reviews from customers, with the companies apps for Android and Apple receiving just 1.7/5 stars and 1.9/5 stars, respectively.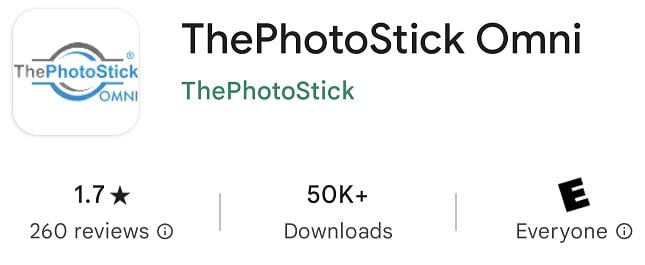 The PhotoStick Omni App for Android receives 1.7/5 stars from over 200 customer reviews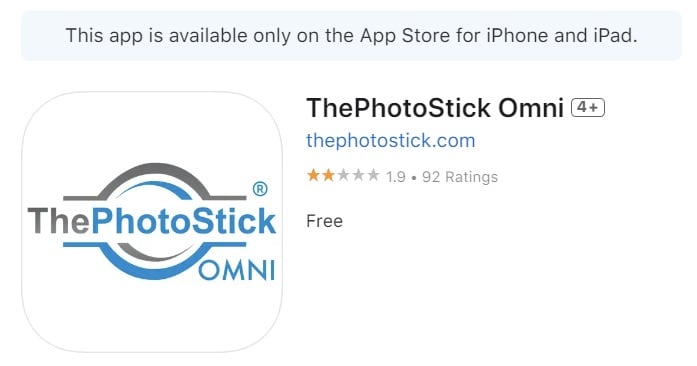 The PhotoStick Omni App at the Apple Store receives just 1.9/5 stars from 92 customer reviews
Cost and Price Plans
The price of the Omni Stick depends on its storage capacity. It comes in the following options:


The PhotoStick Omni 32GB - $59.99
The PhotoStick Omni 64GB - $79.99
The PhotoStick Omni 128GB - $99.99
The PhotoStick Omni 256GB - $149.99

You can choose based on how many files you think you may have, the size of them, and if you have large video files as well.
Customer Support
If you have any issues and need to reach a representative you can do so via their support page at ThePhotoStick.com/pages/support.
The company only lists it contact information as:


Prairie IT LLC
Haxtun, CO 80731-2569
(970) 225-6623


Their website states that The PhotoStick Omni comes with a 60-Day Money Back Guarantee, and that if you're not happy with your device, contact support to initiate a refund.
You will have to send back your product at your own expense.
Competitors and Alternatives
There are many different ways to achieve what The PhotoStick attempts to accomplish.
The easiest and most hands off method is to use the cloud based backup service such as Google Photos.
These programs continually run in the background or at scheduled intervals and can easily restore any deleted photos or even transfer files whenever you switch or upgrade devices.
Is The PhotoStick Omni Worth It?
Based on past reviews for the original product it's hard to believe that much has changed in this newest version.
It seems that the potential for technical problems is even greater now that the device claims to work across a multitude of operating systems and devices.
When judged strictly as flash drive, The PhotoStick Omni is probably overpriced by about 3 to 4 times vs well-known brands of the same memory size.
For example, while the The PhotoStick Omni 128GB sells for $99.99, you can easily find a well-reviewed 128GB flash drive on Amazon in the $30 range.
That means you're paying a premium price to get the PhotoStick software.
Unfortunately, the PhotoStick software gets very negative reviews from customers regarding it's usability, even though it's just a basic software that searches your device for files with extensions used for photos, presumably a very easy task.
For these reasons we'd recommend a different solution for storing your photos, preferably through a reputable hardware & software company with a proven track record.
If you have any experience with The PhotoStick Omni, please leave your reviews below.
PhotoStick Omni Customer Reviews