PhotoStick Omni Reviews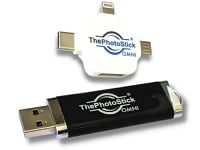 PhotoStick Omni Customer Reviews

Deborah L
I had my credit card compromised and indicated to their customer service I did not purchase their product. In a dispute with my credit card company, they provided website information about "my order." My credit card, Citibank, denied my dispute and said I needed to resolve the issue with the company.
Photostick has no customer service. They are the worst of the worst in terms of consumer fraud. I hope people start to write complaints to the Better Business Bureau and Consumer Affairs Offices in their state. This company should be shut down.

Oscar H
Did not receive the correct Photo Stick that I ordered! No real way to contact them to exchange it for the right type. No valid e-mail address and no valid phone number to call. You are out on a limb if you don't get the right stuff the first go round. Sorry, to say but you might want to go to a bricks and mortar store if you can to purchase this product. Even Amazon doesn't sell this item as of yet!

Lynda A
This Company are SCAMMERS
I puchased this product back in August and even though I have contacted the company many many times because I have not received my goods they continue to tell me it is not there fault that I have not received my goods. They will not send repacements or give me a refund. STAY CLEAR OF THIS COMPANY

Linda C
The worst customer service ever!! Can't speak to a real person! Trying to navigate a return on an unopened product! Was told not to buy a PhotoStick. Didn't listen!

Joseph S
Customer service will not reply
Can't get customer service or returns to answer me after 4 tries. Starting to suspect a fraud.

Lynne H
I'm still not sure but I think this is a scam.
I ordered three photo sticks around Thanksgiving at the Black Friday sale online. I paid $149.00 for a $200 order...$50 off. Today is is Dec 18, almost a month later. A couple of days ago, I received a package containing one photo stick...not three... and the one I received was not even one of the sticks I ordered. I cannot find a phone number for the company anywhere and they have not responded to two emails sent to their customer support.
I have turned the matter over to my American Express company. I would not recommend ordering from this company.

Lynne M
Not a very customer friendly company.
The Photostick charged my credit card and when I did not receive the product after 3 weeks I tried to contact the company. The only way to contact this company is by snail mail!