The Doers Way Reviews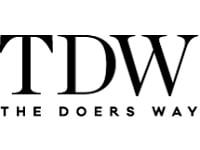 The Doers Way is the online home of Grace Lever, an entrepreneur who states that her aim is to help women who are starting or growing their own lifestyle business with educational materials, tools, and support.
How Does It Work?
According to Lever, The Doers Way is a growing community of female entrepreneurs which helps women follow the exact process she herself has used to create a profitable lifestyle business by following easy and simple lessons.
Her website states that The Doers Way does not use any fluff or hype, but rather educates members on practical marketing knowledge delivered via training videos and supported by PDF checklists and worksheets.
Members have access to "office hours" where they will be able to ask questions to Grace and her team for two hours each week,
Members also as have access to events in their city which allows like-minded entrepreneurs to network in a supportive and inclusive environment.
Cost/Price Plans
Customers who are unsure about whether this is the right organization for them can sign up to take part in their free seminar to receive more information about what is done and achieved with The Doers Way.
This company also offers specialty classes including their Workshop Project and their Identity Project, which will have pricing separate from The Doers Way.
Membership to the The Doers Way courses often begins with a $4.95 trial which lasts between 7 and 14 days, depending on when you sign up.
Customers then have the opportunity to choose a month-to-month membership or annual membership.
Prices are not publicly published because it appears they fluctuate with promotional offers and perhaps even due to number of open memberships available.
Refund Policy
Their website is very clear that no refunds will be provided for yearly subscription purchases, and it also appears that no refunds will be given for month-to-month memberships, as they begin with a trial offer.
Customers who choose to purchase membership to their options, like the Identity Project, should know that they will be subject to different Refund Policies for those purchases.
Often these are restrictive policies that require members to show proof of different actions before a refund will be approved.
Customers will need to see the full details of these policies on their Terms & Conditions pages.
Customer Service Contact Info
Customers who would like to contact their Customer Service team with questions, concerns, or complaints can do so by submitting them directly to their website through their Contact Us link.
Reputation
While this company does not appear to have many customer reviews at this time, the few which are available appear to be positive and enthusiastic about their experiences with this company.
In addition, the Huffington Post wrote an article where they explained that Grace Lever was an Adelaide ambassador for the League of Extraordinary Women and a finalist in the 2015 Telstra Young Business Women's Awards, so customers can feel confident that she has actually been recognized for her achievements in business.
If you have any experience with The Doers Way or their services, please leave your reviews below.
You may also be interested in
The Doers Way Customer Reviews