The Bradford Exchange Reviews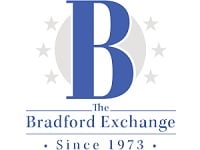 The Bradford Exchange Customer Reviews

Hollis N
Bradford Exchange DO NOT BUY
My mom purchased an item from Bradford Exchange, they sent the wrong item. Sent it back and canceled the order. They continued to bill her and tried to send her more items. We finally cancelled her credit card and all items sent to her were returned, but they continued to ask for money and eventually sent her into collections. DO NOT BUY from Bradford you will be sorry!!!!I would give ZERO stars if I could!!!

Lara S
If I could leave a negative review, I would. I ordered a wallet in October. When it did not arrive two weeks past the expected time, I called. Was informed that I had ordered an item the was out of stock, and it would be shipped when it came back in stock.
I was looking for new checks for my band new business account. Unfortunately, I did not look before I ordered. I just saw checks I loved, with a checkbook cover and ordered. I got the checks, two weeks later than expected. The checkbook cover still has not been received, six weeks later. A phone call only got it reordered with the same three week wait.
This has been a very expensive lesson. I have blocked The Bradford Exchange in my web browser, marking them as a scam. I will NOT make this mistake again.

Elizabeth L
<span class="updated-review-flag"></span>Bradford Exchange, Buyer Beware, Never buy from them.
UPDATE: 1-4-2021, Called Bradford Exchange at 866-503-9057 again, spoke to (Leshawnie), was informed my handbag was still in transit from New Jersey City NJ. this time and I would be receiving by end of week.. this handbag was shipped out on Dec 3,2020.
12-29-2020, Bradford Exchange and their Customer Service Dept. Would be getting a -101 if I could.
Never received my' Disney "Forever Mickey Mouse" Women's Fashion Handbag Item Number: 127265001. Called Bradford Ex on these dates, 12-29-2020,12-24-2020, 12-21-2020 x2 because operator (Bernard) hung up on me not wanting to hand call over to supervisor.
12-15-2020, needless to say I could go on with dates from original order from Oct 2020. this hand bag was on back order but as of Dec 3,2020 when was told it was shipped and account charged is has not been received.
12-29-2020 was told by supervisor RJ handbag is in Springfield MA and will be updated today as to where its going. I also would like to make a note that Bradford Ex uses USPS and Pitney Bowes, two of the worst shipping Co. and I bought 4 handbags from Bradford Ex and each of the three i did receive were all shipped in USPS plastic bags like general mail.
I have bought way cheaper items shipped to me more presentable then Bradford Ex shipped. I will Never be buying from Bradford Exchange again, worst customer service.

Sharon D
The live people take your money be carful!
I went online to their website. I was not sure how to make sure my order would be done right as a Christmas gift going to some one else for Christmas never did it from there site before. I called them this morning ordered the Christmas gift to be sent to the other person.
They said on the phone that they would help me order it they did that but then said they would charge my card an everything would be all good boy was I wrong. They did that what they call a pre check to see if there was money in my account which there was.
They then charged me for stuff I did not order which I only found out about that tonight. I wanted to send the same gift to another family member so tonight I called them again and they helped do it for me over the phone try to get the same item I ordered this morning.
The first thing they did tonight was try and sell me something way more high priced more then one thing along with other things I did not want at all nor was I wanting to pay for them. They had to cancel a number of items they were trying to buy.
Well in the end I was hoping to get the item ordered I ordered this morning. It never happened said to me that I could not use my card there that is was not a card from their company.

Jennifer F
Quality was super poor. Definitely not like pictured on their site. I will never purchase from them again. So disappointed.

Super M
This is the worst company I have ever dealt with! I canceled an order on 27 October and called to confirm that it was done. Firstly they couldn't find the order and was assured no funds would be deducted.
On 18 November I was alerted that the funds were on hold. I called to request that the funds be released back as this order was canceled. I was assured by Shevaugn that this was done and no funds would be deducted. I was alerted by my bank that the funds were taken out.
I called again to ask why and was told that I must wait 3 to 7 business days for the funds to be refunded. The customer service is horrific, they lie and could care less about their major mistakes, other than reciting scripted bull to me, I will never buy from here again.

Michael R
When I ordered a pair of Christmas Ornaments there was no indication that this was a subscription and that they would bill me every 28 days for a new set of ornaments. If there was such information, it was buried in such a manner that I did not see it.
On the other hand, I just spoke to customer service and they " cancelled my subscription ". I just return mailed this last package. Waiting to see if my credit card is reimbursed. The ornaments are quite pretty but the shock of seeing another set really upset me. It was BOOK OF THE MONTH CLUB nightmare revisited !!

Kevin P
supposedly "uncirculated" coins?
Do not believe this company has truly uncirculated old silver dollars. I received one and it has obviously been buffed and cleaned so horribly there are still visible scratches and details lost from high power buffing! The prices for these coins are a total rip as well! Research before buying and don't count on coins in mint or uncirculated condition.

Zac K
I ordered 2 reborn, one in March and one in April by now I should have the first one but it hasnt arrived. It's been 3 months. I tried tracking both of my orders and I've had no reply on either times. I also tried emailing numerous times to customer services and I've had no response. I also clicked installments so I start paying when I have received my order, however I noticed £40 was taken out of my account without any knowledge! They are scam artists and no one should ever order from them!!!

Pamela
Bradford Exchange is a Scam
I ordered a wooden calendar from the Bradford exchange website that had 12 small figurines to represent each month of the year. The website said that the price was $76.00. This was a significant't amount but I felt that for what I was getting it would be worth the price. After two months I received three figurines. I was then charged an additional $76.00. When I looked into why I was being charged again I was told that this was a subscription and my calendar would arrive in 5 installments and each installments cost $76.00. WHAT!! This was not clear on the website. This wooden calendar is no way worth $600. This website is a total scam!!!

Victoria
The Bradford Exchange - Poor craftsmanship
The Bradford Exchange has Poor craftsmanship.
My 5 grown kids brought me a personalized mother's day bracelet that I specifically choose. It had each child's name engraved with there birthstones on a heart shape. It also had a matching Rondelle with each child birthstone on it. 3 months later after wearing it a few times. The silver started to show a lot of scratches on it. My kids paid a lot of money for this bracelet and I'm deeply disappointed. It is called " Forever In A Mothers Heart personalized Birthstone Bracelet" $129.00. It's a beautiful bracelet online, but you can only wear it a few times before the scratches appear for just normal wearing it.

Billie C
Star rating should be in the negative!!!
I have been waiting for 4 months for an order. Finally canceled it and this is why. We got a call from our credit card company saying that our card was under fraud investigation and a hold was put on it. Only place card was used was Bradford Exchange so person that took order stole our credit card info and tried to use it.
STAY AWAY FROM THIS COMPANY, THEY ARE SCAM ARTISTS!!!!

Ronald E
I would suggest that people stay away from any contact with the Bradford Exchange online. Once they have you email address you will be bombarded with their email ads and they will not stop. I have "unsubscribed" numerous times to no avail. I have twice written directly to the company asking that me address be removed and have received no response. This is not the only area in which they are operating in violation of Federal regulations as their delivery procedures also fall under that category. Beware!

Molly J
Christmas tree collection
Totally misleading advertisement, impossible to get a return label and refund. Totally dissatisfied.I will never order or purchase anything through them.

Haig B
I would give it a zero if that were possible! I ordered a ring for my wife for our 25th anniversary that was on July 3rd. It was NOT a custom designed ring but needed only to engrave our first names on the ring. I gave them several days prior to July 3. As of today, July 7, I have not received it. When I contacted them, they replied this was a custom item and would take time. They gave me no estimate of when it would be shipped. I contacted them for status and received notice it would be shipped between July 10-17!!! Ridiculous! I warn anyone considering buying from them to give them several weeks to ship the order. I'll never use them again!