The Bradford Exchange Reviews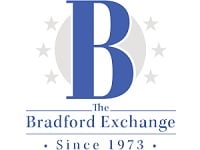 The Bradford Exchange Customer Reviews

Pamela
Bradford Exchange is a Scam
I ordered a wooden calendar from the Bradford exchange website that had 12 small figurines to represent each month of the year. The website said that the price was $76.00. This was a significant't amount but I felt that for what I was getting it would be worth the price. After two months I received three figurines. I was then charged an additional $76.00. When I looked into why I was being charged again I was told that this was a subscription and my calendar would arrive in 5 installments and each installments cost $76.00. WHAT!! This was not clear on the website. This wooden calendar is no way worth $600. This website is a total scam!!!

Victoria
The Bradford Exchange - Poor craftsmanship
The Bradford Exchange has Poor craftsmanship.
My 5 grown kids brought me a personalized mother's day bracelet that I specifically choose. It had each child's name engraved with there birthstones on a heart shape. It also had a matching Rondelle with each child birthstone on it. 3 months later after wearing it a few times. The silver started to show a lot of scratches on it. My kids paid a lot of money for this bracelet and I'm deeply disappointed. It is called " Forever In A Mothers Heart personalized Birthstone Bracelet" $129.00. It's a beautiful bracelet online, but you can only wear it a few times before the scratches appear for just normal wearing it.

Billie C
Star rating should be in the negative!!!
I have been waiting for 4 months for an order. Finally canceled it and this is why. We got a call from our credit card company saying that our card was under fraud investigation and a hold was put on it. Only place card was used was Bradford Exchange so person that took order stole our credit card info and tried to use it.
STAY AWAY FROM THIS COMPANY, THEY ARE SCAM ARTISTS!!!!

Ronald E
I would suggest that people stay away from any contact with the Bradford Exchange online. Once they have you email address you will be bombarded with their email ads and they will not stop. I have "unsubscribed" numerous times to no avail. I have twice written directly to the company asking that me address be removed and have received no response. This is not the only area in which they are operating in violation of Federal regulations as their delivery procedures also fall under that category. Beware!

Molly J
Christmas tree collection
Totally misleading advertisement, impossible to get a return label and refund. Totally dissatisfied.I will never order or purchase anything through them.

Haig B
I would give it a zero if that were possible! I ordered a ring for my wife for our 25th anniversary that was on July 3rd. It was NOT a custom designed ring but needed only to engrave our first names on the ring. I gave them several days prior to July 3. As of today, July 7, I have not received it. When I contacted them, they replied this was a custom item and would take time. They gave me no estimate of when it would be shipped. I contacted them for status and received notice it would be shipped between July 10-17!!! Ridiculous! I warn anyone considering buying from them to give them several weeks to ship the order. I'll never use them again!