Safe Personal Alarm Reviews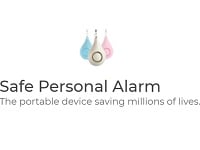 The Safe Personal Alarm, found online at GetSafePersonalAlarm.com, is a type of personal safety alarm which the creators claim to be responsible for saving "millions of lives".
How Does It Work?
According to their website, SafeSound Personal Alarm is "the perfect defense mechanism" for helping men, women, and children protect themselves in a variety of different circumstances and situations.
In order to be effective, this alarm has been designed to be very easy to use. To activate it, one just needs to pull the pin and a 125 decibel alarm will activate and will remain active for up to half an hour or until the pin is plugged back in.
The website states that this alarm can easily be attached to keys, purses, backpacks, or belts, so that it is accessible to people in situations where they might be in danger and can also be used by senior citizens to alert someone to help them in the event that they fall. &nbsp
&nbsp
Cost/Price Plans
Currently this company is offering their customers a promotional opportunity where they can take advantage of a 50% off deal so that the SafeSound Personal Alarm is priced at $39.95 instead of the traditional retail price of $80.00. The website is unclear about how long this promotional offer will last.
Refund Policy
The Return Policy for this product is confusing. Their sales page states that customers will be given 30 days in which to request a refund or a replacement, but their legal Terms and Conditions page says that customers will be given 90 days.
Under normal circumstances, customers are instructed to follow whatever instructions are published in a company's Terms, but in order to be safe, customers should always follow the shortest time period published on a website.
In general, however, customers should contact their Customer Service team to get clarification on not only what the correct time period of their policy is, but also on when the time period begins – from the date the order is placed or the date your product is delivered.
Regardless of the time period, this company says that to be eligible for return, customers must return their item in the same condition in which it was received and in its original packaging.
Customer Service Contact Info
Customers who would like to speak to their Customer Service team about their questions, concerns, or complaints can try to contact the company at 1 (833) 501-2920 or by email at [email protected]
Reputation
Unfortunately this particular product does not appear to have positive customer reviews at this time, making it difficult for us to recommend the Safe Personal Alarm.
The truth is, though, that there are many different products just like this available on the market which can be purchased for much less than $80 or $40, which are well-liked by their customers, and which offer their customers clear Refund Policies, so it may be simpler for customers to work with one of these established companies than to deal with SafeSound.
Competitors and Alternatives?
Personal alarms that you carry on your person in case of emergency situations are not uncommon and there are a variety of different options on the market for customers who might be interested in something more affordable or which operates a little differently than the Safe Personal Alarm.
For example, one alternative is the Vigilant electronic device which has a backup whistle and is able to make a warning signal that reaches 130 decibels. It's activated using a button and comes with a handy key chain clip.
If you have experience with the Safe Personal Alarm, please leave your reviews below.
You may also be interested in
Safe Personal Alarm Customer Reviews

Oralene S
I am not reviewing the alarm, but their ad. They show an ad of a local woman being attached in a store parking lot. The parking lot is not of a store located in our community. If someone was attacked, the employees in the nearby businesses, would have responded, and taken care of the perpetrator. If you have to lie to sell your product, that tells me all I need to know about their product.

Ananta M
Would not allow me to complete order
I got almost finished my order, paid the price, put card details in and it disappeared before I could complete!!!

Lisa H
I went to their order page and carefully ordered "buy one, get one free, $19.99.
They tried to add several other items to my order, but I said no. My total after my order went through was $83.00 and included a reoccurring charge for some tv service that was never mentioned at all. Scam, scam, scam!!!! I called and cancelled my order.

Seaandra R
It is interesting that Eric said "here in AZ" which makes me think that he clicked on one of the many articles that they have with changing dates and locations. Because on my end, the location was here in Florida. Also, if you scroll to the very bottom of one of the articles there is a "disclaimer" that says "this is an advertorial and not an actual news arrival, blog, or consumer protection update"
Pathetic to create a fake story of tragedy just to sell something. The only mention of this guy is through their website, there is NOTHING anywhere, and all of the articles are missing specific details, with the exception of the locations that change based on where you click the link from. What mall? What was the date of the incident? Some of the articles say 6 years ago, but the date of the article changes to always be near the time you click on it.
For example yesterday I googled "safesound inventor story" and it lead me to an article posted on Facebook, which had a date of December 23, 2018. And the location under that stock photo was Leesburg, Florida. My friend in AZ clicked on the link and it had no location. Today I click on the same article, and the date is now December 24, 2018.
Garbage.

barbara l
Do not waste your money on this garbage. You can not even leave a review on their site, I tried twice because negative, they say server is "Busy"! I hope people research before wasting their money! I bought 5 and I am embarrassed to give out these cheap things, can't return, they have the deception down, run people!!!!!

Alvin M
Companies like this make me sick. Such a pure example of marketing to fear with lies.

Jennifer C
No such incident ever happened with Paul Davidson's daughter. I can't trust a product built upon a fabrication.

oceantracks
If you try to leave the web page, the price of the item keeps dropping LOL
No such story can be corroborated on the internet.

Eric C
There is no such story. I live in AZ. Nadda, zilch, zippo. It's a completely fabricated story to sell product. This is why the webpage https://goo.gl/Jr4RXr is an image & not actual searchable text. Christine Davidson (although, there may just be a real person here in AZ named as such) in the story, never disappeared. All the comments on that page are fake as well.