Revitive Reviews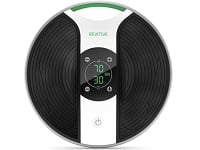 Revitive markets a line of electrical muscle stimulation devices that the company says are clinically proven to reduce pain, improve circulation, strengthen muscles and repair tissue.
One of Revitive's most popular products is the Medic Circulation Booster.
How Does the Revitive Medic Work?
The creators of Revitive state they harnessed knowledge about how the human body works in order to create an exemplary product.
The average adult has about nine pints of blood, which is carried by arteries away from the heart. Your legs act as a temporary vestibule for this blood, helping to circulate it back up to your heart through your veins.
If you have poor circulation, you are going to suffer from symptoms like achy legs and feet, legs that feel fatigued, and swollen leg muscles. Poor circulation is a common side effect of aging, as well as certain medical conditions.
If you smoke heavily, consume a nutrient-poor diet, have limited mobility, or suffer from certain medical conditions (such as diabetes or high blood pressure) you are more likely to suffer from poor circulation.
Revitive claims it can help improve your circulation. There is no limit to how many times a day you can use this product, but most people use it about once a day.
As for how long to use it, you should aim for sessions of twenty or thirty minutes. That being said, you can build up, starting with smaller sessions until you feel more comfortable.
Revitive uses Electrical Muscle Stimulation technology to deliver electrical pulses to the nerves in your body. This is meant to helps work muscles that circulate the blood in your legs and feet.
There are fifteen different stimulation patterns, or Waveforms, that you can use, helping provide therapeutic stimulation at different intensity levels.
As a result, Revitive can also be used as a foot machine or to treat conditions like arthritis knee or back pain in addition to acting as a leg stimulator.
The device comes with an isorocker that allows you to stretch your ankle joints and heels, too, without creating uncomfortable pressure.
Customer Reviews & Complaints
Revitive is a relatively new product, so there is not much evidence, outside of research that the company financed themselves, to determine whether it is a reliable way to promote circulation.
The only study to date was conducted with only thirty volunteers, and while the device is FDA cleared, it is not yet approved.
Revitive should not be used by people with metallic implants, such as pacemakers, or by those who have deep vein thrombosis or are pregnant.
Side effects include warmed skin, pain, swelling or tenderness, or redness. Customers' most common complaints center around a lack of user-friendliness on the remote, and difficulty adjusting to the odd sensation.
That being said, so far customer reviews have been positive. The device is easy to use and appears to improve circulation and provides a pleasant massaging sensation. Most users report that it reduces pain and sensations of numbness.
Customer Service
Revitive lists their office hours from Monday through Friday from 9 am to 5:30 Eastern Standard Time. They list a toll-free number (1-800-281-6007), and an additional customer service number (1-877-260-3109).
The company lists their physical address as Actegy Health Inc. ,6400 Shafer Court, Suite 225, Rosemont, IL 60018.
Revitive offers a 60-day money back guarantee for the Revitive Medic Circulation Booster and the Revitive IX, with free shipping. These products come with free shipping and free returns.
Cost & Price Plans
There are several different versions of this product. The top of the range product, the Medic Circulation Booster, currently costs $299.96, with the option to split the cost into 4 payments.
The cost is further offset by the free trial capabilities and money-back guarantee offered by the makers of this product. A less expensive option, offering fewer special features, is the Revitive IX, which is offered for $249.96.
Revitive also offers several advantage packages. These come with additional items like timers, batteries, advanced isorockers, foot and leg cream, and body pads.
Most come with extended three-year warranties and some additional items, costing around $40 extra.
Where Can I Buy Revitive?
Since it has only recently been released in the United States, this product can be difficult to find. REVITIVE can be purchased via the manufacturer's website.
It can also be found via retailers such as Amazon and eBay, although these devices are often used and no longer in packaging.
Competitors and Alternatives
Revitive Is one of the few products of its kind, but there are several good options to consider when you're in the market for a pain reliever and circulation booster.
Revitive vs. Homedics - Homedics is no more than a foot massager. While it can help to ease muscle stiffness, it only comes with two intensity settings and no special features to help improve your circulation and relieve your pain.
Revitive vs. TENS - TENS stands for Transcutaneous Electrical Nerve Stimulation and is another kind of technology that can assist with pain relief.
These machines deliver slight electrical impulses to the skin and affects your sensory nerves. TENS devices can't boost circulation and are instead designed to relieve pain.
Revitive vs. Dr. Ho - There are several key differences between Revitive and Dr. Ho. While Revitive relies on EMS and wide pulse technology, Dr. Ho combines these two technologies with TENS technology along with auto modulating pain relief waves.
It has twenty-four different stimulation types, helping to help with other kinds of pain as well as leg pain, but can be more of a challenge to get used to, according to many users.
Revitive vs. Accurelief - While Revitive is designed to target foot or leg pain, Accurelief is for users who are suffering from back or neck pain.
It is a nerve and muscle stimulator, using alternative technologies like electrode gel pads and lead wires instead of a pulsating unit.
Should I Consider Revitive?
Many people believe that they must rely on expensive, dangerous painkillers to relieve their lower leg pain. But painkillers rarely help treat the underlying problem behind the symptoms, but instead mask them.
Devices that help improve circulation could be of possible benefit.
If you have no other limiting medical conditions and you're sick of relying on pharmaceuticals or home remedies like compression socks to relieve your leg pain and numbness, Revitive may be worth a shot.
While there is limited clinical evidence showing that Electrical Muscle Stimulation can be an effective long-term solution to these conditions, Revitive offers a low-risk option for treating your pain and leg discomfort.
If you have any experience with the Revitive Medic Circulation Booster, please leave your reviews below.
You may also be interested in
Revitive Customer Reviews

Larry
I think they should let people know that it hurts like hell if you have metal in your legs or feet. I wasted my money on this item and can't give it away.
Be honest with the people on TV about the side affects of this machine.

Geri S
Is A Prescription Needed?
And Why Do You Continually Ask For My Credit Card Number If I Haven't Received A Prescription?
I do not have a review as yet because I haven't had an opportunity to try the device. I have seen the Revitive ads on telephone many times and gave them a call today. I asked questions about the total cost, the need for a prescription, etc.
The costs and the payment plan were explained, but every other question was "what credit card do you want to use?" I asked if I need a prescription or some kind of permission from my doctor, and was told, yes, I do need a prescription.
Then I asked why would I give you my credit card number if I do not know if my doctor approves? With that the revitive person hung up the phone. Sounds like a scam, wouldn't you say?

Kathy B
If you have a pacemaker do not buy it and that their refund policy is great!
My mother ordered one and we didn't hear anything about not using this item if you have a pacemaker.... until we had opened the box. She had a doctor's appointment within the week so I kept it until we spoke with him and he said no she couldn't use it. Revitive was very helpful when I explained what happened and gave her a full refund upon receipt of the unused machine.

Clive
Since 29th Oct 2021 I have been asking for some information on the Company's official contact form and have not even been afforded an acknowledgement let alone help or advice.
I am not impressed.

A. K
dishonest 'Actegy Ltd' company
Actegy Staff are unprofessional, provide poor customer service and constantly lie. Actegy Ltd's delivery service of the Revitive products is a shambles. The Revitive machine I purchased was not delivered on the day promised. I had to take several days of work to wait for the machine and it still did not arrive. Despite phoning eight times and sending multiple emails, the company could still not provide a delivery day. When the machine finally arrived a week late, I refused delivery because the courier company made up stories and I could no longer accept the lies. Now I will have to wait a month for a full refund since the purchase date. Quite scandalous really. For a company that claims its products are to relieve pain are in effect causing a lot of pain in the process to unsuspecting customers. Shocking really! The Actegy Ltd CEO Josh Penny really has a lot to answer for.

Lonnie C
I use it every day for 30 minutes twice a day. Been using it for a little over a month and it does seem to help with my foot Neuropathy

Lee S
worse company EVER !!!!!!!
product may be ok to use, but the company