Raise.com Reviews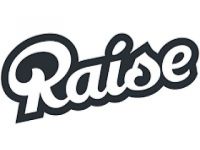 Raise.com is an online marketplace where registered members can sell and buy gift cards. This site is a medium used to facilitate transactions among its buyers and sellers.
How Does it Work?
Members can search through their database of gift cards by brand, name, category, discount percentage or browse through the newest postings; their database contains over 1000 stores.
Gift cards purchased may be in the form of a physical gift card, an electronic gift card, a merchandise credit or a retailer discount.
To sell a gift card on Raise.com, start by setting up an account. Each listing will require you to enter the retailer, the card number and its pin. Next you will enter the value of the card and the amount you want to sell it for.
You will also be required to submit credit card information to pay for the $1.00 listing fee. Listings may take up to 24 hours to become active in their database since each one must be reviewed and approved.
Buyers must also create an account if they want to make a purchase through their website. Raise.com accepts payments by credit card, debit card or through PayPal. Each gift card is backed with a 100% Purchase Protection for 60 days.
When a sale has been completed, Raise.com will pay the seller with a check or through PayPal. Raise.com takes a 15% commission fee for the amount of the sale and also charges a $5.00 minimum withdraw fee for sellers who use PayPal.
Sellers on Raise.com posted online reviews which were primarily positive. They felt the process was easy and mentioned how quickly they sold their gift card. It also seems to be favorable amongst people who need fast cash to pay their bills.
Gift card buyers, on the other hand, posted many complaints online. Some gift card buyers received cards with less available funds on the card than it supposedly had.
Sellers were accused of using funds on the gift card after the sale was final as well as providing incorrect pin numbers to buyers.
A majority of the problems pertained to fraudulent gift cards sold through the site; in fact, some of these gift cards were purchased with stolen credit cards.
A suggestion seen online, from gift card buyers, is to transfer funds from the gift card you purchase on their site to a new one.
With a new card number and new pin, it is less likely you will run into issues with the depletion of funds by someone who has the original gift card information.
If you have any experience with Raise.com or their services, please leave your reviews below.
You may also be interested in
Raise.com Customer Reviews