Nucific Bio X4 Reviews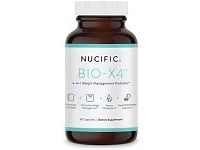 Nucific Bio X4 is a probiotic dietary supplement intended to promote weight loss by helping boost metabolism, support the digestive system, and reduce cravings.
The company behind Bio X4 is Nucific. Run by Dr. Amy Lee, the company's head of nutrition, they currently offer eight different health-related products for issues such as digestion, weight management, mobility, heart health, and brain health.
Who is Dr. Amy Lee?
Many will recognize Dr. Lee for the Facebook video ad where she outlines the "3 harmful foods."
Dr. Lee is a board-certified physician through the American Board of Internal Medicine. She is also a member of the National Board of Physician Nutrition Specialists and the American Board of Obesity Medicine.
Additionally, Dr. Amy Lee attended the University of Washington, where she obtained her undergrad degree. She then followed that with four years in Champaign-Urbana/Peoria, IL, for her medical degree.
Her internal medicine residency took place at USC in Los Angeles, where she worked alongside endocrinologist David Heber and internist Zhaoping Li.
The mission behind Nucific is to offer cutting-edge products backed by science that can help your body operate at its prime level, the way it was designed to do.
What Is Bio X4?
Bio X4 is one of the most popular product offerings that Nucific offers. It is a 4-in-1 dietary supplement that acts as a probiotic and works to increase your health internally.
The 4-in-1 capsule includes the following components:
Balance for your digestive system
Ability to supercharge your metabolism
Support for curbing your cravings
Assistance for healthy weight loss.
How Does Bio X4 Work?
The ingredients contained in Bio X4 help to combat negative behaviors and boost internal health. It does this in capsule form and targets the digestion process.

When you ingest the capsule, the components that comprise it help break down the molecules within your food. This manner makes the digestion process more straightforward and helps you absorb more of the nutrients in your meals.

Additionally, Bio X4 incorporates Caralluma Fimbriata and Green tea extract to curb cravings and boost your metabolism. This addition helps to decrease snacking and to process your food at a faster rate.
Lastly, Bio X4 contains a premium probiotic that helps you balance your gut bacteria and calm existing digestion issues.
How To Take Bio X4
It is recommended to take a dosage of one capsule of Bio X4 three times per day with meals to get optimal results.
To speed up the weight loss process, you can take two capsules up to three times per day, also with meals. However, you do not want to exceed this amount.
What Ingredients Are In Bio X4?
A variety of supplements comprise the makeup of Bio X4. All ingredients are gluten and allergen-free and are professionally sourced. The following elements make up Bio X4:
L. acidophilus
L. rhamnosus
L. Plantarum
B. lactis
B. animalis
Amylase (from Aspergilus Oryzae)
Bromelain
Lipase (from Rhizopus Oryzae)
Green Tea Extract
SimalumaTM (Caralluma Fimbriata extract)
Vegetable Cellulose
Microcrystalline Cellulose
Stearic Acid
Silica
These ingredients make up the specific probiotic, digestive enzyme, weight management, and craving control blends that set Bio X4 apart from other options on the market.
Cost and Price Plans
To purchase a three capsule per day, one month supply bottle of Bio X4 is $99.00. This supply contains the amount recommended to get the total amount of benefits. The rate per bottle goes down with bulk purchases.
One Bottle - $99
Three Bottles - $261.36
Six Bottles - $487.08
This price does not include charges for shipping and handling. Your first purchase of Bio X4 does come with a 90 Day Guarantee.
Nucific Customer Service
Nucific has several bad reviews against them online for the lack of support in returning products, canceling orders, and utilizing the money-back guarantee. Customers find it very difficult to get the assistance they need with their orders and products.
Nucific provides several different contact methods, including email address ([email protected]) and phone number (888-679-5520), for their customer service department on their website.
Additionally, they offer online chat options, an email form, and direct links to their social media domains.
Online Reviews & Complaints
Nucific has a high rating of A+ with the Better Business Bureau, with a 4.2 star average with their customer reviews.
The third-party rating website Trustpilot has a similar rating of 4.5 stars with their buyer feedback. Google Reviews shares the same sentiment with a 4.5-star rating.
Due to limited sale outlets, there are no reviews on top retail sites like GNC, Walmart, or Amazon. Additionally, there is no information regarding the company or product on Consumer Reports.
Customers report minor side effects such as headaches, indigestion, nausea, joint pain, and bloating.
Where To Buy?
You can only buy Bio X4 on the Nucific official company website. Unlike many of their competitors, their products are not available for purchase in retail stores or websites.
Competitors and Alternatives
There are alternatives on the market to consider in place of Bio X4. These options are similar in their projected outcomes and are used in similar ways.
Bio X4 vs. Plexus - Plexus offers a wide variety of products for purchase and also has a unique skincare line, as well as one for children. Plexus is available in subscription packs and has a start-up fee associated with it.
Bio X4 Vs. Total Restore - Total Restore operates similar to Bio X4 with their purchase options. However, the ratings associated with Total Restore and not as high as what Bio X4 has.
Bio X4 Vs. Align - Align is a probiotic widely sold in many retail stores, including Target, Walmart, Walgreens, and Rite Aid. Align is a probiotic and digestive supplement but is not considered a dietary or weight-loss option.
The Bottom Line
Dietary aids are hard to navigate. Because of their status as a supplement, they are not FDA approved.
Additionally, it is hard to know how their use will pan out long-term for the customers that utilize them.
However, we are enlightened by the resume and career experience that Dr. Amy Lee possesses. The boards and committees that she sits on are promising as well.
Many doctors and physicians behind dietary aids and supplements do not have as impressive backgrounds as Dr. Lee.
Additionally, the positive reviews through many different third-party sources are comforting to those considering the purchase of Bio X4. Having a consistently high rating through several various sources tells a lot about the efficacy of the product.
Due to all of this, we believe that Bio X4 may be worth it. The positive feedback, coupled with the impressive professional background of Dr. Lee, makes the product appear to be a beneficial addition to a weight loss regimen.
As always check with a professional before embarking on any new supplement program.
If you have any experience with Nucific Bio X4, please leave your reviews below.
You may also be interested in
Nucific Bio X4 Customer Reviews