MiracleWatt Reviews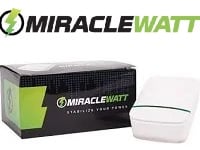 MiracleWatt: Legit or Scam?
Miracle Watt is claimed by its seller to be an energy saving device designed to stabilize electrical current, a process that they say will help decrease electricity costs for users.
How is MiracleWatt Claimed to Work?
The seller states that once you plug the device into an outlet near your breaker box it will start working automatically, using special electricity stabilizing technology to increase the efficiency of your home's power usage.
Experts agree that devices that are turned off can still draw power when plugged in, which can add to electricity expenses and shorten the lifespan of your electronics.
Miracle Watt is also intended to help avoid power surges that can damage electronic devices.
The device also purportedly offers benefits for human health as well as the health of your appliances. Some people believe prolonged exposure to dirty electricity can be linked to health issues like cancer, fatigue, insomnia, and asthma.
The MiracleWatt is intended to function as a dirty-electricity filter, reducing human exposure to dangerous electromagnetic fields (EMF) emitted from popular electronics like computers and televisions.
These are hefty claims, but does Miracle Watt really work? Online customer reviews of the device don't seem to back up these claims.
Online Customer Reviews & Complaints
Unsurprisingly, the only place to find positive customer reviews of Miracle Watt is on their own website.
Unfortunately, since there no other review sources offer such glowing reviews, we are unconvinced that the rave reviews are genuine, or that the product is credible.
Other online customer reviews state that the MiracleWatt made no difference at all to their power bills. Other claims made by company are more difficult to verify.
However, those who have working knowledge of household electricity and electrical engineers have pointed out the flaws in the product's claims and have explained why it's a likely hoax.
In addition to the negative reviews that you will find below they also have a 1.67/5 rating with the BBB.
MiracleWatt Company Details
According to their website, the parent company for MiracleWatt is:
Comeback Commerce, Inc
1624 Market St STE 226
PMB 42970
Denver, CO 80202
Googling that address reveals that it belongs to Denver Office Suites, a company offering virtual office addresses to businesses.
In fact, Comeback Commerce Inc is not a Denver based business but is a registered Delaware company.
ImportGenius.com, a service that tracks the import histories of companies, shows a U.S. customs record of an order for 500 "Power Reflector Device" from China by Comeback Commerce Inc.
It appears that the MiracleWatt is a wholesale purchased and rebranded Chinese product which is then rebranded and resold by the company under as MiracleWatt.
You can find virtually identical products to the MiracleWatt sold on Amazon and Chinese based wholesaler websites, marketed under a number of different names.
Customer Service
You can contact customer service by e-mailing [email protected]. Their website states that support is available 24/7.
The company claim to offer a 90 day return period. In order to initiate a refund you must first contact the company to receive a RMA# and then send the unit back to:
MiracleWatt Returns
Attn: Returns
RMA#
PO BOX 447
Lakeland, FL 33802
Where to Buy?
You can only order MiracleWatt through their website.
Competitors and Alternatives
The Miracle Watt, or products very similar to it, have been marketed for some time under various names.
These include Eco Watt 365, StopWatt, Watt Rescue, Watt Pro Saver, Power Watt Pro, Voltex Energy Saver, PowerVolt, and others.
Is the MiracleWatt a Scam?
According to the EIA, the average American home uses about about 893 kWh of electricity per month, the cost of which adds up quickly.
It's not surprising that consumers would love to find an effective way to help cut down that monthly expense.
However, we do not believe that the MiracleWatt is a viable solution, and in fact would categorize Miracle Watt a scam based on our research.
The company makes almost no effort to attempt to explain how the MiracleWatt works, and we have concerns over whether the technology it claims to use is even effective in the first place.
Additionally, the lack of verified positive customer reviews, coupled with the red flags raised by company's use of a virtual address, leaves us unable to recommend this product.
If you have any experience with the Miracle Watt, please leave your reviews below.
You may also be interested in
MiracleWatt Customer Reviews