MiracleWatt Reviews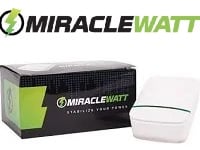 MiracleWatt Customer Reviews

Kenny C
My electric bill went up $1.00 per month after 4 months. I'm on levelized billing but if this was legit, it would have helped some by now. It's a scam

Kristy J
I asked my husband, an Electrical Engineer, if this was a good product. He stated the item is a scam from start to finish. None of it makes any electrical sense in any way shape or form. Snake Oil.

Eric V
I had a chat with my electrician for Miracle watt to work as advertised it would have to be plugged into the single phase 220 power source at your distribution panel. Just plugging 1 close to the power box and 1 farthest away will only be on 2 circuits not the whole house.
In the distribution panel where power comes in from the outside to your home you will have circuit breakers that cover every circuit in your home. Miracle watt can only filter power on what ever circuit your plugged into not the whole house.
From the graph provided they are talking about dirty power the only way to clean power is to install a Battery Backup to say your computer that is sensitive to power fluctuations it provides constant clean power to your computer at 120 Volts 60 HZ if you have seen in your home lights dim a little or brighten a little, Dimming is a power sag Volts have dropped below 120 volts Hertz are at 55 or 50 this can damage sensitive electronics. every power company has maps that tell what areas are affected by these power sags and surges. Miracle watt is not going to do what it claims.

Robert C
I have had two of these in my house for the last 6 months and there has not been .01 in savings. they are a scam and not worth the effort.

Gerald F
I think this is a scam I bought 6 three by mistake but kept all 6 plugged in all six all over my house which is 2500 square feet. that was about 6 month's ago. there is know difference in my electric bill at in six months. could somebody please HELP me if they have same problem.

David H