Lomi Composter Reviews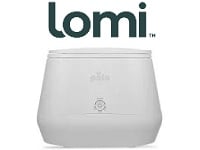 Reviewopedia is supported by our readers. This page contains links through which we may earn a small commission for purchases.
The Lomi Composter from Pela is a machine designed to make household food waste into usable compost.
The small appliance is claimed to produce nutrient rich soil in record time and with none of the fuss of traditional composting methods.
The seller, Pela Earth, is a certified B Corp that focuses on producing climate neutral alternatives to everyday products.
Prior to the Lomi Composter their most popular product was the Pela Case, a line of plant based compostable phone protection accessories.
Pela Earth claim that the use of their products has kept "the equivalent of 48,433,866 plastic bags from entering our oceans."
With the Lomi Composter, Pela has turned their attention to food waste, a leading contributor to human greenhouse gas emissions globally.
Should You Compost?
The EPA's research has revealed a lot of startling statistics about human trash and waste management.
The food waste cycle starts with the average American generating around 4.5 lbs of waste per day, of which around half ends up in a landfill.
Of that waste, organic materials account for the largest non-recycled portion. [1]
Furthermore, according to the EPA, "Municipal landfills are the 3rd largest source of human related methane emissions." [2]
The point of composting food scraps is to let them break down in a natural way (aerobic decomposition) which requires oxygen and will not release methane. [3]
Finally, compost itself has many benefits when added back into soil, such as:
Improving soil quality
Reducing runoff
Reducing soil erosion
Introducing healthy bacteria that can eliminate need for pesticides
Adding diversity to soil
Reducing need for fertilizers
Creating healthier ecosystems

This two part cycle benefits the planet by keeping unnecessary items out of landfills and creating a useful byproduct.
In this manner the compost created by the Lomi Composter could be used for a home garden, houseplants, flowerbeds, and other gardening.
Ultimately, Lomi creators state their product can help customers change the way they deal with food waste.
How Does it Work?
Lomi is different from other types of kitchen composters because it works in three different ways. It can break down organic waste, create compost, and decompose bioplastics.
The Lomi uses heat, moisture, and smart sensors to help improve the rate of biodegradation, allowing you to create usable compost relatively quickly.
The machine is easy to use and a user-friendly device, as it only requires a single button. There are no complicated settings or programming to worry about with the compost machine.
One of the features of the Lomi is that it's possible to add waste to the Lomi while it is running which, while convenient, does restart and extend the composting cycle.
It's arguably better to wait to add new material until the current cycle is complete, unless it is still early in the cycle.
It's recommended that you do not leave food scraps just sitting in the compost machine, as it could start to lead to odors.
In the US and Canada the Lomi operates on 110V. The Australian Plug will be 220V to 240V, and the EU version will have a type C plug and will run at 220 to 240V as well.
The Lomi composter is made from recyclable plastic, while the interior pieces are made from durable metal.
Lomi is also going to be part of the Pela 360 program.
This means that when your Lomi's lifecycle has ended, instead of tossing the machine into the landfill, you can send it back to the company so it can be disposed of properly.
How Big is the Lomi Composter?
One of the benefits of the Lomi Compost compared with other compost bins is the size.
The measurements for the product are only 16" wide, 13" deep, and 12" high. It's small enough to easily fit into most kitchens without any issue.
The appearance of the compost bin is kitchen-friendly as well. It's sleek and modern design should fit in well with other kitchen appliances.
How Long Does Lomi Take to Turn Waste into Compost?
The length of time it takes will depend on a couple of factors.
First, it will depend on the cycle that you choose. The Eco Cycle will provide quality compost in about 20 hours, while the Express Cycle is the shortest and will create compost in about six hours.
Second, it depends on the types of items that are in the machine. For example, the Bioplastics Cycle can also produce fertilizer and will take about 24 hours to complete.
The end product of all of the cycles will be usable compost. The Eco cycle will provide the most mature compost.
The number of times that you might have to use the product each week will vary and will depend on the amount of food waste you have.
In some cases, a household with just two people may only need to run the machine two or three times a week. For a larger household it might need to be run daily.
What Food Scraps Can Be Used?
You can use a range of fruits, vegetables, meats, dairy products, and other items in the Lomi compost machine.
The instruction manual is available at lomi.com and has the full list on what can and can't be used with the machine.
How Much Does the Lomi Composter Cost?
The product launched with several tiers during their IndieGoGo campaign.
IndieGoGo Special – $379 for a single machine
Lomi – Early International - $399 for a single machine
2 Lomi Special – $699 for two machines
4 Lomi Special – $1,299 for four machines
10 Lomi Special – $3,199 for 10 machines


2023 Update:
You can now purchase a Lomi Composting Machine through the company's website or
on Amazon for $499
.

There are also different options for bundled packages that will include refills of the Lomi Pods and Filters with additional savings options if you subscribe to auto refills.
Is There a Warranty?
Lomi comes with a 1-year warranty/happiness Guarantee.
This guarantee applies to manufacturing defects in the product material or workmanship not caused by mishandling or improper use of the device. The full terms are listed on their website in the support section.
Customers can also purchase LomiCare, a 3yr Extended Warranty for $59.95.


Note: One of the terms of the warranty is that you must register your Lomi on their website.
Returns and Refunds
When you buy directly from Lomi.com you are eligible for a refund if you return your unopened or unused machine within 30 days.
On Amazon the Lomi qualifies for the prime return policy which lets you return the machine for any reason within 30 days of receipt.
Customer Reviews & Complaints
The Lomi has had a lot of fanfare since its launch with many bloggers and influencers recommending the machine.
Given the company's commendable commitment to fighting climate change it has also received a number of positive write ups from popular tech/gadget websites.
When it comes to actual customer reviews there are some mixed responses. On Reviewopedia the Lomi has a rating of 2/5 from 50+ customer reviews, many of which stem from ordering issues when the product was first launching.
This is evidenced by the fact that the Lomi has an impressive 4.6 out of 5 rating from 600+ reviews on Amazon.
Lomi Pros and Cons
Below are some of the highlights mentioned from both happy and unhappy users.
Pros:
Works great on veggie and fruit scraps
No smells inside the house
The Lomi looks modern
Customer are generally happy with the results
No noticeable increase in power bills with regular use
Improvement in plant growth from added Lomi compost
Works very well, as advertised

Cons:
Some users had difficulty closing the lid
Trouble during initial setup and positioning of filters
Felt limited by items that could not be composted
Some users not aware they signed up for the autoship filter/pod program
Slow customer service replies to issues with the unit
Question the economics of energy in vs output
Louder than advertised
Reliability issues

It's worth noting that many of the negative reviews stem back to the early days of the product launch when users were experiencing more issues as the company was still launching the product.
Also, there are more resources available now for customers experiencing startup/usability issues.
For example, Lomi.com provides many troubleshooting guides and also offers a VIP concierge to assist with setup (if purchased from their site).
Competitors and Alternatives
When it comes to countertop composting appliances there are several popular options, with the Vitamix FoodCycler being most similar to the Lomi.
Vitamix is same brand that sells what's probably the highest rated blender.

Vitamix FoodCycler FC-50 Vs. Lomi Composter
The FoodCycler also has a 4.6/5 customer rating on Amazon, albeit the FoodCycler has many more customer reviews. The FoodCycler is also rated as an "Amazon's Choice" product.
The Lomi has the advantage of composting bioplastics, while the FoodCycler may have a faster processing time to reach usable dirt.
One of the key differences between the two items is the price. The FoodCycler sells for $349.99 on Amazon, considerably less than the Lomi.
If you do not wish to go the automated electric route there are a variety of DIY options for crafting your own compost bin.
Is the Lomi Composter Worth It?
Overall there is a lot to like about the Lomi Composter, with just a few caveats. Much of the negative feedback stems around customer service and ordering issues.
Make sure you are clear in what you are signing up for with regards to the auto-ship option for LomiPod and Lomi Filter delivery.
Some customers mentioned that they do not use the pods or filters as quickly the company ships them, so the amount of waste composting you require is another thing to keep in mind when ordering.
You may also decide to forego some of the perks available when ordering directly from Lomi.com and place your order on Amazon to ensure easier returns, should there be an issue with your unit.
Ultimately, Pela is trying to make a viable business out of providing products promoting sustainability, which is commendable.
They refute many of the naysayer's claims, assuring customers that the electricity used in the composting process is marginal when compared to how many lbs of methane are prevented from entering the atmosphere.
Those who are interested in starting a composting routine for their food scraps will want to check out the machine to see if it will work well for their needs.
If you are looking for a cheaper option then you may want to check out the FoodCycler as well.
If you have any experience with the Lomi Composter, please leave your reviews below.
You may also be interested in
Lomi Composter Customer Reviews