Lomi Compost Reviews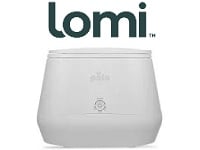 Lomi Compost Customer Reviews

Christine I
The true price and deposit
Based on the treatment I received within the first 2 minutes of my payment deposit, I will never do business with this company.
First of all, they don't reveal the true amount of the item. It's all very secretive, nothing is upfront. I sent in my $49 and they quickly replied, "thanks for the deposit". I was not aware that was just a deposit. I told them immediately that I didn't want a $500 item and they refused to give me my deposit back.
Shame on them. What a way to make money. On Peoples Mistakes!

Anais M
Is there 0 star option ???
OH MY GOSH !!!! I just lived a terrible experience with them and got scammed of $50.
DO NOT fall for their scam.
First of all, BE AWARE when you buy their product, they FORCE on you a subscription without you even realizing it !!!! How Illegal should that be!!! Super sketchy tactics! The customer service is a part of that scam as well, very very bad poor and inefficient.
I just really really wanted to be composting myself very soon and I got so excited I ordered one. That sucks right off the gate because they take 50 bucks to reserve it and if you cancel 1 minute after, you will lose your deposit.
This subscription thing is absolutely the worst !!! You can't even tell from the website and the communication is terrible. Their website is just purposefully misleading and you cant find any relevant information.
There's a text without a check box thats says : "By confirming your payment, you allow Pela to charge your card for this payment and future payments in accordance with their terms."
WHERE DO YOU SEE YOU ARE ABOUT TO PURCHASE A 2 YEAR SUBSCRIPTION IN THIS TEXT!?

Ashley G
Not a trustworthy company.
Terrible customer service who stand behind their false advertising. After being a customer for over 8 years I will never purchase from Pela or Lomi again...