Hopper Reviews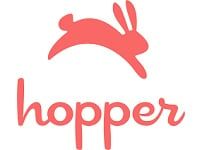 Hopper is an app whose creators state aims to help travelers know the best times buy airfare tickets so that they're able to get the lowest fares.
How Does Hopper Work?
According to their website, Hopper uses a four pronged approach to flight buying: predict, watch, buy, and fly.
Their data science has collected a huge archive of trillions of flight prices and they have analyzed that data to provide their customers with insightful predictions that consistently predict flight prices with 95% accuracy.
To use Hopper, all you have to do is search for your trip by clicking the dates on their color coded calendar.
Hopper will then predict when they believe your flight will be the cheapest, and they will recommend to you that you either wait or go ahead and book.
Customers who are instructed to Wait can simply tap on the binoculars icon to begin watching their chosen flight.
Hopper will send notifications to your phone as soon as the prices on your flight drop. When Hopper says Buy, customers can choose their flight and buy in just a few taps.
Hopper says that they are one of the fastest growing travel apps, with more than 10 million installs since they were launched in 2015, and they are proud to be reinventing the way people plan their travel.
Mobile Options
Currently this company provides mobile applications for both iOS and Android devices.
Cost/Price Plans
Hopper is proud to be an accredited travel agency that provides real human beings who can help their customers arrange and book their flights, and they promise that they never charge their customers any hidden fees – the prices that are displayed are the prices that you will pay.
Refund Policy
Generally speaking, any customer who has issues with the flights they have booked are directed to speak with the airline that is providing your travel, as this gives you the quickest and most effective way of managing your travel arrangements.
However, the staff at Hopper is able to help their customers if you choose to reach out to them.
In addition, if you are having trouble with the Hopper app itself and the information it is supposed to be providing you with, you are welcome to contact their Customer Service team for assistance.
Customer Service Contact Info
Customers who would like to contact Customer Service with any questions, concerns, or complaints can do so by email at [email protected]
Hopper Reputation
Hopper.com states they have been named one of the best apps by New York Times, Wall Street Journal, Buzzfeed, Vogue, Tech Insider, TIME, and other publications.
They have also received awards including Apple's App Store Best of 2015, the Webby Award for Best Travel App, and Google Play's Best Apps of 2016.
Customers also appear to love this app and its services, as this mobile application gets positive ratings throughout the internet.
Competitors and Alternatives?
There are many other websites, mobile applications, and services which try to help travelers arrange more affordable airfare and travel arrangements so that they can save money, including Skyscanner, Skiplagged.com, and many others.
If you have any experience with the Hopper App or their products, please leave your reviews below.
Hopper Customer Reviews