Hopper Reviews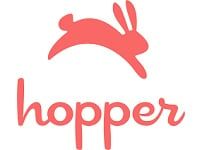 Hopper Review: A Detailed Look


Hopper is a popular travel app that aims to help users save money on flights and accommodations by predicting future prices using machine learning algorithms.
How Does Hopper Work?
Hopper allows users to search for flights and book them directly through the Hopper app.
The company states it uses a powerful algorithm to predict future prices and notifies users the best time to book their flights, potentially saving them hundreds of dollars.
Hopper states their data science has collected a huge archive of trillions of flight prices and they have analyzed that data to provide their customers with insightful predictions that consistently predict flight prices with 95% accuracy.
Hopper offers the following key services:


Price Prediction and Watch - Hopper's standout feature is its price prediction algorithm.

Users can set up a "Watch" for specific flights or hotels, and Hopper will send notifications when it believes the price will be at its lowest, allowing users to book at the optimal time.



Trip Planning - Hopper also helps users plan their trips by suggesting itineraries, activities, and local attractions based on their preferences.



Hotel Booking - Like its flight booking service, Hopper also predicts hotel room rates, helping users find the best deals on accommodations. Users can book rooms directly through the app, making the process seamless and convenient.


Is the Hopper App Legit?
Hopper is a legitimate travel app that helps users find and book flights, accommodations, and car rentals.
The company has been in operation since 2007 and has established a reputation for its innovative approach to travel planning, using advanced algorithms and data analysis to predict price trends and provide recommendations.
Many users have reported positive experiences with Hopper and have been able to save money on their travels through the app's price prediction feature.
Keep in mind that Hopper's price predictions are based on historical data and algorithms, and there's no guarantee that the prices will always drop as predicted.
Hopper Customer Reviews
Hopper generally receives mixed reviews from users.
Many appreciate the potential savings and user-friendly interface, as well as the customized recommendations for flights, hotels, and activities.
However, some customers have reported issues with customer service and discrepancies between the app's predictions and actual prices.
While customer reviews are skewed positive on some review aggregator websites, Hopper gets more negative reviews on others, such as on Reviewopedia and the BBB.
For example, Hopper gets an 'F' rating from the BBB and has a 1.07 / 5 rating from over 200 customer reviews there.
Additionally, Hopper has received 2,472 customer complaints in the last 3 years and 649 complaints in the last 12 months.
It's important to keep the number of complaints in perspective though, considering that Hopper servers millions of customers.
While the Hopper App has a high rating of 4.8 / 5 stars from over 1 million customer reviews on the Apple Store, the app only gets a mediocre rating of 3.8 / 5 stars from over 120 thousand customer reviews on the Google Play app store.


Hopper App Pros
Potential for significant savings - Hopper's price prediction algorithm can lead to substantial savings on flights and accommodations, making it an attractive option for budget-conscious travelers.



User-friendly interface - The app has an intuitive design that makes it easy to search for flights, hotels, and plan trips.



Customized recommendations - Hopper suggests flights, hotels, and activities tailored to individual preferences, making trip planning more personalized and enjoyable.


Hopper App Cons
Limited flexibility - Hopper's focus on price prediction means it might not always show the most convenient flights or accommodations, which can be a drawback for travelers with specific needs or tight schedules.



Reliance on the app - Users need to be comfortable using the app and receiving notifications to take full advantage of Hopper's features.



No guarantee on predictions - While Hopper's algorithm is generally accurate, there is no guarantee that the predicted price drops will always occur.


Competitors and Alternatives?
Hopper faces competition from other travel booking platforms like Skyscanner, Kayak, and Google Flights.
While these platforms also offer flight and hotel booking services, Hopper's unique selling point is its price prediction algorithm.
However, other services may have more comprehensive search options and a wider range of booking choices.
Google Flights also offers a price prediction feature that works similarly to that of Hopper.
The Bottom Line
Hopper is an innovative travel planning app that offers significant benefits to users, particularly those looking to save money on flights and accommodations.
It's essential to weigh the pros and cons of the service and consider your specific needs and preferences when planning your travels.
The price prediction algorithm sets it apart from its competitors, but users should be aware of its limitations and consider using the app in conjunction with other travel booking platforms.
Overall, Hopper can be a valuable tool for travelers seeking to optimize their travel planning experience.
If you have any experience with the Hopper App or their services, please leave your reviews below.
Hopper Customer Reviews