Hopper Reviews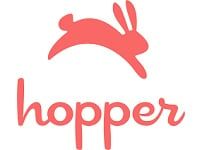 Hopper is an app whose creators state aims to help travelers know the best times buy airfare tickets so that they're able to get the lowest fares.
How Does Hopper Work?
According to their website, Hopper uses a four pronged approach to flight buying: predict, watch, buy, and fly.
Their data science has collected a huge archive of trillions of flight prices and they have analyzed that data to provide their customers with insightful predictions that consistently predict flight prices with 95% accuracy.
To use Hopper, all you have to do is search for your trip by clicking the dates on their color coded calendar.
Hopper will then predict when they believe your flight will be the cheapest, and they will recommend to you that you either wait or go ahead and book.
Customers who are instructed to Wait can simply tap on the binoculars icon to begin watching their chosen flight.
Hopper will send notifications to your phone as soon as the prices on your flight drop. When Hopper says Buy, customers can choose their flight and buy in just a few taps.
Hopper says that they are one of the fastest growing travel apps, with more than 10 million installs since they were launched in 2015, and they are proud to be reinventing the way people plan their travel.
Mobile Options
Currently this company provides mobile applications for both iOS and Android devices.
Cost/Price Plans
Hopper is proud to be an accredited travel agency that provides real human beings who can help their customers arrange and book their flights, and they promise that they never charge their customers any hidden fees – the prices that are displayed are the prices that you will pay.
Refund Policy
Generally speaking, any customer who has issues with the flights they have booked are directed to speak with the airline that is providing your travel, as this gives you the quickest and most effective way of managing your travel arrangements.
However, the staff at Hopper is able to help their customers if you choose to reach out to them.
In addition, if you are having trouble with the Hopper app itself and the information it is supposed to be providing you with, you are welcome to contact their Customer Service team for assistance.
Customer Service Contact Info
Customers who would like to contact Customer Service with any questions, concerns, or complaints can do so by email at [email protected]
Hopper Reputation
Hopper.com states they have been named one of the best apps by New York Times, Wall Street Journal, Buzzfeed, Vogue, Tech Insider, TIME, and other publications.
They have also received awards including Apple's App Store Best of 2015, the Webby Award for Best Travel App, and Google Play's Best Apps of 2016.
Customers also appear to love this app and its services, as this mobile application gets positive ratings throughout the internet.
Competitors and Alternatives?
There are many other websites, mobile applications, and services which try to help travelers arrange more affordable airfare and travel arrangements so that they can save money, including Skyscanner, Skiplagged.com, and many others.
If you have any experience with the Hopper App or their products, please leave your reviews below.
Hopper Customer Reviews

Maria A
Cannot get credit back on a cancelled flight
I cancelled a trip to Florida and trying to get my credit back. The airline was Allegiant, so I called them and they sent the credit to Hopper. Hopper is stalling and claims they have a team on this to issue credit. They asked for my Pay Pal information but nothing has been credited thus far.
Allegiant said their prices are the same as Hoppers so never go through a 3rd party. Especially if you have issues, You can not call anyone direct at Hopper and they stop communicating with you via email. You can't even escalate your issue with a manager. I will never use this site again.
Consumers, we are power in numbers and I have a lot of followers, Reach out via FACEBOOK, Instagram, Twitter and share your experience on these social media platforms. Eventually there will not be a Hopper any longer!

Pamela R
Do not give this company any of your personal information. Somehow they got my credit card information and booked a $200 flight on my card. I tried to call the number linked to the flight through Hopper, and the recording said this number is nonexistent.
Do not use this company. This is a scam, and they are THIEVES. I am battling my credit card company to get my $200 back. I only give them a one star because I have to in order to post this.

Rocco H
False advertisement to get business
WARNING, SCAM. This company does not provide ANY customer service and does not provide "free" seating. It's literally false advertisement and I have reported them to justice.gov for fraud.

Daniel Q
Scam - fraud - false deceptive advertising
Hopper is a scam!! Worse, it is operating its scams through false and deceptive advertising. Do not use this app!!!
I booked a flight on united through hopper and paid $68 to freeze the price. When I attempted just now to complete booking and pay the balance 5 days in advance, hopper's price increased by several hundred dollars over the initial price freeze. Hopper required additional payment to book the flight, while stating they were still saving me $100.
While in a chat with a hopper representative, I booked the flight from united, at the original price. There was no "Price increase" that hopper was claiming. Fraud, extortion, false and deceptive advertising all at the same time. Yes, of course I will be reporting these abuses for state and federal investigations.

Charity L
Non-existent Customer Service
Hopper customer service is non-existent. It's been a month and still waiting for the refund after the flight booked change the layover from a couple of hours to 17 hours. It's easier to go straight to the airline. Do not use the Hopper app.

Alon D
I feel mislead and cheated
I am a repeat customer. I bought flights via Hopper because of their "Buy Now" recommendation which I thought was trustworthy, along with their "Price Drop" guarantee.
When the price dropped a mere day after purchase by 40% - I expected Hopper to take responsibility. They offered me $20 back! Insulting.
At this point, even if I cancel the flight, paying a cancellation fee, buying the same again elsewhere, I still will be saving money!
I thought Hopper were a different kind of company. I feel very mislead and will not be making any purchase from them ever again.

Bob L
Hopper is a scam for car rentals
My wife was on a travel nurse assignment in California. Her contracts are month to month and can be terminated at a moments notice. She needed a car so I went to Hopper for the first time. I entered that the car rental would be from January 1 to January 31, 2022 and found a Toyota Corolla for $850.00 for the month. I saw on my credit card a charge for $850.00 but I thought this was just a hold for the month for that amount.
She picked up the car at Sacramento airport on January 1, 2022 but her contract was terminated on January 3, 2022 and she returned the car on the 3rd and flew back home. Thrifty car rental charged our credit card $83.29 for the car rental. I have contacted Hopper several times through emails (because they refuse to give a phone number) and they say "It is up to the rental partner (Thrifty) to give permission to refund the $850.00".
Thrifty charged my card for the rental for a total $83.29 and Thrifty is done with the car rental. It is up to Hopper to refund the money but they refuse to and keep claiming it is Thrifty fault. Hopper is a scam and is holding a full month charge for $850.00 for a three day rental!
Be careful. If it is too good to be true then it is! Hopper has terrible business practices and won't even talk to you!

Latonya N
I had a job interview with company then was told I had the job then was told to send my personal info to a non secured personal email. Then I was told to send my picture for verification process. This is not my first time doing a work at home job and I am very familiar how the process is suppose to go for work at home. The suppose recruiter name was Kelvin Johnson so please be aware it should always be a secured link sent to process personal info for a job.
This really makes you mad when you have people going hungry and losing their households. Job for Hopper INC. using the dish symbol which made me think it was possibly legit until I was told to download a app called Wire which made it suspicious but it became really clear to be a scam when I was told to send my personal info to a personal gmail account.

Amber A
Horrible company with nonexistent customer service
I have to agree with many of the other posts. The customer service is nonexistent. It is only through a messenger system that you never actually get a non-staged response back. My flight was cancelled in early April and I haven't heard anything from them. I filled out all necessary forms and was very patient. I got confirmation of the forms I filled out and an email saying they had 90 days to resolve it. It has now been 150 days with no response. I have attempted through their messenger system to reach out numerous times with no resolve. The cost of the total flights purchased was around $2000. This is unacceptable. I have had to contact my credit card company to help dispute this, which they too are having issues getting contact. I am a avid traveler and would caution anyone to book through Hopper.

Christopher H
If I could give 0 Stars I would.
I cannot believe the horrible customer service provided by Hopper. I could not travel with these travel bans and the airlines were offering free rescheduling, but yet Hopper will not answer my multiple attempts at contact for the past 2 weeks. All that answers is the stupid bot and its some generic canned response about how they are overwhelmed with people contacting them. Well No Duh! My flight has left without me on it because of your unprofessionalism in running of a business. So basically Hopper has stolen my money.

alesia l
I purchased a ticket and used the "price freeze" option with my ticket freezing at $395.00. At the time that I purchased my ticket (which was in the window of time specified, actually 3 days earlier than the expiration) I purchased the ticket at that time at $657.30 with (according to their policy) the thought that I would receive the difference of my price freeze price and the higher price. ( policy stated below) I NEVER got the difference for my ticket. The 24 immediate support number that they advertise doesn't work, it says technical difficulties, lol. (802-231-1806) then it redirects you to a site that says that they will provide immediate assistance with a 24 hour support number and the representative says he's from HOPPER support but could not hear me and hung up on me after multiple calls then he said he wasn't from HOPPER. (1-855-789-02530) Then I get a message in the app that says "We gave you the best price offered" with no option for me to reply. What a scam, I'm so disappointed, I thought this was a legit company.
4. Exercise. In order to purchase a specified airline ticket or tickets subject to a Price Freeze option during the applicable Exercise Window, you may select the "Price Freeze entry" on the "Watch" screen within the Hopper mobile app. You will be required to pay in full the specified airline ticket price at the time of purchase at the then quoted price. If that price is higher than the price indicated in your Price Freeze option,
Hopper support will automatically be notified and the difference will be refunded to you within seven (7) business days. Following purchase of the specified ticket, any refunds, cancellations or exchanges of the purchased ticket will be subject to the fare rules set by the issuing airline. Hopper bookings must contain one passenger over 18 years of age in order to be considered valid.

Ben B
Cancel for Any Reason Policy... No Response for over a week
I bought tickets to Indonesia from USA. Over $1000 for my single ticket. My other friends didn't have a date nailed down but I wanted to buy the ticket at Black Friday Prices, and since they have a Cancel for Any Reason (CFAR) policy I figured it wouldn't hurt to buy them early.
Turns out my friends can't join me that week. Trip has to be moved out into February. I was about to use my CFAR policy until I noticed in the fine print that Hopper says it only gives out a "Partial" refund. What does that mean? I tried contacting Hopper. No response. Every day for 8 days now I have reached out to them. No response! I can't afford to buy two sets of tickets to Indonesia. I might be going there by my lonely self now, and my friends are on the verge of canceling the trip entirely since we can't get tickets lined up, let alone other reservations that need to happen.
I will never be using this company ever again. Hopefully by writing this review they will take notice and help me out. Then maybe I'll change my rating.