Heat Wave Pro Reviews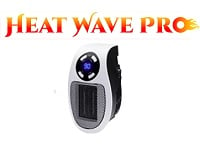 Heat Wave Pro Review: Legit or Scam?
The Heat Wave Pro is a convective ceramic heater heavily advertised online as a cheap and reliable alternative to standard space heaters.
Every fall, online marketers begin promoting a variety of space heaters, often relying on gimmicky ads to make quick sales.
Below we take a closer look at the Heat Wave Pro and clarify why we don't think it's a good choice for keeping you warm this winter.
Seller Claims
Ads for the Heat Wave do not provide much relevant information about the company, such as company details, the origin of the product, or why you should trust them with heating your home.
Instead, they focus on the claimed benefits of the heater, claiming that it can:


Quickly heat up a room (in under 2 minutes)
Save you 30% on electricity
Provide safe heating
Work quietly
Save you money


They do state that the Heat Wave Pro is a convective ceramic heater. These types of heaters are increasingly popular due to their relative safety, efficiency, and ability to heat up quickly.
Convective ceramic heaters use electricity to heat up the internal ceramic element and have the option of using a fan to distribute that heat through the room.
They are also able to regulate their own temperature.
These days almost every big home goods brand has their own ceramic space heater model. The main features differentiating these different heaters are their power output, features, customer service, and build quality/safety.
It is in all these metrics that we feel the Heat Wave Pro falls short, and is the reason why we don't recommend buying it.
Heat Wave Pro Effectiveness
How much space can it really heat?

The heating capacity of space heaters are usually measured in BTUS (British Thermal Units). The higher this number the more heat the unit will produce.

This comes in handy when comparing different models and calculating your personal heating needs.

The Heat Wave Pro seller does not list the BTUS for their device, but they do reveal that it is a 450-watt heater.

Using the conversion formula for BTUS:



Heater Wattage Rating X 3.413 (the number of BTUs that equal 1 watt) = BTU Output


we can determine that the Heat Wave Pro puts out roughly 1535 BTUS of heat.
Another helpful way to approximate the heating capabilities of a heater is with the following formula:



Total Wattage / 10 = Total Square Footage


So, in this case, the 450 watt Heat Wave Pro can cover a space of around 45 square feet.
Keep in mind that this basic formula is for optimal conditions. You may also have to account for high ceilings, poor insulation, or colder climates.
In those cases the effective area being heated would decrease to less than 45sqft.
Based on these calculations it's clear that the Heat Wave Pro is a personal heater that might work at a desk or other extremely small space. You should not expect it to come close to heating an average room.
Potential Red Flags
In addition to the fact that the Heat Wave Pro is simply an underpowered heater, there are additional reasons why we're skeptical of this brand.
This is not an original product designed by the seller, but rather a rebranded drop-shipped product, likely from a Chinese wholesaler.
These types of heaters are readily available for bulk purchase through overseas wholesalers like Alibaba for a few dollars per unit.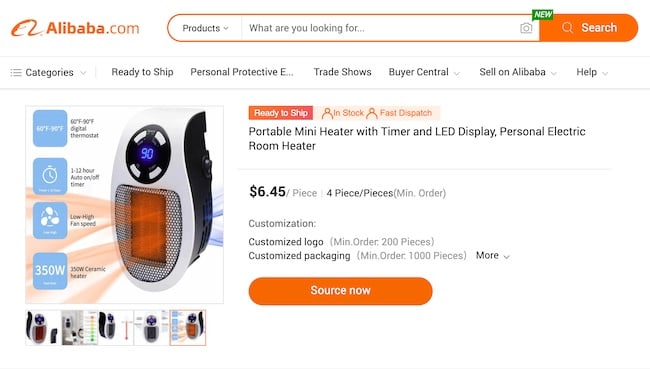 ( Generic unbranded heater sold on Alibaba, identical to the Heat Wave Pro, priced much lower )
You can also find them resold on Amazon sold for half the price listed on the Heat Wave Pro website.
Cheap, generic heaters like the Heat Wave Pro consistently get poor customer reviews on Reviewopedia.
Previous versions of this product were sold under the names of Alpha Heater (1/5 from 58 reviews) and Top Heat (1/5 from 17 reviews).
Customer complaints for these generic heaters include:


Difficulty obtaining refunds
Unit fans too weak to blow air
Can not heat up even a small room
Customer service and shipping issues
Misleading ordering process
Customer Service
GetHeatWavePro.com lists its contact information as:


Phone: 1 888 824-1094
Email: [email protected]

Their website states that they have a 30-day return policy.
If you are unhappy you will have to reach out to customer service to obtain an RMA# and initiate a return.
To qualify for a refund the heater must be in brand new condition and in its original packaging.
Customers will have to pay for return shipping and the company also reserves the right to charge a 10% restocking fee.
Popular Alternatives
With so many low quality heaters on the market, we think it's important to go with a trusted brand to make sure you're getting a safe and efficient heater.
Some of the leading options for ceramic heaters include Lasko, HoneyWell, Dreo and Vornado, all of which make more powerful and higher quality products than the Heat Wave.
These options are also available from major retailers with proven customer satisfaction records.
A good example is the Vornado AVH10 Vortex Heater.
This efficient but powerful heater is a New York Times 'Top Pick' and has great reviews on Amazon.
It has a heat output of 5118 British Thermal Units and offers two heat levels, low at 750W and high at 1500W.
It also has the latest safety & comfort features and is reasonably priced.
The Bottom Line
There are a lot of generic heaters similar to the Heat Wave Pro being sold under different names.
Once a large number of negative customer reviews accumulate and makes it difficult for the seller to continue getting sales, they simple change the name and website and sell the same low-quality heater using the new name.
For example, here is another heater currently advertised under the name of "Heat Space Portable Heater".
It's the same product as the Heat Wave Pro, only using a different name.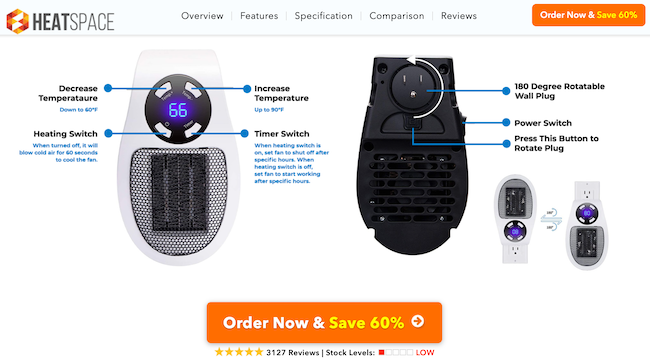 Ultimately, there simply is no reason to waste money on the Heat Wave Pro.
If you're curious about how well low cost heaters function you can find one on Amazon for half the price of the Heat Wave Pro. Just be aware that they are seriously underpowered and have lots of customer complaints.
We think it's a better idea to spend a bit more and get a powerful heater from a trusted brand.
If you have any experience with the Heat Wave Pro, please leave your reviews below.
You may also be interested in
Heat Wave Pro Customer Reviews