Hear.com Reviews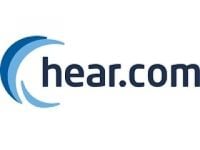 Hear.com states their goal is to provide hearing aid products and services to customers suffering from various levels of hearing impairment and interested in getting a hearing aid device.
Since 2012 they Hear.com have worked to guide customers through the process of obtaining hearing aids. They claim to offer a combination of the best hearing professionals paired with the latest and most technologically advanced hearing aid devices.
Losing hearing can be a difficult process for many older Americans as they need to navigate the maze of product selection and insurance hurdles. Hear.com aims to simplify this entire process.
Below we take a closer look at the company and see if they live up to their promises and can really help guide you through what some researchers say can be the third largest lifetime expense.
How Does Hear.com Work?
To begin the process, customers will receive a free, personalized consultation during which they are encouraged to ask any questions they may have about the process of testing and assessing your hearing or about hearing aids themselves.
Hear.com will then schedule an appointment for a hearing test at a local partner test provider. During this appointment the hearing ear specialist you meet with will recommend a hearing aid device that meets your needs and then help fit you for the device.
Customers who use Hear.com to arrange their hearing test will be given a 45 day risk-free trial for their device, during which time your Hear.com representative will check in with you periodically to make sure you are completely satisfied.
If you feel as though your device does need further adjustments, your Hear.com representative will arrange up to five free service appointments for you, and they will oversee the warranty of your purchase.
Partner Brands
Hear.com network of providers work with many of today's leading hearing aid manufacturers. These include:


Signia
Oticon
Phonak
Starkey
ReSound
Unitron

Widex
Rexton
Audio Service
Bernafon
Beltone

They also offer their in house brand, Horizon Hearing Aids, which have the latest technology and are geared more towards younger and highly active users.
From these brands you will have a number of options based on how much you want to spend and what features you're prioritizing. Some devices will have the latest technology, such as Bluetooth connectivity and AI capabilities.
Overall, Hear.com claims to have a 92% success rate for helping customers find a hearing aid device through their network. that satisfies customers.
Cost & Price Plans
The service provided by Hear.com – the consultation, recommendations, and appointment reservations – are all free of charge.
The services that you receive during your appointments will have costs associated, and the hearing aids themselves will range in price from $799 for a basic device to up to $3,100 for a premium hearing aid.
This is a very wide price range, but the Hear.com states that they cannot do a better job of estimating what kind of prices you will pay until you complete the free consultation process and actually have your hearing tested.
On Hear.com they also provide options for monthly payments based on the level of hearing aid you choose.

In general, the more active your lifestyle the better (and more expensive) hearing aid you're likely to require to account for a range of different and more challenging environments.
Monthly payments (per device) estimates for a 36-month period are as follows:


Essentials - $139
Advanced - $169
Premium - $199

Hear.com offers financing options through Allegro and CareCredit. During your phone consultation your representative should also help guide you through your insurance options.
Traditionally, Medicare has not covered hearing aids but your standard insurance plan may provide some assistance, depending on your individual policy.
There have been some measures in the works to make hearing aids more affordable so it's definitely worth exploring all your options during your consultation.
Refund Policy
The company offers a 45-day trial period in which they will work with you to get you accustomed to your hearing aids.
After 30 days of working with your coach to optimize your experience you will evaluate your results and progress. If at that time you are not satisfied you can return the product for a full refund.
Customer Service
Customers who would like to contact customer service with any questions, concerns, or complaints can do so by 786-574-3799 or by submitting your contact information on their website for a callback.
You can also use their mobile app to speak with a representative and check on or make changes to your scheduled appointments.
Finally, you can also send them an email at [email protected].
Hear.com Reviews and Complaints
Hear.com provides country-wide service spread across over 2,000 audiologists and sell a range of devices at various price points, so customer experiences can vary.
Overall though, we find that Hear.com has mostly positive ratings across a number of consumer review websites.
Most customers appreciate the ongoing professional customer support since, in many cases, getting the perfectly fitting device requires several adjustments.
Furthermore, the 45-day trial period gives customers plenty of time to fully evaluate their hearing aids and determine if they want to keep them or not.
Positive reviews also mentioned how helpful the follow up appointments were, both in-person or via tele-health.
Some negative customer reviews were mentioned having to wait too long for sending their device in for repair and other shipping delays.
Some other customers were unhappy and felt misled by their consultant in regards to how likely it would be that their insurance would provide financial assistance.
There are also some complaints regarding certain models of hearing aids and users experiencing technical issues with them, such as the Bluetooth not working properly.
Hear.com is accredited by the BBB and has an A+ rating from them. They also have a good record of closing any complaints submitted on that platform.
In general, their customer service representatives make an effort to reply to negative customer reviews and attempt to resolve issues via refund or alternative solutions.
Competitors and Alternatives
There are many providers of hearing aids aside from your doctor's office, including the major retailer Costco which provides centers with audiology services and offers discounts on several major brand name hearing aids.
If you're confident in doing your own research on hearing aids and know what you need you can also turn to many over the counter sellers that sell directly to customers, with no audiology appointments necessary.
Other companies offering similar services to Hear.com include MDHearingAid and Audicus.
Is Hear.com Legitimate?
Hear.com is a solid service to use if you need assistance selecting a hearing aid solution or if you're unhappy with your current options.
The company has mostly positive customer reviews, a responsive customer service team, and offers a trial period for their products.
Further, a purchase from them also comes with included follow up appointments which can help you calibrate your product and provide you with other needed resources.
If you have any experience with Hear.com or their products, please leave your reviews below.
You may also be interested in
Hear.com Customer Reviews

Howard K
beware of support after the 45 day trial period
it has been 3 months since I sent my hearing aids in for repair. 1st they lost them; 2nd they supposedly sent replacement by UPS.....never received. Their backroom support sucks. would not recommend them

William S
Insurance - I didn't give hear.com a chance
The guy I talked with from hear.com was really nice and things were being set up - I was so excited! The next day I called my insurance provider and they were against the idea - not in the network and not paying a dime!
I've spoke with 2 agents with no accents and pleasant. Who knows? This could have been great.

Colin C
These are good for conversation's, they are garbage if you want the Bluetooth to work. These are a waste of money, I will never order them again. Total scam artist.

BOB A
After 45 days, service is bad.

Janice W
They are very involved in the process.
Just like having a personal audiologist. You get an examination and hearing testing by video communication and you get follow up counseling and adjustments with a specialist.

martin h
Online Interactive Ad Has Scam Written All Over It.
I have not purchased from this company but the online Ad that asks several questions has scam written all over it. No matter how one answers the questions he or she qualifies.
For example, my age I entered 99. Get real. Also, several online companies offer a similar hearing aid for a fraction of the price.

Lyle M
Service sucks! You're on your own!
Great sales pitch but couldn't even get my package to me before they scheduled the Audiologist. Customer service went down hill from there. Aids are good but don't let them lie to you. If you need supplies or service you are on your own. STAY AWAY!

Peter L
They claim to contact your insurance company and assure you that part of the cost is covered by your insurance. Then they claim that it was denied and try to collect the entire cost from the customer. Except upon investigation I found that they never contacted my insurance company and never submitted a claim for reimbursement. Now they are taking me to court to collect.

Patricia G
I purchased my hearing aids in September 2019. I had previously worn Phonac aids for 9 years. I often took them out because my ears would itch terribly and background noises drove me crazy. I can't begin to tell you how happy I am with my Sonia stiletto hearing aids. I don't even realize that I'm wearing them. They are so comfortable . My hearing is so much better with them and I can easily control the volume with my smart phone . I am able to answer my phone now and clearly hear what the other person is saying because it streams right to my ears. I am very pleased and would highly recommend these aids! There is a 30 day trial period so you have nothing to lose and everything to gsin

Velma J
The lady I dealt with was so very helpful in getting me set up with the right audiologist. Now with hearing aids I am hearing things I had forgotten were there, the jingle of Christmas bells were a real joy this year.

Michael S
I'm happy I made this choice
I have been avoiding this for a long time, but finally after too many social gatherings where I could not understand people, not hearing my wife (according to her) and straining to understand the TV shows, I did it.
Hear Canada office had a great specialist who was very helpful, a nice small friendly office that I can drop into at any time for a cleaning, and a payment plan so I could spread my payments.
Yes - I can hear others now, hear my wife, and they gave me a special box to stream the TV straight to my ears. Now I can watch the game and not disturb others.

Gerald B
Other than the cost love my hearing aids

Melissa
Horrible company...I completed an inquiry online to have a consultation. The representative asked me a few questions about my hearing loss and said he'll schedule me for a hearing evaluation with a hearing professional in my area.. wonderful.. not until he asked for $50.00 to schedule the appointment to secure my slot.. I told the rep I will not give my credit card information over the phone. With no explanation he said okay and hung up the phone,but remembered to tell me to have a good day. I felt like this was a scam and was happy I didn't move forward with such company.