MD Hearing Aid Reviews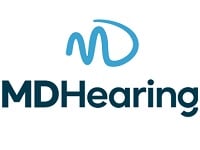 MD Hearing Aid is a company which states their goal is to provide customers high quality hearing aids at affordable prices.
How Does MD Hearing Aid Work?
According to their website, Dr. Sreekant Cherukari, the creator of MDHearingAid, is a Board-Certified Ear, Nose, Throat doctor from Chicago who saw firsthand how hearing loss affected his patients.
He saw that hearing loss often led to depression, social isolation, anxiety, and symptoms of dementia, especially when it was left untreated for long periods of time.
Unfortunately, many of his patients simply could not afford the thousands of dollars it often cost to get the hearing aids they needed. Because of this, Dr. Cherukari realized that his patients – and everyone suffering from hearing loss – needed a high quality hearing aid option that was much more affordable than others on the market.
To do this, he partnered with other doctors, hearing specialists, and audiologists to create both analog and digital hearing devices that provided the necessary hearing benefits, such as the amplification of human voices while being able to avoid over-amplification of background noises, but with cost saving options, like a 'one size fits most' design.
But just because MDHearingAids were built to be cost efficient does not mean that they are cheap in quality. The company states that all their hearing aids are rigorously tested and found to be among the best available for their price.
Cost/Price Plans
This company sells three different varieties of hearing aids in a range of prices. Their most affordable option is priced at $199 for a single hearing aid, while their most expensive option is priced at $1,049 for two hearing aids.
Refund Policy
This company says that they provide their customers with a Refund Policy that is good for the first 45 days from the date that you have purchased your product, as long as you have tried the product for a minimum of 21 days.
The website says that it can take the brain about three weeks' time to adjust to new hearing aids – any customer who insists on returning their hearing aids before the end of this three week period can do so, but they will be charged a 10% early return fee.
Customers who believe they want to return their products, at any time, will need to contact their Customer Service team by phone or email for a Return Merchandise Authorization and for full return instructions.
Customers who return their products without an RMA will be subject to an additional 20% return fee. Any returns which are processed more than 45 days from the date of purchase will no longer be eligible for refunds.
Customer Service Contact Info
Customers who would like to contact Customer Service with any questions, concerns, or complaints can do so by 312-366-3899 or by email at [email protected]
Reputation
Unfortunately it seems as though the MDHearingAids don't receive very good reviews online. Some customers complain of issues with the quality of their hearing support, saying that they frequently get screeching feedback, are still unable to hear in crowded spaces like restaurants, and have difficulty with higher pitched female voices or children's voices.
Still more customers complain about the basic quality of these hearing aids, saying that they break easily and the company doesn't honor their warranties and they charge steep prices for repair kits that don't always work.
There are many other options for purchasing hearing aids, however, and customers that are confused where to start or who are working with limited budget don't need to feel pressured to stick to just one resource.
Consumer Reports and AARP are just two trusted resources that provide information on purchasing hearing aids even if you are on a limited budget, and the issue with finding a good quality, reasonably priced hearing aid is so common that it has actually been reported in many different publications, like the New York Times.
Competitors and Alternatives?
There are many different places that sell hearing aids outside of your doctor's office, including the major retailer CostCo which provides some centers with audiology services and discounts on major brand name hearing aids, and the websites Audicus Hearing Aids and Hear.com.
If you have any experience with MD Hearing Aid or their products, please leave your reviews below.
You may also be interested in
MD Hearing Aid Customer Reviews

gko
My inside the ear units arrived defective right out of the box and I called immediately. No answer, put in call que but unable to take the return call later. Tried 3 more days (not weekend) 7 days later, 5 calls & 5 emails with NO RESPONSE I am told that even defective items I must pay return shipping if not replacing. Why would I order another poor quality product???? How is this fair??? Stay with brick and mortar unless you want to be paying for broken devices.

Ken W
They don't work for me and no one answers the phone to give me a return merchandise authorization number after calling 4 times and talking to an audiologist who promised to get me one. It seems like they want to trial period to run out so they don't have to return your fee or they can charge you 20% for returning them without an RMA. I feel ripped off, which is sad because I have another pair of their aids that seemed to work well and I have had them for a long time.

Shirley R
No Help so It seems like a Rip Off
Can't get in touch with them at their "help" number. No one available no matter when I call or which number selection I choose. I feel ripped off.

Pat H
Good product and good service.
I agree with the review Judith wrote. I have had MD Hearing aids for several years and they work perfectly. Never a problem. Are comfortable to wear. They sink with your cell phone so you can use the program that fits the need for the place you are in..
The service was very good.

Judith M
After having them for six months I ordered a back-up pair so that I would never be without them. Later on within the year, I had a problem with whistling and they did ask that I try some things before I sent it back, but they sent me a new one first so I could send them mine. They were prompt and courteous. I had the new ones but got the replacement so fast I didn't need to wear them but a day or two.
Because I have never needed to wear the new ones I switched to them and have given the old ones to several others to try. One has worn hearing aids forever and was really impressed.
I have almost even hearing loss in both ears and am very happy with them.