Harvest Right Freeze Dryer
Harvest Right Freeze Dryer Reviews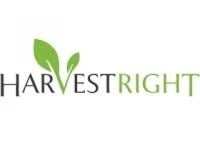 The Harvest Right Freeze Dryer is an in home kitchen appliance which promises users the convenience of commercial quality freeze drying in their own home.
How Does It Work?
According to their website, Harvest Right is the only company which has built an In Home Freeze Dryer that is truly small enough in size to comfortably fit in your home while still being powerful enough to freeze dry all the foods you may want it to.
Their products are very simple to use as well. Customers can place fresh or cooked foods into the dryer where they will be frozen to -40 degrees Fahrenheit or colder.
After the food is frozen, the freeze dryer creates a powerful vacuum around the food, and as the food slightly warms up, the ice will turn into vapor and evaporate.
Customers can then store their foods in Mylar bags, mason jars, or cans along with an oxygen absorber to ensure freshness until you decide to open it.
Their website says that their foods and meals can be rehydrated in just a few minutes, and fully restored to their original textures and tastes. Their website provides a full guide for rehydration of Meats, Vegetables, and even Fully Meals.
Cost & Price Plans
As a large scale kitchen appliance, freeze dryers are not necessarily inexpensive. In fact, their website shows prices which currently range from around $2,600 to around $4,100, though prices may vary.
In addition, there will be shipping charges assessed for this product, and as it is complicated and these products are very heavy, these charges are often expensive as well.
Refund Policy
Their website says that in home freeze dryers can be returned within the first 90 days as long as they have not been used, though the website is unclear whether this 90 day period begins on the date of purchase or on the date of delivery.
Regardless, the website says that customers will not be charged any restocking fees for returning their products, however they will be completely responsible for all shipping fees, both the original fees and the return shipping fees.
Harvest Right will issue your refund after the freeze dryer has been accepted and inspected.
Customer Service Contact Info
Customers who would like to contact Customer Service with any questions, concerns, or complaints can do so by phone at 800-865-5584 or by submitting them directly to their website through their Contact Us link.
Reputation
It is not surprising that there are not many reviews for this product at this time, as there likely isn't an incredibly huge market for in home freeze dryers at all times.
However, as far as the few reviews which are available are concerned, they all seem generally very positive about the quality of service this appliance provides.
Competitors and Alternatives?
As mentioned above, Harvest Right claims to be the only company at this time that provides commercial quality freeze dryer in an in home appliance.
If you have any experience with the Harvest Right Freeze Dryer, please leave your reviews below.
Harvest Right Freeze Dryer Customer Reviews

William P
Don't buy a Harvest Right Freeze Dryer
I wish I had read reviews before spending over three thousand dollars on a Harvest Right Freeze dryer. Everything you read about their lousy service is right. My new F.D. failed after 6 weeks. I requested a service technician contact me. I have been instructed to rewire the unit twice.
I have sent several reports via thumb drive trying to trouble shoot the problem. One of the problems was a coolant leak. I sent the unit back to Utah and they recharged it, but did not fix the leak, so when it came back of course it failed on the first batch.
It has been six months of headaches and it still doesn't work. It's going to the dump.

Doug B
Greetings! We have been using our Harvestright mid-sized freeze dryer for nearly a year when we experienced a vacuum error. The first thing we noticed was the error message on the display, so we checked the batch of fruit we'd been processing and it seemed to have a bit of moisture still present. Of course I blamed my sweet wife for over-using the machine and she blamed me for being born in the wrong century.
We contacted Harvestright by email and submitted a "ticket". The next day a young-sounding woman with a charming name called to ask us about our issue. I've forgotten her name, but they each had clever and delightful names. I've come to the conclusion that all the service representatives are brothers and sisters and were named by the same parents.
Chad and Humberto were able to guide me to perform a series of tests on our unit and send them the data I collected on a thumb drive. Logically, they sent replacement parts that were the most likely, but least expensive, culprits for the vacuum leak.
At first, although they said it might be my vacuum pump, they sent me new gaskets and valves. More test data. Megan took over the diagnosis mission at that point and based on the test data, she immediately sent a replacement vacuum pump. It cleared up the vacuum issue completely and immediately. I had to retract the accusation I made at my wife in the beginning. However, she continues to insist that I might have fit in better if I had been born in the Nineteenth Century.
There you have it, you're in good hands with the tech staff at Harvestright! Thanks guys!
Doug Barnes CF

Jethro
My experience mirrors other disgruntled Harvestright freeze drier owners, wonderful food, terrible customer service. When th3e machine works it is a wonderful experience but if you expect it to keep working you had better line up with people outside of the Harvestright organization. If you are patient enough the "tech support" people will eventually call and talk to you. This has been my experience, talk only, no logical troubleshooting steps just sort of throw out some words and maybe something will stick. Find a group that will support you in your efforts to keep it working, that may be your only hope.

MountainMoment
Works great but needs regular maintenance.
We have had a Medium Harvest Right Freeze-Dryer for a little over 3 years now. We love it! We have had a couple minor issues (control board shorted out) but they replaced it for a minor fee even though we were out of warranty.
If you realize this is a rather complex machine that needs regular maintenance, you will be fine. We built a back-flush for our oil pump that works great and is much easier than the manual filter system that comes with the unit.
If you are expecting something that is plug and play, this may not be for you, but it you recognize it needs some attention and you are willing to think outside the box to tweak a few things, it is a lot of fun and it preserves food wonderfully. We love ours and highly recommend it.

Sandy S
Well made machines, great service
My mother and I both purchased a Harvest Right Freeze Dryer this past year. We are absolutely loving the machines. Easy to use and work very well. Hers has not had a problem at all. Mine has given me a couple of error messages.
I contacted the company and their customer service was timely and helpful. They had to send my info to a technician. It took a couple of days but he called and helped me with my problem. He also answered all my questions and explained everything very well.
With all the machines they have out there now I expected slow or bad service but I am very pleased with my experience.

Robin G
I am very happy with my HarvestRight. I've done all kinds of snacks and prepared for disaster as well. Worth the money spent for a solid product.

Janie K
If not for the great food when the unit works, I'd say don't buy
The food is awesome. The cost is out of this world, which seems to be where they get their customer service agents.
I was shipped a bent unit concealed in a perfect box and since I didn't know to check everything before signing, they told me I was just screwed. They did finally send replacement parts, gurdgingly, and it was up to me to replace them.
The unit worked for about 2 weeks when I finally got it put together, and the oil pump started leaking. I wanted an oil free after seeing first hand how MUCH work was involved with the oil based. I was told I was in line (near the front) for units coming in in April. I called and called. Not in yet, Not in yet, then in May All gone. None left
Then I was "put in line" for ones coming in in May. I pre-paid $1.300 to make sure I would get one since I'd been waiting for over 2 months already. I started calling again and again. No in yet. Not in yet. I was desperate as it had been going on over 3 months at that time.
I emailed Jill at commonsensehomesteading (FB). Within 15 min, my new pump was on the way. Before the pump arrived, 6 months of my 1 year warranty was used up by Harvest Right. A 1 yr warranty for a unit costing $3,500?????????????
I'm 70 and have challenging health so I need to have affordable, easy prep food set by for my later years, or I NEVER would buy the unit. I'd wait for their competition.
If you need or want one now, DO NOT BUY DIRECT FROM HARVEST RIGHT. Buy from Jill, so you have someone who can get results on your side

Madinah
I, too, read this review prior to purchasing a Harvestright unit. Presently, I am terribly disappointed with the customer service exhibited by the company and sincerely wish that we never made the purchase.
As a valued customer, veteran and small business owner, I have experienced a horrific journey with receiving a replacement vacuum pump for the dysfunctional unit that arrived with the freeze dryer. Today, after an extended non-resolution period, the following email was sent to Harvestright:
I have phoned and spoke with various representatives (Jared, Cody, Colby, etc.) consecutively for the past four days, requesting a tracking number for the replacement vacuum pump.
Having received no reply, erroneous tracking information and failed assurance that I would "receive the information via email," the level of customer service demonstrated has been abysmal.
I anticipate receiving the correct tracking information for the replacement vacuum pump today, 26 May 2017, as my business has been directly impacted by the promise that "it will cross the other vacuum pump in the mail"- Colby Turner, 22 May 2017.
If I do not receive the information, as promised by the aforementioned representatives, I will file a complaint with the Better Business Bureau and move forward with legally rectifying the situation.
Having been truly excited about my freeze dryer in the past, I am very disappointed with the customer care "run around" exhibited.
Madinah Slaise, MSN, RN-BC
Captain, US Air Force
**end email**
Having researched BBB reviews, I noticed that a complaint was filed which mirrored my experience without deviation.
Don't believe me, visit the BBB site and insert the following info:
Company: Harvestright.com
Location: North Salt Lake, Utah
Don't be fooled by the fancy youtube videos and website, harvestright is the worst company that I have ever encountered.