Harvest Right Freeze Dryer
Harvest Right Freeze Dryer Reviews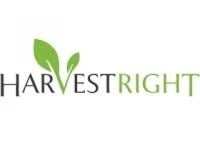 The Harvest Right Freeze Dryer is an in home kitchen appliance which promises users the convenience of commercial quality freeze drying in their own home.
How Does It Work?
According to their website, Harvest Right is the only company which has built an In Home Freeze Dryer that is truly small enough in size to comfortably fit in your home while still being powerful enough to freeze dry all the foods you may want it to.
Their products are very simple to use as well. Customers can place fresh or cooked foods into the dryer where they will be frozen to -40 degrees Fahrenheit or colder.
After the food is frozen, the freeze dryer creates a powerful vacuum around the food, and as the food slightly warms up, the ice will turn into vapor and evaporate.
Customers can then store their foods in Mylar bags, mason jars, or cans along with an oxygen absorber to ensure freshness until you decide to open it.
Their website says that their foods and meals can be rehydrated in just a few minutes, and fully restored to their original textures and tastes. Their website provides a full guide for rehydration of Meats, Vegetables, and even Fully Meals.
Cost & Price Plans
As a large scale kitchen appliance, freeze dryers are not necessarily inexpensive. In fact, their website shows prices which currently range from around $2,600 to around $4,100, though prices may vary.
In addition, there will be shipping charges assessed for this product, and as it is complicated and these products are very heavy, these charges are often expensive as well.
Refund Policy
Their website says that in home freeze dryers can be returned within the first 90 days as long as they have not been used, though the website is unclear whether this 90 day period begins on the date of purchase or on the date of delivery.
Regardless, the website says that customers will not be charged any restocking fees for returning their products, however they will be completely responsible for all shipping fees, both the original fees and the return shipping fees.
Harvest Right will issue your refund after the freeze dryer has been accepted and inspected.
Customer Service Contact Info
Customers who would like to contact Customer Service with any questions, concerns, or complaints can do so by phone at 800-865-5584 or by submitting them directly to their website through their Contact Us link.
Reputation
It is not surprising that there are not many reviews for this product at this time, as there likely isn't an incredibly huge market for in home freeze dryers at all times.
However, as far as the few reviews which are available are concerned, they all seem generally very positive about the quality of service this appliance provides.
Competitors and Alternatives?
As mentioned above, Harvest Right claims to be the only company at this time that provides commercial quality freeze dryer in an in home appliance.
If you have any experience with the Harvest Right Freeze Dryer, please leave your reviews below.
Harvest Right Freeze Dryer Customer Reviews