Handy.com Reviews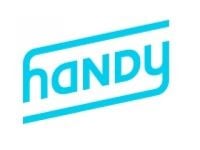 Handy.com is a website and company that promises they can help their customers book both expert home cleaners and handymen at just a moment's notice with their convenient and secure booking and payment system.
How Does Handy Work?
According to their website, all Handy professionals are experienced, friendly, background checked, and insured, so their clients can feel confident that they will be receiving the assistance of a well vetted professional when they book through their website.
All customers need to do is choose the type of service they are hoping to book, then select the date and time they would like their professional to come, including dates as soon as tomorrow.
All payments will be handled through their website, so if a customer has any issue or complaint with the service they have received or the service provider, they can address their concerns with Handy.com.
Mobile Options
At this time, Handy.com does have a free downloadable app available for iPhones, and may be expanding their availability to other platforms in the future.
Cost/Price Plans
Customers who use this website to book their services will encounter no fees beyond what they are expected to pay for the services they request.
Refund Policy
Handy.com does say that they offer a Refund Policy, stating that customers who are not 100% happy with the service they have received can speak to one of their representatives and always have the option to receive a full refund of what they paid for their services.
Customer Service Contact Info
Customers who would like to contact their Customer Service team with questions, concerns, or complaints is to do so by phone at 866-849-7492 or by submitting them directly to their website.
Reputation
This website is the new incarnation and version of the previous website Handybook.com, which provided essentially the same services and had some issues, which the owners claim have been improved with their new updated service.
Competitors and Alternatives?
There are many other companies that offer people the ability to book professional cleaners or professional handymen, though often these services are separated into different websites.
If you have any experience with Handy.com or their services, please leave your reviews below.
You may also be interested in
Handy.com Customer Reviews