Graves Golf Academy Reviews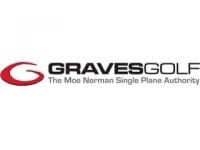 Graves Golf Academy, located at MoeNormanGolf.com, is an online golf training academy which focuses its training and lessons on the unusual and specific style of past golf champion, Moe Norman.
How Does it Work?
Recently there has been a growth in the options of online golf training.
Golf is widely accepted as a game where many players would likely benefit from a one-on-one coach or trainer, the truth is that these same people often don't have trouble fitting such a thing into their schedule or into their budget.
This particular online golf academy has an interesting focus, unlike that of many of its competitors.
The lessons from their training schools focus on the swing style of Moe Norman, a professional golfer from Canada, who Wikipedia describes as having such accuracy and the ability to hit shots perfectly straight that he was nicknamed "Pipeline Moe."
While Graves Golf Academy says that Norman's golf swing was considered "weird" or "unorthodox," it was also considered "efficient" and "freakishly accurate." During his career, Norman had 17 hole-in-one's, 9 double eagles, set over 30 records, and even more.
According to their website, their first five video training sessions can show you the most common mistakes to problems with your swing, simple changes you can make to improve your game, the easiest fixes for a swing which slices, and – of course – an introduction to and explanation of their model, Moe Norman.
Graves Golf Academy offers their training in a variety of different materials. Their package includes DVDs, an eBook, bonus golf videos, slow motion swing videos, a Short Game Solution video, and a Pre-Round Warm Up and Post-Round Stretch Routine.
The website says that this package of materials originally went for over $200, but these days they have adjusted their pricing to be more inclusive. Currently the entire package is priced at $67.
If you have any experience with Graves Golf Academy or their products, please leave your reviews below.
You may also be interested in
Graves Golf Academy Customer Reviews