Fitnus Knee Sleeve Reviews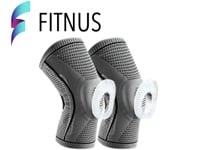 Fitnus Knee Sleeve Review: A Detailed Look
The Fitnus Knee Sleeve is a basic compression knee sleeve advertised as an all around solution for knee swelling, soreness, and stiffness.
The Fitnus brand markets a number of products in different categories, including various compression clothing, a smartwatch, and electronic scale, among others.
Below we take a closer look at the Fitnus Knee Sleeve to see if it's worth the price and if it lives up the the seller's claims
Choosing a Knee Brace
While buying a knee brace may not seem like a big deal, this purchase should actually be given a good deal of thought and planning.
There are many options on the market and many factors need to be considered, the most important being the specific reason for needing a brace.
Typically, knee braces are used after an injury to one of the knee's major components, such as the ACL, MCL, patellar tendon, or other ligaments and cartilage.
They can also be used to alleviate pain and complications for degenerative disorders such as Osteoarthritis.
This is why choosing a brace should be done while in the care of your doctor or physical therapist, because they can recommend an option that is specific to your needs.
Depending on the design a brace can have different functions. There are 4 main types of knee braces:


Prophylactic Braces
These are commonly sold in sports stores and are widely available. They come in several styles such as basic hinge, knee sleeve, or patellar tendon straps.
The Fitnus Brace falls under this category. They are used to protect the knee joint and prevent injury.
Rehabilitative Braces
Used mainly post surgery/injury and designed to allow the knee to heal. They may limit motion and keep the knee in a position to promote healing while avoiding reinjury.
Functional Braces
Also used in conjunction with a knee rehab. Generally prescribed by a doctor to help users safely ease back into some activity.
Unloader Braces
As the name suggests these braces are used to ease the load of an affected knee and help with pain management and function.
Additionally, it's also important to take into account how well the brace fits and how it feels when you're actively using it, which may depend on personal preferences.
Fitnus Sleeve
There isn't much information on the Fitnus website about the company or the product aside from some general claims.
There are no details about who developed the product and whether they have any medical accreditations.
The company states that the product is made from a soft Neoprene material and has "state of the art stabilizing technology."
The Fitnus Sleeve is one size fits all and comes in only two options based on gender.
Customer Reviews & Complaints
There are only a handful of websites that have reviews of the Fitnus Sleeve, and a majority of those are affiliate websites promoting the product for a commission.
You can find some actual customer feedback on the BBB if you search for the parent company.
There they have a B+ rating and are accredited, however the customer score is 1/5, albeit from only 5 customer reviews.
Fitnus customer service reps do make an effort of closing complaints on that platform, which is a good sign.
On other review platforms the Fitnus Brace has mixed reviews. Some customers have found relief from using the product and would recommend it, but there are also many complaints.
One of the most common complaints is customers stating that they didn't receive instructions with the product.
Users had issues fitting and adjusting the brace and wished that it came with an instruction manual or a link to an explanatory video.
Other negative reviews mentioned that the Brace was too small and too tight. Some customers also complained about the Velcro straps.
Customer Support
If you have any issues or questions you can reach a representative by phone at 1-800-516-7542 or email at [email protected].
The parent company for the Fitnus brand is:


Bazaar Innovations LLC
162 Rancho Santa Fe Road E70, #495
Encinitas CA 92024


Their website states that you have 30 days from receiving the item to request a refund if you are unsatisfied.
You may have to send the item back and will have to do so at your own expense. If your refund is approved it will not include the shipping and handling fee.


RETURNS:
Fitnus Knee Brace
7914 Ronson road suite I
San Diego, CA 92111


The Fitnus Knee Sleeve sells for $39.95 plus $8.95 Shipping. The website offers a discount if you order more than one sleeve at a time.
Competitors and Alternatives

PowerLix Leg Sleeve
If you're not looking for an injury specific knee brace a good choice is the PowerLix Leg Sleeve, which costs around $20.
It comes in a variety of colors and sizes and has a rating of 4.3 out of 5 from over 50,000 customer ratings.
Shock Doctor Compression Knee Brace
A more robust knee brace is offered from Shock Doctor.
This brace has a dual hinge and claims to offer support and protection for medial and lateral instability, minor patella instability, meniscus injuries, minor ligament sprains, hypertension, and arthritis.
It come in comes in 6 different sizes and has a rating of 4.2 out of 5 from over 14,000 customer ratings.
Note: None of these products should be used in lieu of medical care. If you suffered a knee injury or are experiencing pain or instability see a medical professional.
It can also help to have a medical professional recommend the type of knee brace needed prior to looking for one online.
This can help narrow down your selection as there are many options and prices can range widely, from under $20 to $400+.
Is the Fitnus Knee Brace Worth It?
We would recommend buying a brace from a company that specializes in medical or rehabilitative care products.
These days virtually anyone can order a wholesale shipment of cheap medical products, rebrand them, and resell them directly to customers online.
While the company behind Fitnus Brace also markets a Fitnus Smartwatch they are not a health company and don't have the most positive customer reviews.
It's best to get the advice of your physical therapist or doctor on the type of support your knee requires, and then proceed to find a highly reviewed brand that fits those needs.
If you have any experience with the Fitnus Knee Sleeve, please leave your reviews below.
You may also be interested in
Fitnus Knee Sleeve Customer Reviews

Raul
Another piece of junk from CHINA,
I received the Fitnus Knee Brace, but it is too heavy and bulky, plus there are no instructions on how to to put it on! The velcro is very cheap or none at all. It is a piece of junk.

Ron S
Ordered knee brace, was too small. Returned for larger brace. Received refund for first brace. Returned second brace still too small. never received money for second brace return. why? where? when?

Yvette R
I ordered it and it came a day before they said it was to come, which was a plus, but there were no instructions. Also, One size fits all do not fit larger leg or knee people. I contacted Customer service to return. They responded quickly. I tried to wear it and it was very uncomfortable.

troy
First time buyer of any kind of knee brace
This company would get no stars because:
1) the deal was buy 2 get one free. I only received 2.
2) no instructions whatsoever. zero zip zilch nada. any company that swears by their physical/medical products would have comprehensive instructions one way or another. this company obviously could care less. i just received these so i'm searching the intranets for any type of instruction simply on how to put it on and use properly.
when i saw these advertised up in the corner of a different webpage i was on looking for god knows what, i thought i'd try them only because i'm a gimmick buyer. im also an electrician so i spend all day on my feet in various positions while working my craft. i'm 59 and i do have knee issues like the average man my age, so i wanted to try this and see if it helps or alleviates any of the uncomfortable motion i experience during my daily movements. for the price i paid, im going to give the product the benefit of the doubt for the time being and see how i feel about it in a week or so. i plan on wearing both braces all day especially at work. i hope i use them correctly!
i'm a great example of lessons learned the hard way: waste money first!
if i was a fiscally responsible person i would have reminded myself that the intranets are full of everything and many different types and at that point i should have contacted a professional for a consultation about my knees. that would have been the right thing to do.
don't be like me. you should research first and still there is no guarantee that the company your dealing with has a policy that's "human centric" and not "dollar centric". good luck on that one!

Ted
This works. Fits tightly and relieves knee pain. Probably delays knee replacement surgery for 12 months

KEVIN M
Brace too small, they said they were sending another brace. I never received it. I want my money back. Scam

Mary
Look for snother. Nothing special about these .
Too big, and too much material. Not able to get a decent fit. Feels like you got something wrapped around your leg that will definitely move and eventually fall down. T
here's zero instructions in the bag. I'll have to read thier claims again, if I can find it. But I remember something said about new age. I have a pair of these somewhere. They at least 10 years old, bought them ar a yard sale. I want my money back please.