Fishpond.com Reviews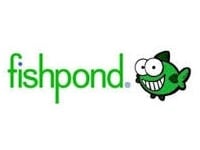 Fishpond.com describes themselves as an online store that is currently selling more than 12 million items, with a goal of building "the best place for people to buy online," with great prices and free shipping on every order.
How Does Fishpond Work?
Like other online retailers, you can search through their wide inventory by category - Books, Toys, Music, Jewelry, Baby Products, Beauty Items, and Health Products.
You can always use their search tool to find specific products you already have in mind. Purchasing products does require you to create a member profile, though this membership is completely free.
Cost/Price Plans
Searching through their inventory and creating a member's account is completely free. The only costs associated with this website are those for the items that you choose to order.
Refund Policy
Unfortunately Fishpond.com does not have a published general refund or return policy. Their Terms & Conditions states that any refunds are given at the discretion of company management.
Customer Service Contact Info
Unfortunately they don't have a published phone number or email address for Customer Service. Instead it seems that once you have an active account with their website you will be able to contact Customer Service through your member's account.
Reputation
There have been some issues with customers saying that they when they received their orders from Fishpond.com, the items they received were not satisfactory for a variety of issues, and they felt the Customer Service responses they were getting were lacking.
Is Fishpond Safe?
There do not seem to be any complaints about safety associated with this company.
Competitors and Alternatives?
There are many different online retailers that offer wide selections of books, including well known retailer Amazon and others like The Book Depository.

If you have any experience with Fishpond.com or their products, please leave your reviews below.
Fishpond.com Customer Reviews