FindMyMatches.com Reviews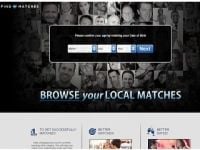 FindMyMatches.com is an online dating website that claims to be able to help you find local singles using their partnerships with other dating websites.
How Does FindMyMatches Work?
According to this website, FindMyMatches has no interest into arranging "hook ups" or casual flings.
Their goal is to help people who are truly interested in finding matches for serious dating and with the hope of eventually participating in a committed relationship.
Currently this website says that they are operating in the US, Canada, and Australia, and that they work with both online dating websites and offline matchmakers to help people find the best possible matches for their needs.
When customers sign up with this website and begin to fill out their profile, they will see that this website is a subsidiary of Match.com, one of the largest available online dating sites currently operating in the US.
Reputation
FindMyMatches is really just a portal company for major online dating website Match.com, and earns an affiliate commission for having you sign up.
Customers who are familiar with Match.com will understand that this is a respected online dating company which has not been known for poor billing practices or for employing people who pose as possible matches simply to keep their members enrolled in their services for longer periods of time.
That being said, there are many reasons why people may be looking for alternatives to Match.com and have chosen to look for other methods of being matched with potential partners online.
For these people, the fact that FindMyMatches.com simply acts as an additional lead generator for Match.com will not be appreciated.
Customer Service
Customers who would like to contact Customer Service with any questions, concerns, or complaints can do so by submitting them directly to their website through the Contact Us link located at the bottom of their webpage.
Cost & Price Plans
Unfortunately this website does not provide any pricing information to the general public at this time, which isn't unusual for a dating website.
Usually these websites wait to see when you are signing up, the regional area in which you live, and whether or not there are any promotional prices available before providing customers with the required fees for using their services.
Refund Policy
Like most other online dating websites, it is unlikely that this company provides any form of standard Refund Policy.
Instead, dating websites generally allow their members to pre-purchase a specific time period during which they will be subscribed to the full set of the website's feature.
When a member cancels, they will be allowed to finish out their subscription period, and when the period ends their access to features will go away and they will no longer be charged any membership fees.
Competitors and Alternatives?
There are many, many different options for online dating and online matchmaking, and though Match.com is one of the largest and most well-known, it is not the only service which may be appropriate for your needs or interests.
If you have any experience with FindMyMatches.com or their services, please leave your reviews below.
You may also be interested in
FindMyMatches.com Customer Reviews

David
Do not pay them at all, just a scam.
I got talked out of over $4000 by Bella and no dates, lots of promises, great photos and nothing!!!!!!! 0419240205 is the number to avoid.

Barry M
Don't give these ladies A cent, scammed out of $1200, and no date provided, there promises never happened, and she is Australian lady too. This lady needs to be caught.

Johnny B
The site has people they hire to fake you into thinking you have a chance with this person. Then they basically run down your credits and get you to buy more if you really into them. But it never goes past the chatting on the website. I spent hundreds of dollars and not one woman that I chatted with would talk off site. Even tho they would start out talking to you and saying they want to hook up that night not the coming weekend. It's all a scam to get you to buy credits. That is all.