Dr. Marty ProPower Plus Reviews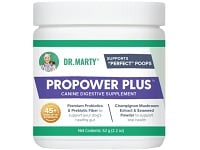 Dr. Marty ProPower Plus is a powdered probiotic and prebiotic dog supplement from Dr. Marty Pets, a company that markets a selection of dog supplements, treats, and freeze-dried raw foods.
How Does it Work?
ProPower Plus was developed by Dr. Martin Goldstein, one of the country's most well known veterinarians and author of The Nature of Animal Healing: The Definitive Holistic Medicine Guide to Caring for Your Dog and Cat.
Dr. Marty states he combines his experiences as a veterinarian with his knowledge of Western medicine, blending the two to offer unique nutritional therapy.
He argues that dogs in particular are at an increased risk of developing cancer, a risk that he says can be decreased with the correct supplements.
Dr. Marty ProPower Plus is a dog food supplement that contains a unique probiotic enzyme blend along with additional healthy ingredients.
It works for all breeds of dogs at roughly the same dosage (with a variation of a half scoop to two scoops depending on weight) to boost digestive function, improving gut health, promoting coat shine, and even creating scratch-free skin.
The ingredients are supplement comes in a powder that can be sprinkled over your dog's food or served as a snack.
With fourteen health-boosting ingredients and more than 2 billion colony forming units (CFUs), the product aims to help keep your dog healthy no matter its size, age, or breed.
Ingredients in Dr Marty ProPower Plus
Probiotic-Enzyme Blend - (Protease, Amylase, Cellulase, Hemicellulase, Lipase, Papain, Bromelain, Bacillus coagulans, Lactobacillus acidophilus, Bifidobacterium lactis/longum, Lactobacillus plantarum, and Fructooligosaccharides)
This blend contains Lactobacillus acidophilus and Lactobacillus plantarum, two of the most popular probiotic strains in pet products.
It also contains key enzymes that help in the breakdown and absorption of key nutrients. For instance, Amylase is an enzyme that helps breakdown starches.
Gum Acacia - This is a natural source of fiber derived from the sap of the Acacia tree. It's also commonly used as a food additive for its stabilizing, thickening, and emulsifying properties.
Cellulose Plant Fiber - Powdered cellulose is another common, yet somewhat controversial, dog food additive.
Cellulose makes up the cell walls of most plants and is an insoluble fiber that is indigestible by dogs and provides them no nutritional benefits. So why add it?
Proponents of its use argue that it plays a necessary role in digestion by stimulating the intestinal villi, causing contractions that aid in food flow. It also helps with overeating issues as it provides bulk to food without added calories.
One of the main reasons for its use in pet dietary products is for its ability to retain water, promoting firmer, less foul smelling stool.
Some holistic vets argue against its use because most cellulose is derived from wood pulp and dog food companies use it as a cheap filler, essentially adding sawdust to pet foods. They argue that dogs should be getting their fiber from the food they eat and not from additives.
Cellulose is approved by the FDA for use in human and animal foods, but is not a dietary requirement.
However it may be a source of inflammation for some pets, so keep an eye out for symptoms such as shedding, yeast infections, ear infections, or itchy skin.
One veterinary website pointed out that insoluble fiber, such as cellulose, should be combined with a soluble fiber or a prebiotic such as Fructooligosaccharide, which is included in ProPower Plus.
Champignon Mushroom Extract - This white button mushroom has many health benefits and is a source of minerals, vitamins, amino acids, fatty acids, and antioxidants. They are also often used in dog food products to improve dog breath by reducing odor causing chemicals in the intestines.
Kelp (Ascophyllum nodosum) Thallus Powder - Sea Kelp has an incredible amount of benefits for dogs. It contains 21 amino acids, is 25% protein, and is a good source of vitamins and trace minerals.
It's also high in fiber and easy to digest which allows it to improve your dog's digestive health. As long as it's taken in recommended doses and comes from a clean toxin free source it can have a plethora of benefits.
Note: It's important to follow the 'Getting Started' guide lines provided by Dr. Marty which state that ProPower Plus should be introduced slowly and gradually to your dog's diet.
Cost and Price Plans
A jar of Dr. Marty's won't come cheap. In fact, you'll need to pay $69.95 for a 2.2 oz jar. Customers can also save 10% or 15% per jar if they purchase 3 or 6 jars in a single order.
The recommended dosage is 1 scoop for a medium sized dog, but it's unclear from the website how many scoops are in a jar, so it's difficult to know the actual cost per serving. One source stated that there are around 18 scoops in a 62 gram jar.
While shipping is included in the cost (all orders over $50 ship free), such a high price can still be cost-prohibitive for some customers.
Customer Service
Dr Marty Pets has a mailing address in Woodland Hills, CA.
Owned by California Pet Partners and Dr. Marty Goldstein, you can get in touch with customer service at the company by calling 1-800-670-1839.
The company has a 100% hassle-free guarantee that will allow you to send the jars back for a full refund - even if they are empty.
ProPower Plus Reviews/Complaints
There are a lot of positive online customer reviews for ProPower Plus. Some seem too good to be true, with customers recounting miraculous results from using the supplement.
It's important to note that many of the favorable reviewers are also affiliates for the product and get compensated by the company for promoting the product.
That being said, the positive reviews for ProPower Plus found on Reviewopedia and on other websites do mention a lot of potential benefits. Reviewers stated their dogs had increased energy, improved stools, better appetite, less stinky breath and more.
There are a handful of complaints from customers whose dogs had negative reactions to the supplement.
If you plan on using the supplement for off-label use (such as for cats), you should contact your veterinarian for a consultation.
Where to Buy Dr. Marty's ProPower Plus?
You can purchase this supplement directly from the seller at their website, DrMartyPets.com.
Competitors and Alternatives
There are plenty of other supplements out there for you to choose from. One of the most similar products on the market is Nutra Thrive from Ultimate Pet Nutrition.
This powdered supplement is a more robust formula that in addition to digestive enzymes and probiotics also includes an added 23 vitamins and minerals and a superfoods blend.
ProPower Plus vs. Purina Pro Plan - Purina is a recognized dog food brand that offers a supplement known as FortiFlora.

Like ProPower Plus, this supplement contains probiotics and contains 100 million CFUs. It's affordable, coming in at close to half the price of ProPower Plus.


ProPower Plus vs. Nusentia Probiotic Miracle - Also more affordable than ProPower Plus, this supplement comes in the form of a powder and has more than 360 billion CFUs - much more than Dr. Marty's blend.


ProPower Plus vs. Dinovite - Dinovite is a similar supplement that can address digestive issues as well as odors, skin problems, shedding, and itching. You can buy it in a shampoo form as well as in a dog or cat treat form.
These aren't the only probiotic dog supplements on the market - there are countless others. However, unlike Dr. Marty's product, none of these claim to be backed by solid veterinary research.
The Bottom Line - Does Your Dog Even Need a Probiotic/Digestive Enzyme Supplement?
Despite all the claims made by manufacturers of such supplements, there is no clear consensus or research supporting their non-medically prescribed use.
The general consensus is that if your dog already eats a balanced, complete diet, there aren't a lot of reasons to add a supplement to the nutritional lineup.
One study found that "Exogenous enzyme supplementation did not significantly increase digestibility of a typical commercial dry diet in healthy adult dogs and routine use of such products is not recommended"
Ultimately, the best you can do for your dog is the following:
Feed them a high quality diet
Limit stress
Provide plenty of play and exercise
Follow your vet's prescribed treatments for specific ailments
While it's not unsafe for your dog to consume probiotics, it's definitely worth consulting with your veterinarian to make sure that it's a smart choice for your pup in particular.
If you have any experience with Dr. Marty ProPower Plus, please leave your reviews below.
You may also be interested in
Dr. Marty ProPower Plus Customer Reviews