Dr. Kellyann Bone Broth Reviews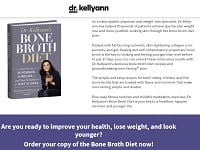 Dr. Kellyann Bone Broth Review: What to Know
Dr. Kellyann's Bone Broth is a well-recognized brand associated with her best-selling book "Bone Broth Diet."

Kellyann has appeared on numerous television programs and is a frequent contributor to online publications, sharing her expertise on nutrition, weight loss, and overall health.
About Dr. Kellyann Petrucci
Dr. Kellyann Petrucci is a naturopathic physician and nutrition consultant best known for her bestselling books and nutrition programs.
Her programs provide meal plans, recipes, shopping lists, and support. Many celebrities and well-known personalities have endorsed her methods.
Dr. Kellyann's product line includes various supplements, such as collagen shakes, bone broth protein powders, and vitamins.
Some health claims made by Dr. Kellyann's website have been deemed questionable, particularly those that suggest significant weight loss on a bone broth diet and classify grains as toxins.
Key Benefits of Bone Broth
With its versatility as a beverage, cooking ingredient, or meal replacement, bone broth has become a staple in the diets of many health-conscious individuals.
The slow simmering process allows for the extraction of valuable nutrients, such as collagen, gelatin, amino acids, and minerals.
Potential benefits of bone broth include:


Gut Health - The gelatin present in bone broth has been shown to support gut health by repairing the intestinal lining and reducing inflammation.

This may help alleviate digestive issues, such as leaky gut syndrome, irritable bowel syndrome (IBS), and Crohn's disease.



Joint Health - The collagen and amino acids found in bone broth are essential building blocks for maintaining healthy joints.

Regular consumption of bone broth may help reduce joint pain and inflammation and support overall joint function.



Immune System Support - The nutrients in bone broth are believed to boost the immune system by promoting gut health, which is closely linked to immune function.

A strong immune system can help the body better resist infections and illnesses.



Skin, Hair, and Nail Health - Collagen is a key component of healthy skin, hair, and nails.

Consuming bone broth may help improve skin elasticity, reduce the appearance of wrinkles, and strengthen hair and nails.



Weight Loss - Bone broth is low in calories and can be quite satiating due to its high protein content. Incorporating bone broth into one's diet can help curb cravings and promote weight loss.


Dr. Kellyann's Bone Broth
Dr. Kellyann's bone broth is made using the bones of animals like chicken, beef, or fish, which are simmered in water for an extended period.
Additional ingredients like vegetables, herbs, and spices are often added for flavor and extra nutrients.
Dr. Kellyann's Bone Broth ingredients include:


Chicken bone broth powder
Natural flavors
Grass-fed bovine collagen
Salt
Cauliflower powder
Minced green onion
Parsley
Reishi mushroom powder
Turmeric extract


Dr. Kellyann's bone broth, especially in its liquid form, is made from high-quality whole food ingerdients, using bones from pastured animals, like grass-fed beef.
It has been noted to be superior due to a healthier omega-3 fatty acid ratio and lower saturated fat content. The broth is flavored with natural ingredients like onion, ginger, and thyme.
Unfortunately, the powdered versions and protein variants contain "natural flavors," a broad term that can mask unhealthy additives.
For this reason, it's easier to recommend Dr. Kellyann's liquid bone broth than her bone broth diet and products in powder or protein form, which contain unspecified natural flavors
Dr. Kellyann's Bone Broth Diet
Dr. Kellyann also proposes a "Bone Broth Diet" which includes consuming primarily bone broth for 21 days.
This three-week regimen combines principles of the Paleo diet and intermittent fasting and doesn't require calorie counting or macronutrient tracking.
The diet involves consuming one to three servings of bone broth daily, along with unprocessed foods five days a week, while avoiding grains, gluten, soy, dairy, and added sugar.
Two days a week are reserved for fasting, during which only bone broth, water, and tea or coffee are consumed.
The weight loss effect of this diet comes from the combination of low-calorie bone broth fasting and the absence of refined sugars.
Consuming bone broth with mini meals can provide numerous health benefits, including boosting immunity, reducing inflammation, improving gut health, fighting arthritis, and aiding sleep.
Potential Side Effects
Dr. Kellyann Bone Broth Diet can also have potential side effects.
Despite the nutritional density of bone broth, this diet could be potentially unsafe due to the higher levels of contaminants, such as lead, that can be found in bones.
Risks include heavy metal toxicity, as improperly sourced or processed animal bones may leak lead into the broth during boiling.
Therefore, it is usually recommended to limit bone broth intake to several times per week at most, rather than daily.
A lawsuit was filed against Dr. Kellyann in 2020 by the Environmental Research Center for not warning consumers about the lead levels in her bone broth as required by Prop 65.
This reinforces concerns about the bone broth diet exposing consumers to unsafe lead levels.
Additionally, some people may experience gastrointestinal issues such as bloating, constipation, nausea, and an upset stomach.
It's also important to note that while the Bone Broth Diet can have short-term benefits, it is not designed for long-term nutritional support.
By limiting certain food types, the diet could potentially lead to vitamin deficiencies or malnutrition.
For significant weight loss, consultation with a nutritionist and doctor is recommended to ensure a balanced and nutrient-rich diet.
Customer Reviews & Complaints
Kellyann's books, particularly "Dr. Kellyann's Bone Broth Diet," have received favorable reviews for their easy-to-follow meal plans and practical advice.
The book includes the recipe for how to make Dr. Kellyann's bone broth.
Customers often report noticeable improvements in their overall health, energy levels, and weight loss after following her programs.
Conversely, some of the negative reviews mention that the book was difficult to read, or that it was essentially a Paleo Diet with fasting and fairly expensive bone broth added in.
"Dr. Kellyann's Bone Broth Diet" has a 4.3-star average rating on Amazon from over 1,500 customer reviews.
Customer reviews for Dr. Kellyann's bone broths themselves are mixed, with some customers praising the quality but lamenting the high cost, while others criticize the taste and potential side effects.
Some customers complaints have noted that the taste of some of her products, particularly the bone broth and collagen shakes, may not be to everyone's liking.
Additionally, a few individuals have expressed concerns about the affordability of her products, as some items can be more expensive than similar products on the market.
Dr. Kellyann Bone Broth Collagen Powder Packets have an average rating of 3.8 out of 5 stars from over 5,000 customer reviews on Amazon.
There are also some complaints regarding the company's customer service.
Several customer reviews state that it was difficult to reach an agent, making it tougher to take advantage of the money-back guarantee.
For all of the negative reviews, there are a large number of positive ones as well. Many customers state they've gone through the program and achieved their desired results.
Additional Products
Another option from Dr. KellyAnn is the 5 Day Cleanse and Reset Kit.
It can be a good option for those who don't want to commit to the 21 day program. For 5 days your meals will be replaced by soups, smoothies, and bone broth.
This condensed protocol combines bone broth with some of the latest products from the company, promising
The program promises to help with gut health, skin and nail appearance, and weight loss.
Lemon Sips with a new melon concentrate called SOD B, an all-natural extract has been clinically shown to smooth away cellulite.
Each 5-Day Kit includes:


15 Lemon Sips (Full Product Review) - A drink that features a melon concentrate that has been shown to reduce cellulite.
5 Super Chocolate Smoothies -OR- 5 Super Vanilla Smoothies
5 Bone Broths
5 Super Berry Smoothies
5 Lemon Chicken Soups


The Bottom Line
Dr. Kellyann Petrucci has built a strong reputation in the health and wellness industry by offering a variety of products and programs that focus on the power of nutrition.
While some customers may have concerns about the taste or cost of certain products, overall, her offerings have garnered generally positive reviews for their effectiveness in helping people achieve their health and wellness goals.
Bone broth is rich in collagen protein, essential minerals, and other nutrients, which are beneficial for skin, joint, and gastrointestinal health, as well as managing hunger.
If you are interested in acquiring her pre-packed bone broth and e-course, you can find these on the company website.
As always, it's important to consult with a healthcare professional before incorporating any new dietary practices or products into your routine.
If you have any experience with Dr. Kellyann's Bone Broth Diet, please leave your reviews below.
You may also be interested in
Dr. Kellyann Bone Broth Customer Reviews

Sibyl H
I rarely ever write a negative review. But I need to say this is the worse tasting broth (bone) I have ever had in my life. It may work, if you can stomach it. I am only saying this because it was a waste of money.

Dona D
Not working, bloating, expensive
I did try the broth for 2 months I only wanted to lose 5 lb , after all that time absolutely nothing happened except bloating and inflamed intestines
And wallet much lighter, I need to add that I am a Fitness instructor and PT, so I am active , to me at that price is scammy…same thing happened with lemon sip

MARY J
Do not order this overpriced product. you can buy it cheaper at the supermarket...The customer service is deplorable and they are not consumer friendly!!!

Lynn
I bought the $168 3 mo boxes of Dr Kellyannes Bone Broth Diet after seeing GMA Tobin Roberts & Dr OZ "Supposedly " Rave Review. I ordered as I need to lose weight & should know better . Not only Did I not lose any weight while even doing "Intermittent Fasting" But found the Powder was near impossible to dissolve in Hot water.
I'm assuming the Collagen causes it to have Globs form & I had to scrape on side of mug to try & break up So I could drink . I feel so foolish falling for this Scam . They did say they would return my $ via chat as I could find no direct ph # also suspicious. So all I can say is Buyer p . Buy Carton Bone Broth at Grocery Store for a lot less and purchase Collagen pills or powder . And hopefully this will help . ??
As my Mom always said if it sounds too good to be True ,.. it is !!