Dr. Kellyann Lemon Sips Reviews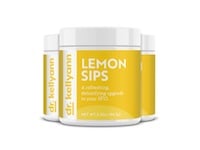 Reviewopedia is supported by our readers. This page contains links through which we may earn a small commission for purchases.
Lemon Sips is a powdered drink mix from Dr. Kellyann, who claims it provides a wide array of health benefits, along with some unique body shaping results.
Specifically the company states that it can "help visually reduce cellulite and skin dimpling around thighs."
Dr. Kellyann Petrucci is a naturopathic doctor who's gained a lot of popularity with her holistic Bone Broth treatments, books, and TV appearances. Her brand now offers a variety of natural treatment options, diets, and cleanses.
Below we'll take a closer look at Dr. Kellyann's Lemon Sips to see if this supplement lives up to its bold claims.
How Does It Work?
The company website states that by adding Lemon Sips once a day to a glass of water can lead to the following benefits:
Help detoxify + flush toxins from your system
Help diminish cellulite and skin dimpling
Rehydrate and nourishes your skin
Help protect skin from UV damage
Increase energy
In general, we don't put much faith in "detox" products as there is little to no evidence that these types of supplements or cleanse diets are effective.
The body already has a detoxification system that uses the kidneys, liver, skin, and lungs to process toxins and eliminate waste.
However, a unique claim that Dr. KellyAnne makes regarding Lemon Sips is its ability to reduce visible cellulite and skin dimpling due to the main ingredient SOD B®, a cantaloupe extract that has some clinical evidence to support these effects.
It is purportedly a French body shaping ingredient that's rich in antioxidants that can protect against UV skin damage, restore skin elasticity and resilience, and "help shrink fat cells below the skin surface".
Clinical Evidence For SOD B® - Does it Work?
According to WebMd, SuperOxide Dismutase (SOD) is an enzyme found in all cells, it is also a powerful Antioxidant that helps your body break down harmful oxygen molecules.
This helps prevent oxidative damage and stress to cells, which is why it's being studied for its potential health benefits for inflammatory conditions.
SOD is found in some foods, however it gets degraded rapidly by gastric acids losing its bioavailability. This is where SOD B® comes into play.
The French company Bionov, producer of SOD B®, claims that they have developed a patented coating which guarantees to protect the bioactivity of the melon sourced SOD they manufacture, making it ideal for use in nutrition supplements and cosmetic applications.
A study in the journal Phytothérapie tested BIONOV's SOD B® for its effect on cellulite. They found that out of 41 women, 21 experienced significant cellulite reduction of 9.5% on the thighs after 28 days of oral supplementation.
They also found that with continued use, after 56 days of 40mg/day (480IU SOD/day), that number increased to 11.3%.
While this is a small sample size the results are promising for this ingredient's potential to provide some correcting of the skin dimpling effect of cellulite.
The advertising for Lemon Sips powdered drink mix goes on to say that SOD B® also showed a 25% reduction of subcutaneous fat, and hip and waist measurement reductions of up to 43%.
We weren't able to confirm these last two statements in our research.
Cost and Price Plans
One jar of Lemon Sips contains 21 servings and sells for $45. You can earn additional savings by purchasing in bulk.
Customer Service
If you have any issues with the product or need more information you can reach out to a representative via email at [email protected] or by phone at 888-871-2155.
All Dr. Kellyann products come with a 90 day money back guarantee. You'll have to reach out to customer support to initiate a refund.
Online Customer Reviews & Complaints
There are many stellar reviews for this product on Dr. Kellyann's website, with users claiming an increase in energy, hydration, and skin appearance.
Some users noted that they did not like the added sweetness of the Lemon Sips. The ingredients do include Stevia Leaf extract, which some people do not enjoy.
A few other critical reviews stated that they found the product too expensive for the amount of servings per jar.
Competitors and Alternatives
There are few other brands of SOD B® supplements on the market, each claiming to have their own proprietary coating technology.
Make sure to research alternatives carefully and try to find evidence that their product does deliver the bioavailability they promise, otherwise you may be wasting your money.
Where to Buy?
At the time of this review Lemon Sips were only available through DrKellyAnn.com.
Are Dr. KellyAnne Lemon Sips Worth It?
This is a product that claims to offer a unique and wide range of benefits, mainly the ability to tackle one the pervasive skin appearance issue of cellulite.
The product does have good reviews, with the caveat that, at the time of this review, most of them are on the company's own website.
There is at least some clinical research to show the product's potential efficacy. The company also offers a money back guarantee, which is intended to allow customers to see if this product will work for them risk-free.
Do be aware that the Dr. KellyAnne website offers options for added savings that come with an auto-ship subscription. If you only want a one time purchase make sure you have the right option selected.
As always, if you're concerned about any potential ingredients or have allergies, consult with your primary care physician before starting a new supplement.
If you have any experience with Dr. Kellyann Lemon Sips, please leave your reviews below.
You may also be interested in
Dr. Kellyann Lemon Sips Customer Reviews

Deetee
I gave this no stars, it does absolutely nothing. The only thing good is the flavor. They charge way to much for a product that does nothing.

Shannon B
I drink it in all my water and here are the effects.
I love the taste and the hydration effects during the day it has in the desert heat where I live. I drink it every day in all the water I drink. In the desert, I try to drink 3 to 4, 30 gram "yeti containers" a day for hydration. With lemon sips the taste makes it easier.
However, what I have found is if I drink it in my "bedside/nighttime" water, I tend to crave it as well at night, making me drink more at night while I should be sleeping and urinating much more/ causing a lack of solid sleep.