Compressa Knee Sleeve Reviews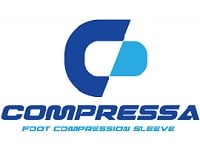 Reviewopedia is supported by our readers. This page contains links through which we may earn a small commission for purchases.
The Compressa Knee Sleeve is the latest iteration of a product that has been marketed for several years.
The companies marketing these types of compression knee sleeves are targeting customers looking for quick and cheap relief from knee pain.
Below we'll take a closer look at the Compressa Knee Sleeve and what real customer reviews have to say.
Assessing Knee Pain
To begin with you should first have a qualified professional assess your knee pain and give you a proper diagnosis.
Knee pain can be caused by a plethora of conditions. It can be something as minor as having tight IT Bands that only require stretching, to more serious conditions such as arthritis or infection.
Having a proper diagnosis can be critical to your recovery as a doctor or PT can also recommend the best course of treatment.
For some people a compression sleeve like Compressa may do the trick, while others might require a more serious knee brace.
Misdiagnosis and/or self treatment with an incorrect product may lead to longer recovery times or further injury to your knee tissue or ligaments.
How Does the Compressa Knee Sleeve Work?
The company claims that their knee sleeve can provide:
Heat to warm up and loosen stiff joints
Support and stability
Full range of motion
Faster muscle recovery
Instant pain relief
Improved blood circulation
The sleeve itself has the following features:
One size fits all
Unobtrusive and can fit under clothing
Anti slip design
3d Weaving Technology
7 Zone Compression
Breathable and Sweat resistant
Overall they state that the Compressa Knee Sleeve provides the perfect blend of stability and flexibility, providing the support you need while not limiting any movement.
Again, despite the company's advertising be advised that typically knee braces are used after injuries to support the knee tendons, ligaments, or cartilage.
On the other hand, compression sleeves may prevent swelling, improve blood flow, and offer some light support.
This can be beneficial as some studies showed that staying active and moving your knee joints can be helpful in aiding recovery and relieving pain.
Cost and Price Plans
The Compressa Knee Sleeve sells for $39.95. The website offers discounts if you buy in bulk, which will lower the price per unit.
Customer Support
Their website lists the following contact info:
Phone: 1-855-680-7755

Email: [email protected]

Address:
Gadget Tech LLC
18766 John J Williams Hwy, Ste 153 Rehoboth Beach, DE 19971
GetCompressa.com claims to offer a 30-day money back guarantee.
They state that if you're unsatisfied with the product you will have to reach out to a representative to obtain an RMA number and return address. You will have to ship back the items at your own expense.
Be advised, they will not accept any returns without the RMA number.
Compressa Knee Sleeve Customer Reviews & Complaints
This is a fairly new product and we haven't found many genuine customer reviews at this time.
There is a listing for Compressa on Amazon that has a rating of 4.3/5 from 174 reviews.
There some users stated that they enjoyed wearing the sleeve and that it did provide them with some knee pain relief and support.
The majority of customer complaints centered around the one size fits all sizing of this product, with customers commonly stating the Compressa Knee Sleeve was both too small or too big, depending on the customer.
Customers who felt it was too small complained of the elastic portions rubbing against their thighs and leaving a mark.
On the other hand those with smaller legs claimed that the sleeve would not stay up throughout the day, which made it difficult to wear.
Is the Compressa Knee Sleeve Worth it?
While there may not be enough independent user reviews for a clear assessment of the product, we can look to a similar sleeve that we have previously reviewed on Reviewopedia for more information.
The AmRelieve Ultra Knee Elite looks virtually identical to Compressa and uses the exact same wording in their ads, also claiming the exact same features:


Ultranet Fabric
Side Bolsters
Ergolastic Pad
Meniscus Stimulator
Acupressure pads

AmRelieve Ultra Knee Elite
(The AmRelieve Ultra is a very similar looking product with poor reviews)

The AmRelieve has a 2/5 rating on Reviewopedia with very similar customer complaints regarding poor fitting and not working as advertised.
Overall, we would not recommend the Compressa Knee Sleeve based on the current customer reviews and its similarity similar poorly reviewed products on our site.
These days marketing companies can simply go online and order virtually any product they want directly from overseas manufactures at wholesale prices.
They then make a basic website and run ad campaigns such as the ones you find for the Compressa Knee Sleeve.
These are not health companies developing new products, they are simply middlemen marketers.
We would advise following the recommendations of your doctor or Physical therapist on which products to use.
You can also stick to brands that work in the medical field and are the ones actually developing and designing these items.
Competitors and Alternatives
Some other options to Compressa include:
NEENCA Compression Sleeve - Price: $20.99 - If you're not looking for an injury specific knee brace one good alternative.

It comes in a variety of sizes, is an 'Amazon's Choice' selection, and has a 4.3/5 rating from 48,000+ reviews.
EzyFit Knee Brace - Price: $22.95 - A good option for a brace offering more support that offers dual stabilizers and an open patella design.

Meant to be worn during exercise and aid in recovery post knee injury. It's also an 'Amazon's Choice' and VeryWell health magazine selection.
Hinged Maximum Support Compression Knee Brace - Price: $74.99 - A more robust knee brace is offered from ShockDoctor.

This brace has a dual hinge and claims to offer support and protection for medial and lateral instability, minor patella instability, meniscus injuries, minor ligament sprains, hypertension, and arthritis. It come in comes in 6 different sizes
Note: None of these products should be used in lieu of medical care. If you suffered a knee injury or are experiencing pain or instability see a medical professional.
If you have any experience with the Compressa Knee Sleeve, please leave your reviews below.
You may also be interested in
Compressa Knee Sleeve Customer Reviews

Samuel
I ordered a one size fit all knee brace which fits . They sent me compression sleeves which I did not want, and they said they sent me compression socks which I did not order. The compression sockswhich I did not order! They said the order had already gone out and they couldn't change it.
I did not get they compression socks.
I got the knee brace and compression sleeves which I cannot use!
I called the company and I could not understand a word that the people on the other line are saying because they're in the Philippines. I am totally disgusted with this company.
I wouldn't order anything from them again even if they gave me the front door!!!!

Sunny W
Buy from Amazon, not Compressa site
Warning!!! Compressa website charges $48.47 for one Compression knee sleeve.
Go to Amazon and get it for $19.99 and free shipping! What a ripoff! On their checkout page other items are added to your order, I was charged over $100.
Luckily I called and cancelled.