Compressa Knee Sleeve Reviews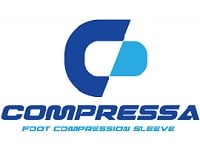 Compressa Knee Sleeve Review: Is it Legit?
The Compressa Knee Sleeve is knee brace marketed as using compression zone technology to apply stable pressure across your knee joint and provide optimal muscle support.
Below we'll take a closer look at the Compressa Knee Sleeve to see if it lives up to the seller's claims.
Assessing Knee Pain
Knee pain can be caused by a plethora of conditions. It can be something as minor as having tight IT Bands that only require stretching, or a more serious condition such as infection or arthritis.
Your first step should be to have a qualified professional assess your knee pain and give you a proper diagnosis.
Having a proper diagnosis can be critical to your recovery as a doctor or PT can also recommend the best course of treatment.

For some people a compression sleeve like Compressa may do the trick, while others might require a more serious knee brace.

Misdiagnosis and/or self treatment with an incorrect product may lead to longer recovery times or further injury to your knee tissue or ligaments.
How Does it Work?
Compressa claims that their knee sleeve can provide the perfect blend of stability and flexibility, providing the support you need while not limiting movement.

Despite what's claimed in company's advertising, knee braces are typically used after injuries to support the knee tendons, ligaments, or cartilage.

Compression sleeves can also be used to prevent swelling, improve blood flow, and offer some light support. [1]

This can be beneficial as some studies showed that staying active and moving your knee joints can be helpful in aiding recovery and relieving pain. [2]
Customer Reviews & Complaints
The Compressa Knee Sleeve has negative reviews on Reviewopedia and largely positive reviews on Amazon, where it has a rating of 4 / 5 stars from over 2,000 customer reviews.
See Compressa Sleeve reviews on Amazon
Positive customer reviews commonly mentioned:


Effective Support: Some users found the knee sleeve supportive and beneficial, particularly for sports use.


Comfort for Certain Users: A few customers reported the sleeve being comfortable and fitting well.
Negative customer reviews commonly mentioned:


No Pain Relief: A common complaint was that the product did not provide the expected pain relief.


Lack of Knee Support: Some customers mentioned that the Compressa sleeve was loose around the knee where support is most needed, making it ineffective.


Comfort and Design Problems: Discomfort with the design was noted, including side braces causing discomfort, the top rolling down, and bunching up behind the knee.


Size and Fit Issues: A recurring complaint was about the "one size fits all" approach not being suitable for everyone, with issues of the sleeve being too tight or too loose, making it difficult to wear.


Difficult to Put On: The sleeve was reported as extremely hard to put on by some customers.
Max Media Ventures LLC, the company behind TryCompressa.com has a much more negative reputation.
On the BBB website the company has:


an F rating
a customer rating of 1 / 5 stars from 16 customer reviews
7 customer complaints in the past year


Common issues mentioned by customers were:


Misleading Ordering Process: Customers reported being misled during the order process, where they ended up purchasing additional items they had not intended to buy due to a barrage of pop-up offers and a lack of clear order review pages​​.


Poor Customer Service: Several customers mentioned poor customer service experiences, including being lied to about shipment status and difficulties in canceling orders or subscriptions​​.


Unauthorized Recurring Charges: Many customers complained about unauthorized recurring charges on their credit cards.


Is the Compressa Knee Sleeve Legit?
The Compressa Knee Sleeve is only one iteration of a product that has been widely marketed online using various product names.
The sellers of these types of compression knee sleeves are targeting customers that are looking for quick relief from knee pain.
For example, the AmRelieve Ultra Knee Elite is a very similar product to the Compressa Knee Sleeve and uses nearly the exact same wording in their advertisements, also claiming the exact same features and benefits.
The AmRelieve has only a 2 out of 5 customer rating on Reviewopedia, with very similar customer complaints.
The reality is that these sellers are not health companies that develop new products, but are simply marketing companies selling a white-label product.
A white-label product is one that's produced by one company and then rebranded and sold by marketing companies that may try make it appear as if they created the product.
We believe that the Compressa Knee Sleeve is a generic knee sleeve bought wholesale from China that has been rebranded with the Compress logo and is being sold at a higher price.
For example, we found and identical knee sleeve to the Compressa listed on the Chinese e-commerce website Made-in-China.com.
It's unclear how much this sleeve is priced at, but a sample can be ordered for just $1.50 per piece.
These sleeves are supplied by Beijing Jinwei Kangda Medical Instrument Ltd. located in Beijing, China.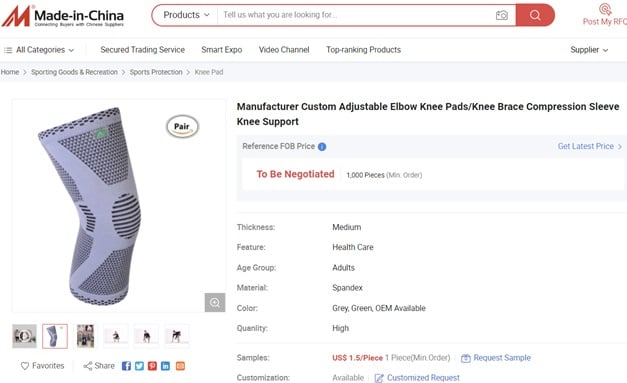 ( A generic knee sleeve identical to the Compress Knee Sleeve, priced much cheaper )
You can see the product listing here: Made-in-china.com/product/knee-compression-sleeve
This doesn't necessarily mean that the Compressa Knee Sleeve is a scam or a low quality product.
In fact, many high quality products sold by reputable companies are manufactured in China, Apple's iPhone being one prominent example.
However, we feel that the seller is being deceptive regarding it's practices and find that the markup in price between the generic version and the branded version of this sleeve is quite high.
Customer Support
TryCompressa.com lists the following contact info:
Phone: 800-769-1184
Email: [email protected]

Physical Address:
Max Media Ventures LLC
73 Greentree Drive, #60
Dover, DE 19904


TryCompressa.com states they offer a 30-day money back guarantee.
They state that if you're unsatisfied with the product you will have to reach out to a representative to obtain an RMA number and return address. Be advised, they will not accept any returns without the RMA number.
You will have to ship back the items at your own expense.
Cost & Price Plans
The Compressa Knee Sleeve sells for $49.95 on the company's own website.
We found that the Compressa Knee Sleeve is usually cheaper on Amazon.
Popular Alternatives

Some highly regarded alternatives to the Compressa Knee Sleeve include the following:



A more robust knee brace is offered from Shock Doctor. This brace has a dual hinge and aims to offer support and protection for medial and lateral instability, minor patella instability, meniscus injuries, minor ligament sprains, hypertension, and arthritis.
It come in comes in 6 different sizes and has a 4.2 / 5 stars rating from over 14,000 customer reviews.
Check Shock Doctor price on Amazon
This best selling compression sleeve could be a good choice if you're not looking for an injury-specific knee brace.
It comes in a variety of sizes and is rated 4.3 / 5 stars from over 57,000 customer ratings.
Check NEENCA Brace price on Amazon
The EzyFit is a good option for a brace offering more support using dual stabilizers and an open patella design.

This brace is meant to be worn during exercise and aims to help aid in recovery post knee injury. The EzyFit has a rating of 4.3 / 5 stars from over 3,000 customer ratings
Note: None of these products should be used in lieu of medical care. If you've suffered a knee injury or are experiencing pain or instability it's a good idea to see a medical professional.
The Bottom Line
The Compressa Knee Compression Sleeve receives highly mixed reviews from customers.
While some customers report significant pain relief and support, especially for arthritic conditions, there are serious concerns regarding safety, sizing, durability, and quality consistency.
The 'one size fits all' approach continues to be a significant drawback, and the recent report of skin damage raises additional concerns about the product's suitability for all users, especially in warm conditions.
The product seems to be effective for some but may not be suitable or safe for others, indicating a need for careful consideration before purchase.
The seller has a negative reputation, with customers expressing a strong sense of being misled, experiencing unauthorized charges, and facing significant challenges in resolving issues with the company.
The recurring theme is a lack of trust and dissatisfaction with the company's business practices.
Because of this, if you do choose to try out the Compressa sleeve we would recommend buying it through Amazon, where the return refund process is more straightforward.
We would advise following the recommendations of your doctor or physical therapist on which products to use for your specific needs.
If you have any experience with the Compressa Knee Sleeve, please leave your reviews below.
You may also be interested in
Compressa Knee Sleeve Customer Reviews

rod
This place is a rip off. I have contacted the Oklahoma attorney generals office about these scammers

Gary O
terrible company. if you don't buy their product because it is terrible they harass you.

Steve D
Deceptive business dealings
Stay away from this company. They perform very shady business dealings. If you do not read the entire website they are actually trying to subscribe you to a webTV subscription so they can pilfer $19.97 out of your bank account every month. I would stay far away from the scam company.

Jay B
Compressa / Bewell
This company does a great job with online advertising and creating reviews.
Don't be fooled…I was
The order process is a deluge of pop ups and crap offers…
Then…WITHOUT giving you a review page, they place your order…NO REVIEW…They DO NOT ask if order is OK!!!!!!!!
Sooo…you get a load of socks and other crap you had no intention of ordering…
I started the request to cancel immediately, but they have no recourse. They just screw you in….
Customer service, which is advertised as 24/7, was not available until 8AM.
I contacted them at that time and was lied to and told it was already shipped.
Then they disallow the USPS delivery instruction function that would allow you to refuse shipment…
They figure most folks will just pay up ad not bother..
I told customer service I would take the overpriced knee compressors if they cancelled the other items…to no avail
This is a despicable bunch…DO NOT BUY!!!!!
No or minus stars would be appropriate....

Lisa L
Don't do it!! Scam/Fraud/Con
SCAM!! Ordered a brace, comes with "free gift" that signs you up for $19.95 WebTV subscription without letting you know. SUPPOSEDLY the order confirmation states the one month free and you're automatically charged then $19.95/month. I didn't check my CC like usual and out over $100. Filed BBB complaint too. Just pick up a brace from Target.

Samuel
I ordered a one size fit all knee brace which fits . They sent me compression sleeves which I did not want, and they said they sent me compression socks which I did not order. The compression sockswhich I did not order! They said the order had already gone out and they couldn't change it.
I did not get they compression socks.
I got the knee brace and compression sleeves which I cannot use!
I called the company and I could not understand a word that the people on the other line are saying because they're in the Philippines. I am totally disgusted with this company.
I wouldn't order anything from them again even if they gave me the front door!!!!

Sunny W
Buy from Amazon, not Compressa site
Warning!!! Compressa website charges $48.47 for one Compression knee sleeve.
Go to Amazon and get it for $19.99 and free shipping! What a ripoff! On their checkout page other items are added to your order, I was charged over $100.
Luckily I called and cancelled.