AmRelieve Ultra Knee Elite
AmRelieve Ultra Knee Elite Reviews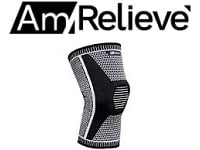 Ultra Knee Elite Review: Worth Buying?
The AmRelieve Ultra Knee Elite is a compression knee sleeve that's claimed to help users with knee support and stability, as well as improving range of motion and helping to prevent injury.
Below we take a look to find out if it's legit or just another health gimmick.
Product Claims
The Ultra Knee Elite is marketed through KneeRelieve.com, an "advertorial" website that is designed to look like a news article but that essentially serves up marketing material for the product.
They claim their sleeve may help those suffering from everything from tendonitis, bursitis, osteoarthritis, rheumatoid arthritis, to any other knee discomfort.
On the main website it states that it was developed by Jeremy Campbell. PT, DPT & U.S. Military Veteran as a tool to help with his own knee pain.
They say the Ultra Knee Elite:


Is made from durable Tri-Weave Material
Will fit under most clothing
Fits most people and won't slide
Gives your knee full range of motion while providing stability


The sleeve is supposed to provide the support levels of a traditional brace while being unobtrusive to your daily needs.
According to them the brace has the following features:


Side Bolsters - prevent the knee from twisting and further injury
Ergolastic Pad - a kneecap cushion to protect soft tissue
Meniscus Stimulators - intended to improve tissue strength
Acupressure Pads - provide pressure to relieve pain
Do Compression Knee Sleeves Actually Work?
Knee sleeves and braces can be very helpful tools for alleviating knee pain and aiding in injury recovery.
However they also need to be used correctly and under the direction of a professional, especially if you're dealing with serious knee/joint issues.
There are a wide variety of knee braces and sleeves that can provide the following:


Immobilization
Rehabilitation
Weight Shifting
Knee Protection
Compression


Compression knee sleeves are mostly used to prevent swelling, increase blood flow, and provide light support while allowing movement of the knee.
So it's important to have a proper diagnosis of what ailments you have first, then attempt to find the right medical support device that best fits you.
A professional can also help you answer such questions as, "how often and how long to wear your brace?" In some cases improper use can worsen an injury or exacerbate your pain.
Customer Reviews & Complaints
Unfortunately, the online reviews for AmRelieve Ultra Knee Elite are not good.
The majority of complaints are for the fit of the sleeve, with many people claiming it's not really one size fits all and that they struggle with keeping it in place.
The company's claims of it being slip proof seem to be exaggerated.
Other complaints state that the actual refund policy of the company is misleading and you have to ship the product back at your own expense and you do not receive a full refund.
Customer Service
If you have questions or issues with the product you can reach a representative by email at [email protected].
You can also contact the parent company at:


Phone Number: (302) 746-2472
Physical Address:
Wexmon, LLC
651 N Broad St, Suite 205 #1983
Middletown, Delaware, 19709 USA


Wexmon offers a 90 day return policy for the Ultra Knee Elite, but customers have to contact the company first to initiate the return and refund.
Cost and Price Plans
1 Ultra Knee Elite costs $49.95. There is a sliding scale of discounts offered, where the more sleeves you order the more money you save.
Competitors and Alternatives
The compression sleeve market is rife with inferior products, most of which are found on amazon. We suggest taking the recommendation of your PT, trainer, or sticking to a major brand that you may have used for other fitness/health related products.
Some other popular compression sleeve makers include:


Tommie Copper - One of the first companies to introduce copper based compression clothing. Although the company has mixed reviews overall.


ACE Brand Compression Knee Support - Low priced and widely available at most drug stores.


Pro-Tec Athletics Gel Force Knee Sleeve - Can be purchased through REI which has one of the best return policies of any retailer.
The Bottom Line
Recently there has been a popularization of compression sleeve products, which you can now find for almost any body part, with the Ultra Knee Elite by AmRelieve being a recent one.
At this time we do not believe that AmRelieve offers a reliable product and one that we can recommend.
There are too many negative online reviews, and it seems that your chances of getting a product that won't fit and having difficulties with subsequent return attempts are high.
Stick to a compression sleeve from either a known brand or make sure you are purchasing from a retailer that offers hassle free returns in case the knee sleeve won't fit.
If you have any experience with the AmRelieve Ultra Knee Elite, please leave your reviews below.


You may also be interested in
AmRelieve Ultra Knee Elite Customer Reviews