BuzzBGone Reviews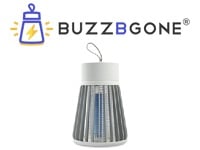 The BuzzBGone is a rechargeable USB Insect Zapper that utilizes powerful UV light to attract mosquitos and kill them
How Does It Work?
The device has a dehydrator within it which ensures that the trapped mosquitoes die. BuzzBGone claims to provide ultimate protection from mosquitoes.
Unlike poisonous sprays and chemicals, this product claims to be completely safe to use around pets and children.
All you have to do is plug it in, place it in an area where mosquitoes like to hang out, and watch those pesky little insects disappear, leaving you free to enjoy a bite-free summer!
Cost and Price Plans
The company is currently running a 50% off sale! There are several pricing options depending on how many you want to purchase.
The usual cost is $61.52, but right now you can get it for $39.99. Two BuzzBGones usually cost $123.05 but right now you can get a double pack for $79.98.
Three units usually cost $184.57 but right now you can get a triple pack for $89.98. Four BuzzBGones usually cost $246.09 but right now you can get a quadruple pack for $109.97.
Customer Service
If you have any questions about the product or are having issues with your order, you can reach out via e-mail at [email protected]
You can also call them at 855-265-5575 if you are located in the U.S or 844-846-3268 if you are located in Canada. Call (02)-6145-0887 if you are located in Australia or New Zealand or 03308089391 if you are located in the U.K. or Ireland.
They also have their Hong Kong address listed on the website.
Online Customer Reviews & Complaints
So, does it really work? Well, BuzzBGone's website boasts great reviews. Customers say that the device "stops mosquitos from eating me alive," and that "it gets rid of ALL the mosquitoes."
Blog reviews on the internet seem to support the positive customer reviews with Raving Trends saying that "you can rest assured that BuzzBGone will do its job safely and efficiently." And The Gadget Office claims that BuzzBGone is "light, portable, easy to use, and highly effective."
And Best Honest Reviews says that "This is the greatest thing I've ever found for killing thousands of bugs."
Where to Buy?
Currently, the only place to purchase is directly through their website.
The Bottom Line
It does not appear that BuzzBGone is a scam. However, since the main source of product reviews is their own website, it does seem a little bit suspect, so I also cannot claim that it is completely legit and worth it.
There are similar products on the market that have a lot of verified customer reviews, so when you hear that annoying telltale buzz. If you're feeling skeptical, you may want to purchase one of those alternatives instead.
If you have any experience with the BuzzBGone, please leave your reviews below.
You may also be interested in
BuzzBGone Customer Reviews