BHMD Thick and Full Brow Enhancing Serum
BHMD Thick and Full Brow Enhancing Serum Reviews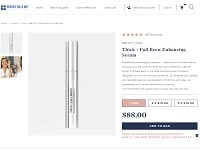 BHMD Thick and Full Brow Enhancing Serum is a special formula of ingredients like Redensyl™ that are clinically proven to work for hair regrowth.
The serum works with stem cells that already exist in your eyebrow hair follicles, which science shows may be a highly effective way to trigger hair growth. [ 1 ]
How Does it Work?
The product includes an applicator wand that's used to apply the formula directly to your brows twice a day.
One important thing to remember about the application process is that you should only use the serum on clean skin.
The other significant thing to keep in mind is that, for best results, you should be consistent with using the formula twice a day.
According to the company you should start to see results within one to two months.
Is it Safe?
The Thick + Full Brow Enhancing Serum is safe to use. All ingredients in the serum are derived from natural sources.
This means zero harsh chemicals, which is a huge plus since many commercial beauty products contain toxins that have been linked to cancer. [ 2 ]
The serum also works with the natural makeup of your body. This is another benefit as a leading cause of eyebrow thinning is hormonal imbalance.
As such, many eyebrow boosting products rely on Prostaglandins which interfere with your hormones and often come with unpleasant side effects like rashes.
The serum's safety claims are backed up by one of its creators, Dr. John Layke, an accomplished physician and surgeon with the Beverly Hills MD Group.
Customer Service
If you have questions about this product or your order, you can contact the Beverly Hills MD Customer Service team by calling 1-877-828-5528 or e-mailing [email protected].
If you are dissatisfied with your results, Beverly Hills MD offers a money-back guarantee that allows you to get a full refund within 60 days.
Beverly Hills MD has earned an A+ rating from the BBB, with an average rating of 4.22 / 5 stars from over 500 customer reviews.
Customer Reviews & Complaints
BHMD Thick + Full Brow Enhancing Serum gets generally favorable reviews from customers. Most importantly, these reviews claim that users seemingly got the results they wanted.
Some customers state they saw results in a short period of time, claiming that they noticed a difference in brow thickness immediately, or in less than two weeks.
Other customers took a month or longer to see their brows grow, but were impressed with the results nonetheless.
It's also notable that many eyebrow serum enthusiasts mentioned having tried several similar products in the past and agreed that this serum was the best.
Based on the reviews, it appears that consistency is key when it comes to using this serum. Several reviewers discovered that they got the best results when applying the serum twice a day as directed.
Some customers also noted that after applying the product consistently, they were able to forego use of eyebrow pencils.
You can also see Beverly Hills MD Reviews here.
If you have any experience with the BHMD Thick and Full Brow Enhancing Serum, please leave your reviews below.
You may also be interested in
BHMD Thick and Full Brow Enhancing Serum Customer Reviews

MEG
This is a Good Brow Serum. . .
My eyebrows have been thin and sparse for years. Part of this is due to thyroid issues, and part because of a scar over my left eye. I noticed my eyebrows looked thicker after using the serum for once a day for two weeks. After a month of using it, my brows are noticeably darker and fuller! I'm very happy with how my brows look now!

Rosemarie A
My eyebrows are much more defined
Since I have been using this brow enhancing serum, I have definitely noticed an improvement in the fullness of my eyebrows.

Vickie
I am now over 60, and noticed my once thick brows were getting pretty sparse. I really don't like using eyebrow pencils, so I looked to see if BHMD had anything to help. They did - and I have been using it for a month now - and can't believe it - my eyebrows are coming back in. Thank you!!

Karina K
I've been using this for 1 month now and the bald parts of my eyebrows have regrown some thick strong hairs. The rest of my eyebrows are getting thicker too. I'm absolutely delighted!

Colleen
I LOVE this product!
All my life I've had very blond brows which made them pretty much invisible. I didn't have to pluck them as you couldn't see them and I am not much of a makeup gal so I didn't use pencils or other products to darken them.
Not only are my eyebrows getting thicker with consistent use, but what I've really noticed is that some of the new hair is coming in dark, so my eyebrows are becoming visible.
Thanks to BH for this product!!!
Perfect for beautiful eyebrows
We love this product my eyebrows are so beautiful. Will love to purchase this product again. Do you have any promotions ?
Eyebrows are growing hair
Excellent product. I totally recommend it. My eye browns are growing and beautiful. I will like to know when this product is going to be on sale so I can purchase again.
Thank you

Tonya
Only been using the Brow Enhancing Serum for a few weeks but I can already see a difference with fuller brows. I love this.

Jan
Wow, this product really works AND what a difference it has made to my face.
My brows were definitely losing their fullness and within a few weeks I could visibly see a difference in the thickness of my eyebrows.
Fabulous results and I look forward to seeing what else I can achieve.
Thank you guys.

Susan B
Perseverance gets real results!
This product really works! You do have to apply it twice a day and it takes about a month to see results. But I had amazing results and have continued to use the product.