Morning Complete Reviews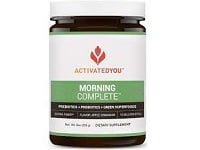 Morning Complete Customer Reviews

Tat'yana M
I have been using Morning Complete for a little while but noticed a significant't change. It's my ritual in the morning before I eat anything amd it has been a great addition to my health routine. I have been looking for something like Morning Complete for some time. I did have to adjust the dose to half a scoop in the beginning, but my belly regulated and it feels great. I know that I'm feeding my gut what it needs first thing to give me a healthy start to my day. I also like the taste. Simple and refreshing.

Joe C
An evaluation in progress
I found myself willing to learn more from anything Maggie Q endorses. She is a great, sincere spokesperson.
Month One of taking Morning Complete went well, I have multiple, big bowel movements each day. I feel good.
The question remains the price. Trader Joe sells a one month supply of their probiotic for $11. Now I can do a one-month trial of starting my day with their product and immediately compare the results. I juice, so I already get the benefits of massive phydo nutrients either way.
Stay tuned...

Keleren M
I think over time it's quite possible I will change my review to 5 stars. Health is not built overnight, but I will say I am quite pleased with my experience so far. The combination of greens with both pro and pre biotics was what convinced me to give Morning Complete a try. After a few weeks of use, I find that my digestion is greatly improved, and I have greatly reduced sugar cravings. With the caveat that I am used to supplements of all sorts, I actually find the apple cinnamon flavor to be a good choice. There's enough bite to add flavor without sugar...no easy feat. The price is a bit of a barrier (I'm a working class musician/educator) but I have found that spending money on preventative means is vastly preferred to medical expenses down the road.

Susan C
It tasted better than I thought it would
I've been using the Advanced Probiotic and love it, but thought I would try something new that wasn't another pill. I liked Morning Complete but didn't get the same results as I did from Advanced. It's a bit pricey and I'm on a fixed income so I think I will just stay with Advanced. However, I liked the product very much.

Jennifer S
I have used this product for almost a month now and I have noticed an improvement in my digestion and more frequent elimination. I don't need coffee in the morning anymore as I have more energy than before. I finally found something my tummy likes.

Andrea
I am one month in. I definitely notice a change in my energy level. I struggle with a lot of digestive issues, so I am hoping for greater results, but have seen some improvement. The taste is fine, considering the greens included. I will definitely try another month.

maureen m
I am hooked on this product. I've tried other similar products and lost interest in a couple of weeks. On this, I feel worlds better. As a scientist and cancer researcher, I can tell you that most products like this have the probiotics (the bacteria) but not the prebiotics (the nourishment that allows for diverse bacteria to proliferate). So the combination of prebiotics with probiotics is what attracted me to this product, and it is exactly what we need to nourish and diversify our microbiome. OK OK, so it doesn't taste like a chocolate milk shake but it's frankly not that bad at all...I make it in 8 oz of water and down it in one gulp, and I feel great the rest of the day. Frankly the price is not that bad, particularly for something that works so well...I don't know about you, but my health is worth every penny.

Ray B
Morning After: Solid Product!
Other than the gaudy price, this is a fine product
that I recommend.

Marcus
Morning Complete is Excellent forwhole body wellness five stars

Belle
Energy I haven't felt for a long time!
I bought Morning Complete with the Black Friday discount offer to try and was amazed at the increase to my energy levels within one week. The first couple of days I did experience some discomfort but I put this down to my body needing to adjust to the product and choosing to stop ingesting unhealthy foods and alcohol! My belly lost the bloated look quicker than I expected (and love!). Due to the nature of my employment I find the price and subscription offer out of my price range to continue. If you can afford this product I do highly recommend. It certainly delivers what it promises!

Darras D
This was the vilest stuff I have ever put in my body. First dose Thursday, another Friday. Got dog sick GI problems Saturday, both ends. Wife tried it Friday. She started vomiting Sunday. Don't do it. It's nasty.